Fly fishing can be an epic adventure for some or the definition of a relaxed weekend for others. If you enjoy fly fishing as much as we do but are looking for some good quality reels, you've come to the right place. We've reviewed some of the best fly reel for trout that won't have you dipping into your savings or breaking the bank.
Best Fly Fishing Reels For Trout
Cutting to the chase, let's give you a brief overview of our results. In our opinion, the winner was, hands down, the Redington Crosswater Prespooled Fishing Reel. Its ease of use, lightweight body, and affordable price tag make it ideal for beginner anglers. 
The runner-up position was taken by the Sage Spectrum C Fly Fishing Reel, providing anglers with the perfect balance between power and control. Furthermore, we loved the metallic color options to choose from. 
Finally, the Redington ZERO Fly Reel is another fantastic option. However, we will explain later on why it features in third place on our list of recommendations. 
Who Is This Review For?
This review has been curated for both beginner and professional anglers looking for the best fly reel specifically for trout fishing. Sure, there are several dozen articles on the subject; however, we have provided you with an in-depth analysis of the usability, price, quality, and general aesthetics of the best reels on the market. 
If you are looking for a fly reel in a different price range, make sure to check out our other reviews:
Reviews of fly reels for certain species:
Why Should You Trust Us?
When it comes to fly fishing, there is one place you can turn to which will never let you down – King of the Catch! If you love fishing and are looking for tips, gear advice, or simply want to go through blogs that are inspiring and humorous, look no further. 😉
There's a good reason behind why King of the Catch got its name, and it doesn't take a genius to figure it out. Well, just for today's topic, we have invested over 30 hours of research and extensive testing, finally coming up with this vibrant list of the best fly reel for trout fishing. 
We began our research by exploring some of the most well-rated and reviewed fly reels on Amazon. Of course, there were plenty to choose from, so it was quite a labor-intensive task. Next, we explored one of the most popular communities on Reddit – r/flyfishing. Our explorations on this subreddit took us to another popular community called r/troutfishing/.
Here, we found extensive feedback and reviews from other anglers like us. They also provided some excellent first-hand reviews of various fly reel brands like Orvis, Lamson, and Redington.
But we didn't stop at that. We also took the advice of several experienced and professional fly fishers from Fly Fishing UK. Last but not least, we explored one of the most renowned fly fishing websites – Trident Fly Fishing, to gather a wealth of information to compile this guide for you. 
How Did We Pick?
To further solidify our information and facts, we conducted a survey on a popular Facebook page called Worldwide Trout Anglers. Approximately 600 anglers participated in it, and we used their feedback and data to ascertain what trout species they prefer to catch and why. 
The results were astonishing…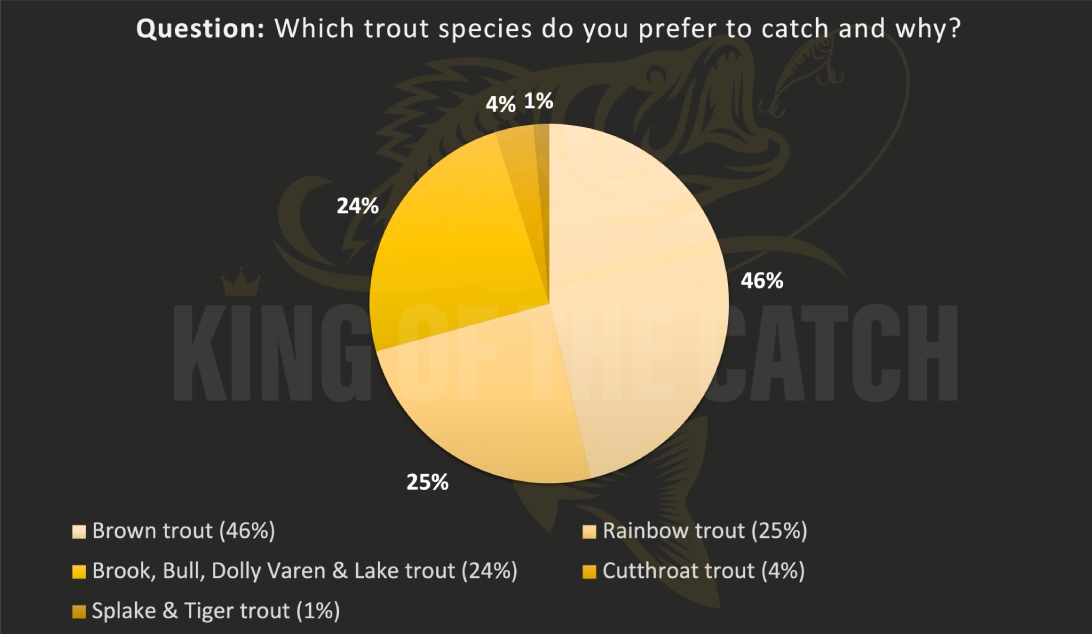 46% of the participants said that they prefer catching Brown trout, while 25% and 24% answered Rainbow trout and Lake, Brook, Bull, and Dolly Varen trouts, respectively. Furthermore, only 4% of the participants voted for Cutthroat trout as their favorite catch, while only 1% voted for Tiger and Splake trout. 
What To Look For When Buying a Top Fly Reel For Trout? 
We were bombarded by scores of options on the market during our extensive research to find the best fly reel for trout. Plus, the number of blogs, articles, and reviews we found took hours to comb through minutely. We realized that this kind of research is not only time-consuming but is also very exhausting. 
Fortunately for you, we created a handy list that helped us shortlist some of the best products on the market. As such, our inventory consisted of seven significant factors we considered when looking for the best fly reel for trout. 
These are some of the vital aspects you should keep in mind, as they will help you select the right product for specific requirements. They are:
Durability
User-friendliness
Materials
Looks
Design
Value 
Reviews
After extensive research and testing, we finally selected the top 3 fly reels for trout to compile this list. We will talk about each product in detail in the following sections. 
Overview of our final list of the best fly reels for trout: 
How Did We Test?
To ensure accurate testing of each fly reel, our expert team at King of the Catch used this seven-criteria matrix to evaluate each product: 
Durability 
A fly reel needs to be durable enough to last for years with proper use. This depends on the materials used and their quality. As such, we observed which reel stayed the most functional during our testing period. 
User-Friendliness 
In our opinion, a good fly reel is one that can be used by a professional as well as a beginner with the same ease. An overly complicated product with a steep learning curve isn't something we were looking for. 
Materials 
We cannot stress this enough – ensure that the product is made of high-quality materials; otherwise, it is bound to break down sooner or later. 
Looks
Of course, we considered the general aesthetics of the products and compared them with each other to see which one was the most stunning piece. 
Design
We appreciate any new and innovative design features added to fly reels. Not only do they make the reels more usable, especially for beginner anglers, but they are also far more functional. 
Value
Let's face it – a customer is always looking for a product that provides value for money. So, we compared not just the price but also the features, benefits, and overall performance of the products to find the best ones on the market. 
Reviews
Although the information provided by the manufacturer is vital, it is also important to consider genuine reviews and feedback by users. We went through dozens of authentic reviews by experts who have tested these reels in all kinds of waters. 
After extensive testing, we compared the scores and picked our top three reel recommendations for this guide. These reels have been tried and tested not only by us but also by experts and professionals in the industry. 
---
Winner: Redington Crosswater Prespooled Fishing Reel
Sale
Redington Crosswater Fly Reel
If you're looking for value for money, you can't go wrong with the Redington Crosswater Prespooled Fishing Reel. The performance it delivers for its unbelievably affordable price tag is unparalleled, making it the winner in our countdown for the best fly reel for trout.
What is our final score? The Redington Crosswater Fly Reel scored a 9,4 out of 10!
What Did We Like?
Let's begin by talking about the pre-spooled option – it saves time, is convenient to use for beginners, and is super functional. However, there are several other aspects that we love about this reel. 
The durable polymer construction with the strong disc drag system is not only stunning but also functional and durable. Moving on, the large-sized arbor is perfect for anglers to catch any fish species – big or small. It increases line pickup and efficiently accommodates adequate backing for any angling you require. 
Finally, this lightweight reel is one of the most affordable options on the market. The best part is, the spool is easily interchangeable for left and right-handed retrieval – depending on your style. As such, we think it's perfect for beginners or expert anglers looking for a backup reel. 
Flaws But No Dealbreakers 
Unlike its more expensive counterparts, this reel has a pure polymer construction that gives it its lightweight and easy-to-handle body. Of course, this means that it isn't as robust or durable as its anodized aluminum counterparts – but for the price we're paying, we feel like it's a fair deal. 
What Rod Goes With It?
Redington Classic Trout Fly Rod
This rod has performed beyond our expectations. Overall, if you're into dry fly fishing in small creeks and streams at shorter distances, then this is the best rod you'll get at this price point. Just make sure to select the length and weight you're most comfortable with, and you'll be good to go.
We paired the Redington Classic Trout Fly Rod with this reel and found it an ideal combination for several reasons. First off, this lightweight rod provides the perfect balance between delicate control and excellent power to reel your trout in. 
Not just that, the alignment dots enable easy setup – even for first-timers. We love the ballistic nylon rod tube provided that allows easy transportation. Finally, the manufacturer's lifetime warranty is the icing on the cake for this perfect rod and reel combination.
---
Runner Up: Sage Spectrum C Fly Fishing Reel
Sage Spectrum C Fly Fishing Reel
At first glance, the Sage Spectrum C Fly Fishing Reel looks like a revolutionary piece of equipment that deserves its own place in a museum. Its ultra-modern looks, backed by Rio Dacron Backing, ultimately offer fantastic performance, enabling you to catch more fish than you imagined. The machined and anodized aluminum construction is aesthetic; however, it is also super-durable. The three metallic color options are striking, offering adequate choices to anglers who like matching their reels and rods.
What is our final score? The Sage Spectrum C Fly Reel scored a 8,6 out of 10!
What Did We Like?
First things first – the Sage Spectrum C has a revolutionary one revolution numbered drag knob system which is exceptional. Moreover, the Sealed Carbon System drag is incredibly durable and robust, making it an ideal option for long-term use. 
The rugged die-cast frame looks substantial; however, this reel is relatively lightweight and perfect to use as a starter reel. Its smooth operation and affordable price tag make it a classic choice amongst most beginner anglers; however, it is an excellent choice for experts and professionals as well. 
Let's not forget, we loved the addition of the neoprene, embroidered nylon case the manufacturer included. It enables easy transportation and storage, not to mention, looks great too. 
Flaws But No Dealbreakers
No product comes without flaws, and the only drawback we noticed with this reel was its substantial weight gain when spooled up. As such, this reel is pretty lightweight and excellent for trout fishing; however, once it is spooled up with a line and backing, it can get slightly cumbersome. 
What Rod Goes With It?
Signature II Series from Temple Fork Outfitters
If you're looking to fish in smaller streams and rivers, then go for either the 8' 4WT or 7'6 3WT variants. We used it to catch 4-inch to 7-inch Brooks and Browns of about 18 inches and faced no issues. An excellent rod for trout fishing that's sure to be a valuable piece of equipment.
If you're looking for the perfect rod for this reel, the Temple Fork Outfitters Signature II Series Fly Rod is your best bet. The rod comes in multiple lengths and weights, offering something for all anglers. 
Not just that, its smooth, progressive tapers are ideal for fast loading and reaching further distances. Its massive reserve power offers tremendous loop control and line speed, making it an ideal choice for anglers of all skill levels.
---
Also Great: Redington ZERO Fly Reel
Redington ZERO Fly Fishing Reel
Undoubtedly, the first thing that catches your eye with the Redington ZERO Fly Reel is its vibrant, striking colors. However, there's more to it than good looks. The clicker drag system is functional and pleasing to the ears, and the soft-touch ergonomic handles are a unique addition.
Moreover, you immediately notice the large arbor design that not only facilitates speedy retrieval but also effectively reduces line memory. Finally, these reels are designed for both left and right-hand retrieval, making them ideal for all anglers.
Why It's In Third Place?
Although the Redington ZERO Fly Reel is a stunning piece of equipment, we observed that its loud clicker sound is not a favorite amongst many anglers. While it isn't too noticeable, it can get irritating after a while. So, although we did not mind the sound, some individuals may have an issue with it. 
Furthermore, its die-cast aluminum body makes it an excellent lightweight option. That said, there is one slight disadvantage – durability. 
Conclusion
In our opinion, the Redington Crosswater Prespooled Fishing Reel is an absolutely stunning choice with an affordable price tag. However, our runner-up and third-place winner are also fantastic options for those looking to enjoy a fantastic trout fishing experience without breaking the bank to purchase equipment. 
And whichever one you go with, make sure to pair it with the right rod!
Niels Thomas is a wildlife expert and fishing fanatic that works with major fishing brands like Deeper Sonar, Abu Garcia, Berkley, PENN, BassPro and Pure Fishing. Through sharing the best fishing tips, tricks, gear reviews, locations and much more he hopes to inspire fishing fanatics to start their own journey towards becoming the King of the Catch!