Welkom to the elite! Whether you are up for high level fishing competitions or you want to push your fishing venture to another level, upgrading your fly reel could do the trick. You have a quality rod and with this rod a high quality fly reel should be present.
In this blog post I will review the best fly reels under 300 $ and find out why these elite reels are considered the best of the best.
Best Fly Reels Under 300 $
If you have used cheaper fly reels before, you will notice the difference right away. It is not just a matter of higher quality designs and materials, but also a matter of performance and durability.
It is something a seasoned fly fisher can appreciate dearly.
Hmm.. Just the clicking sound alone makes me happy like a kid on Christmas morning! 😉
A quality fly reel will do half the work for you, whether you fight a small or a massive fish – no doubts about it.
So, what are the top options on the market today?
Quick overview
Here are my most important recommendations under 300:
If you are looking for fly reels in other price categories:
Keep reading for my in-depth review of each fly reel!
What to expect from high end fly reels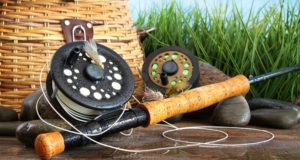 Let me make it clear first. High end fly reels are not suitable if you use a stick to fish. If the fly reel is more expensive than your rod, you are doing it wrong. Instead, a high end fly reel comes as a valuable upgrade to your fishing gear. It is not the priciest thing in your equipment, so it is not supposed to come first.
My advice? Upgrade pretty much everything else before moving on to the fly reel.
Now, what do you expect when you make such an upgrade?
Most importantly, you will have different quality standards in terms of materials. Such fly reels are machined and engineered to be perfect. Materials are more durable, lighter and can take much more stress from the angler when in use, without showing it.
Now, the actual spool design, the drag system and the arbor are not to be overlooked either. These are the internal elements – the mechanisms that make the difference in terms of performance. Get ready to be surprised here – the drag will be extremely smooth.
While most fly reels are based on similar operating principles and styles, small things in terms of design make them stand out in the crowd. You will love the fancy and sharp design, but you will also get lots of compliments from other anglers who notice it by the water.
Something about boys with toys? Hmmm? 😉
Now, there are no major differences in their specializations. Some fly reels are specifically designed for freshwater fishing and species in there. Some other fly reels are made to last longer and take more stress, so they are more suitable for saltwater fishing.
You will also find a few units designed for all water fishing – suitable for pretty much any scenario.
Obviously, a higher quality comes with higher prices, but at the end of the day, a reputable brand will provide good value for money.
This is why I recommend going with one of the top rated products below.
Best Fly Reels under 300
These are my top recommendations when it comes to purchasing fly reels under 300 bucks. I have chosen a few products that I had the opportunity to use myself or by my fishing buddies. Most of the brands discussed also have extremely high ratings all over the internet.
Galvan Brookie Fly Reel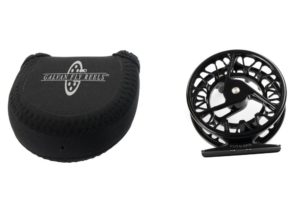 Galvan has always targeted the middle and high end segment of this market. Its fly reels have always been associated with a top notch performance, so the Brookie could not miss from my chart. The Galvan Brookie Fly Reel is particularly built for freshwater fishing, so it makes a good choice for trout.
It is built to last, but it also feels lightweight and comes with a lifetime warranty. If you want performance over looks, this is the fly reel for you.
Design
The design makes Brookie relatively small when compared to other fly reels in this range. It is lightweight and excellent for small stream fishing.
Although it does not really matter, some might want to know that the unit is made in the USA, which means it has to bypass the strict local standards when it comes to quality.
Machined 6061 aluminum is the main "ingredient" in its composition. It is also used in cheaper models, yet it has some benefits that make it too good to be ignored. More importantly, it can resist corrosion, rust and abrasion.
Even if you dent or ding the reel, it will still resist corrosion.
Finish
The finish will not let you down either. Whether you drop or ding the reel, it features an anodized finish that will keep it in great condition. It is a common choice for top manufacturers because it keeps the weight down while adding lots of protection. The system is also weatherproof.
The arbor is large. Galvan follows the industry trends and aims to make your job easier. No matter how large your fish it, you will never experience any problems fighting it. A large arbor will boost the line pickup.
Click ball tension drag system
Do not overlook the drag either. The Brookie fly reel comes with a click ball tension drag system. The tension by the spool is adjustable – you can do it without dealing with too many moving parts.
The system is a massive upgrade from the click and pawl system – you will notice the difference right away. It allows close to no tension while still letting you palm to catch fish.
The drag system is based on stainless steel. It is versatile and simple – no fancy bells and whistles needed here, but just performance.
Review by other costumers:
"Galvan has designed the perfect fly reel for my trout sessions. It makes everything so much easier. You know you have a quality part as soon as you hold it. Thank you very much!"
---
Galvan Rush Light Fly Reel
Galvan is one of my favorite choices when it comes to quality. The brand is known for mixing features and specs from more of its reels whenever it comes up with something new and the Rush Light Fly Reel makes no exception either.
The fly reel is lightweight, yet strong. It is engineered to impress with its durability. It is mostly recommended for freshwater species.
However, to be perfectly honest with you, I have also used it for saltwater fishing every now and then – just stick to small species and make sure you clean it after. I cannot stress this enough. 😉
The fly reel is built to last – you can tell as soon as you touch it. Strong, good quality but surprisingly lightweight. It features a simplistic tri spoke design that adds to its lightweight profile. It is basic construction guaranteed to work and maintain its integrity overtime.
The fly reel is based on 6061 aluminum. This type of aluminum will resist rust, corrosion and abrasion. Even if you somehow damage or ding the fly reel, the material can still resist.
It is the most common choice in the aircraft manufacturing industry as well. But that might be a sales pitch as well by the manufacturer. 😉
The aluminum is finished with T2 anodizing. The aluminum itself should not have any problems against corrosion, but this finishing gives it even more durability. There are more colors to choose from, including green, orange and blue.
The arbor is large to allow a great advantage when fighting large fish. It provides so much line pickup power that you will barely have to make any effort. It is a common style these days because, after all, you want more power with less work, right?
The drag system is based on the exact same principle. You get a disc drag mechanism. There are no ball bearings in its composition, but a bushing for a smooth spool operation. The bushing is based on strong plastic, while the spool operation runs with close to no friction at all.
The drag mechanism consists of carbon fiber and thermoplastic. None of these materials require any maintenance at all. If you look after your fly reel, the drag system should last you forever.
Galvan is so confident in its products that it provides a lifetime warranty – I guess that says all about the quality standards.
Review by other costumers:
"I have ordered this fly reel to match my new rod. The performance is flawless and the smoothness is WOW! It is probably the best fly reel I have ever owned so far."
---
Sage Spectrum Fly Reel
Sage is your best bet if you are after quality and high end features. I had to build my way up there – started at the bottom and bought one fly reel after another until I managed to reach this point.
Sure, these fly reels are a bit more expensive than others, but you have an incredible quality and top notch features.
One of the best parts about the Sage Spectrum Fly Reel is the fact that it is suitable for all kinds of fishing applications. You can use it with no problems at all in freshwater, but you can also fight large fish in saltwater. There is, of course, a bit of extra maintenance needed when used in saltwater.
The design makes this fly reel a lifetime investment. Even if you somehow upgrade from it, you can always get back with no issues at all. It feels like a workhorse as soon as you start using it. Furthermore, it comes in a bunch of good looking colors – lime, platinum, copper and black. I personally use the lime and copper.
As if the 6061 T6 aluminum was not enough, Sage has finished its fly reel with a top anodize. It adds even more protection against rust, abrasion and corrosion. This type of finishing is quite popular because it can maintain the fly reel in good condition without really adding to its weight.
The arbor is large and like I said before, it is quite common these days. We all want to bring fish back as quickly as possible, but without feeling like we are in the gym for an arm workout. You get lots of line back without too much effort.
As for the drag system, this fly reel comes with a sealed carbon system. You will love the sealed design, as it ensures no dirt or dust can go in there. In terms of materials, you have an exclusive blend of carbon and a few different setups to tackle any kind of fishing application.
It is worth noting that Sage fly reels come with a lifetime warranty, so you know you can leave yourself in good hands.
Review by other costumers:
"I have owned a few Sage fly reels in my life and I must say they have never failed on me. I feel like the Spectrum is the ultimate tool you need in freshwater. Great value for money too."
---
Nautilus X-Series Fly Reel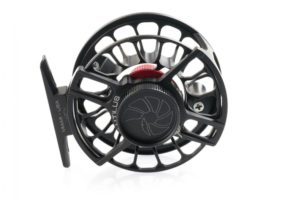 I know what you are thinking – if you are familiar with the fly reels from Nautilus, you probably know already that the brand is a front runner when it comes to saltwater products. They are likely to take all kinds of saltwater applications and allow you to fight all kinds of fish.
But how about a freshwater fly reel from Nautilus then?
Exactly – the successful manufacturer has released the X-Series fly reel, which is suitable for freshwater. In fact, it is mostly recommended to trout, but it is just as efficient to catch other fish.
While lightweight, the reel comes with an astonishing performance. At the same time, it can also be used in saltwater applications.
Design
The design is based on an open spool style. Based on personal experience, these styles are usually prone to failing at some point or another. They cannot really compare to classic designs. However, Nautilus has relied on rugged materials to increase its durability, so you will be surprised.
This fly reel is made of machined aluminum. You should never face any issues dealing with corrosion, abrasion or rust. Even if you accidentally ding the fly reel (it happens to all of us every once in a while), the unit will still face corrosion with no problems at all.
Classic VS New
When it comes to the finish, you have two different options. The anodized finish is classic. It adds even more resistance against corrosion and abrasion. The black design is not just good looking, but it also holds up really well. The other option involves brushed titanium, which is just as efficient.
Nautilus has taken the arbor to another level. We all know how handy a large arbor is, but Nautilus has gone a bit further. You get an ultra large arbor, which will make your job a breeze. The spool size also varies in size.
Drag system
Last, but not least, the X-Series features a modern SCF-X drag system. It is sealed, hence its common uses in saltwater applications too. The mechanism is made of carbon disc and Teflon. Both materials are strong and lightweight.
Other than that, you can get this fly reel in two colors only – silver and black. The offer is a bit limited, but this is probably the last thing you care about when you want performance.
Review by other costumers:
"I am impressed with the balance and performance associated with this fly reel. I knew the X-Series was out of its league and can make the difference, but it totally exceeded my expectations. Great job, Nautilus!"
---
Hardy Ultralite CADD Fly Reel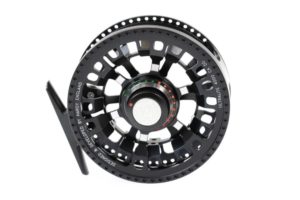 Hardy has mostly specialized in high end fly reels lately. Sure, you can find some middle range products for experienced anglers too, but most of them provide quality features and a top notch performance.
Furthermore, the Ultralite CADD fly reel is extremely versatile and suitable for any application, hence its value for money. You can use it for freshwater, but it also does a good job in saltwater.
Design
In terms of design, you will be surprised by the lightweight profile.
However, performance is flawless. 🙂
You can get this unit in a few different models, as well as a few different colors – most commonly, black and titanium. I have no idea how to describe this, but it feels compact and smaller than other fly reels in this range. Once you get it, you will be surprised by what it can do – a strong essence in a small bottle.
The fly reel is made of aircraft aluminum – 6061.
To make the Ultralite CADD fly reel even better, Hardy has brought in a two tone anodized finish. Not only does it add to its durability, but it is also efficient against dinging and dropping the reel – which happens at times, no matter how careful we are.
The arbor? I know – you would expect it to be large because many high end fly reels come with this standard. Wrong! Hardy has brought in an ultra large arbor. Efficiency is simply stunning. It is the ultimate option on the market and nothing can beat the line pickup. I believe you might as well fight a shark and still be able to get it on your board.
Classic Rules!
The disc drag system is classic. You have powerful capabilities when stopping fish, while adjustability is easy and straightforward.
The size makes it suitable for freshwater and saltwater applications. The system is based on carbon fiber – lightweight and durable.
Review by other costumers:
"I bought this fly reel for two reasons. First, it is probably the best I could find on the market. Second, it is beautiful. I love how smooth it is – it handles fish with no problems at all. It is solid and durable too and it can definitely take some beating. The value for money is great."
---
Cheeky Boost Fly Reel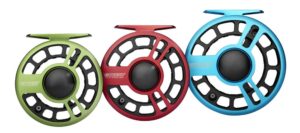 The Boost fly reel from Cheeky is less likely to disappoint. There are two reasons behind its popularity:
Excellent value for money
Amazing looks
It provides great features for the price and can successfully join the big guys in this industry without actually going up in costs.
Smaller brand with great quality
When compared to other top players on the market, Cheeky is a relatively small brand. Obviously, I wanted to know a bit more about it before spending my money. It may not have as many products as other manufacturers, but it puts quality first. I like it! 🙂
My Boost fly reel is delicate and lightweight. But once you get to use it, bam! It is incredibly strong and does half the work for you. I used it with a few different rods and it makes an amazing addition to my gear collection.
12.5 inches of line per revolution
It comes with a MAX arbor, so it picks up line like there is no tomorrow. There is literally no effort involves – much easier than what I got in more expensive fly reels. Your fish will be next to you within seconds. You get up to 12.5 inches of line per revolution. I believe it does matter what kind of rod you hook it up to. After all, you want a perfect balance.
The fly reel weighs seven ounces only.
Another thing that surprised me was the retrieving sound. Actually, there is no sound at all. If you concentrate, you might hear something, but this is it. Pretty much all the reels I have tend to make some noise when in use. The silent approach is a bit unusual and makes you wonder if it actually works.
It will take a little to get used to it, but once you get it, you will love the quiet operation.
Drag system
The drag system is smooth and powerful. It is based on carbon fiber – both durable and lightweight. The quick change spool is easy to adjust – no tools or experience needed. Plus, it makes no difference if you are left or right handed.
The conversion is a matter of seconds. It is worth mentioning that the package comes with a nice stash reel case too.
New kid on the block!
Finally, Cheeky worked for more than a year coming up with this product. The Boost series has been tested and redesigned a few times until it made it. My point is – if you are up for a quality unit without breaking the bank, the Boost series will not disappoint you.
---
Final words
As a short final conclusion, you do have some interesting options when it comes to fly reels under 300. Obviously, you expect a serious upgrade when you decide to go up in price. At this point, the market can be a bit cheeky.
I recommend going with a top manufacturer. Solid brands with a good reputation are less likely to let their customers down. The above mentioned products will not disappoint you.
There are more things to take into consideration when considering the best reels under 300. Most importantly, make sure the fly reel is designed for what you actually need – the water around you or the species there.
If you normally fish in saltwater, it is pointless to invest in a freshwater fly reel. Sooner or later, the saltwater will take its tool.
Happy fishing!
Niels Thomas is a wildlife expert and fishing fanatic that works with major fishing brands like Deeper Sonar, Abu Garcia, Berkley, PENN, BassPro and Pure Fishing. Through sharing the best fishing tips, tricks, gear reviews, locations and much more he hopes to inspire fishing fanatics to start their own journey towards becoming the King of the Catch!