Have you ever tossed your lure into the water with an expectation that it will sink and bring in those prized baitfish? Have you ever been disappointed after the lure floats on the surface instead of submerging underwater? If it was your intention for the lure to sink in, you already know that one cannot always expect fish to be in shallow waters. There are times you need to go in deeper, and what you need in such cases is a heavier lure.
Do you use weights with lures?
Question: Hey Thomas, I'm John from Edinburgh, Scotland. The first thing I want to say is that I am a big fan of King of the Catch. I am 28 years old and have been a fan of fishing since I was a boy. Thomas, I know the basics of lure but was wondering if we can use weights with lures. The lures that I have right now do not have enough weight to go as deep as I want them to go. They only float at the water surface. Do I need to add extra weight, change the lures or do you have any other tips?
Answer: Hello John, Thank you for all the compliments. It is always nice to hear that King of the Catch is giving the readers the information that they need. 🙂
I have a short and easy answer to the question that you have brought forward today. Yes. You can use weights with lures, but you need to keep in mind how much weight you should add and if it matches your fishing style. We will discuss all those issues today.
There are several reasons why you might need to add weight to your lure or get your hands on a fishing sinker:
Weights enhance your lure's anchoring ability
You can cast your line to greater distances with sinkers
It reinforces the sinking rate and ability of your lure and line
Let me show you my favorite weights!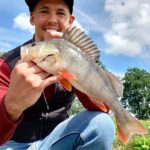 Types Of Weights That Are Suitable For Lures.
Jig heads
Jig Heads
Jig heads do not look like they will be of much help in fishing. However, do not be fooled by its minimal size. These jig heads are a great choice when it comes to adding weight to your soft baits. They have a weighted front, which makes it easy to dive and fall deep into the water and make moves that pike, perch, bass and zander JUST LOVE!
At the end of the jig is a hook. The quality of the hook will typically depend on the brands and the company. However, to make things easy for you I selected the best jig heads with top quality hooks on amazon for you. You can find the best deal here!
With ten jig heads in one packet, this one is very affordable too. You are welcome! 😉 The weight of the jig heads can be anywhere from 0.250 oz to a full 1oz. 1 oz jig heads are perhaps the most substantial weight you can find.
Among the top advantages of using a jig head is effortless rigging. Even if you don't have a lot of fishing experience, you will have no problem rigging a jig head like a pro. For starters, thread the jigging worm on the hook and move it all the way up to the jig head. The tip of the hook should be hanging out from the middle of the soft bait.
Need some extra help? No worries – this video will help you out with the basics.
---
Drop shot weights.
Drop shot weights
Drop shot weights can make it a breeze to land a prized catch such as a walleye, bass, zander and perch. Even the bycatch of a big pike makes the sport of drop shot fishing that much more fun! Amongst my top choices are the drop shot weights that are round and cylindrical.
Weighing between ½ oz and 3/16 oz, you want to make sure that a drop shot weight is almost completely snag-free. Another feature, which makes these weights snag-resistant, is the material of construction. It is made of tungsten that makes it a lot more smooth and sensitive.
My favorite brand? I have many but the Ruction Tackle set (that is sold here for the best price) offer great value for your money. This drop shot weight has a price that is on the higher side. However, the premium quality, aka 97% tungsten, and its performance makes it exceptionally worthwhile. If you want to go for environmental friendly, you can check a good brand here.
Its sensitivity is also why this drop shot weights have a special place on my list. You will literally feel every rock and weed as you take this weight for fishing. This means that you also get to feel the fish's full sensation when it hooks to your bait. And having a good connection is very important when it comes to dropshot fishing.
Make sure you have the right rod to create the movement of the bait, fishing line (always braided), the bait and the weight.
---
Carolina weights.
Carolina weights
Carolina weights are the granddaddy of weights. They are traditionally brass weights, which makes them perfect for fishing in deep waters. Additionally, this rig weights make a great companion on longer casts. Carolina weights often come pre-rigged. However, separate components are also available.
The pre-rigged Carolina weight from Boom Fishing is a great example. You can readily add them to your rig and cast the line right away. These weights are made of copper alloy and come in two sizes – ½ oz and 1 oz. Five weights come in one packet, which is a good deal. Each of the weights has the same components:
Brass bullet sinker
A brass amplifier
Three red plastic beads
A brass barrel swivel
This set up makes this weight a great choice for deep-water fishing. Carolina weights make a loud clicking sound in the water, which is irresistible to the fish. This sound comes from the beads that bump against the sinker. The amplifier in the weight picks up the sound and relays it. In addition, the beads also act as a protective buffer so that the wire does not get snagged. In fact, even when you are bottom fishing with dense vegetation, it is almost impossible to get these snagged.
Sounds great right? Now to make your search easier, I already found the best deal for the carolina weight from Boom Fishing on Amazon. You can check it out here.
---
Worm weights.
Worm weights
Worm weights are famous for slipping easily through weeds. It is primarily due to the bullet-shaped design. These weights usually come pre-rigged, so you put them straight to use. Needless to say, worm weights are a top favorite for serious predator anglers.
A worm weight sits directly in front of plastic baits such as craws or worms. It has a concave bottom that sits snugly near the plastic bait when you rig it. Therefore, it is a fantastic choice of weight to add to your fishing gear. This is the main reason why worm weights work perfectly for fishing predator fish, which is known for putting up a fight before you can reel it in.
Take the worm weight from Reaction Tackle Store, for instance. Made from tungsten, the weight is sensitive and just about the perfect weight for fishing in multiple water depths. The weight consists of premium materials in the construction, i.e., 97% tungsten.
Weights from this brand are not compromised on quality, and this one is no different. It is diamond polished and has high-quality paint. This makes the paint chip resistant and unrivaled in longevity. Its surfaces are among the smoothest, so there is no way it snags your line. If you click on this link it will show you the best price on Amazon.
This worm weight comes in six different sizes ranging from ½ oz to 5/6 oz. The pack can include four to 12 weights depending on the size. You also get to choose this worm weight from six different colors if the color scheme is important for you.
---
Inline sinker for trolling
Sale
Inline sinker for trolling
Worm weights are famous for slipping easily through weeds. It is primarily due to the bullet-shaped design. These weights usually come pre-rigged, so you put them straight to use. Needless to say, worm weights are a top favorite for serious predator anglers.
For trolling saltwater and freshwater predators, you cannot miss out on using a good inline sinker. Inline weights have a distinct streamlined outline, which facilitates the bait to swim in a straight line. Moreover, the thin profile of the sinker reduces the twisting of the fishing lines. In addition, you get absolute control of the baits that are necessary while working with multiple lines.
This inline sinker from Acekit is one of my favorites whenever I plan to catch pelagic fish. It is an egg-shaped sinker, which will take your bait down to the right depth in no time. The brass used in the construction makes it reliable and durable. Moreover, it has an exceptionally smooth surface, which gives it great resistance in saltwater. But of course, the stinker also works perfectly in freshwater.
Inline sinkers with inner swivel are the easiest to rig, and this one comes with one. In addition to effortless rigging, the inner swivel keeps the bait as well as the sinker in a straight line.
This inline sinker for trolling is available in six sizes ranging from 0.04 oz to 4.17 oz. Depending on the sinker's weight, it can hold a tension ranging from 39 lb to 125 lb, which is a considerable weight. The sinkers also come in packs of eight to 40 pieces, which is indeed a great deal for the money.
---
Nail weights.
Nail weights
Nail weights are by far the most deceptive looking when it comes to weights for lures. As is evident from their name, they have thin outlines similar to a nail. The only difference between a regular nail and nail weight is that the weights have ridges.
One of my personal favorites among nail weights is this one from the Reaction Tackle Store. The straight profile makes it easy to insert into worms, sticks, and jerk baits. It is the ridges that prevent the nail from slipping off the plastic bait.
This nail weight, in particular, is made of tungsten that makes it lightweight and very sensitive. Like other fishing weights from the brand, this nail weight is 97% tungsten, making it a professional-grade weight. In addition, it is diamond polished, which renders the weight very sturdy and durable.
If you are wondering about the specific weight, this nail weight won't disappoint you. It comes in six different sizes ranging from 1/6 oz to 3/32 oz. So irrespective of your fishing requirements, you will get the perfect weight for your lures. In addition, the nail weights come in eight to 20 pieces per pack depending on the size, so it is a good deal for the money.
You can choose this nail weight from two different styles – original and new style. The ridges in the original style are very subtle, but they are very prominent in the new style. For choosing the style of the nail weight, it comes down to your style of fishing.
Check out this nail weight in this link.
---
Suspend strips and drop weights.
Sale
Suspend ships & drop weights weights
Suspend strips and drop weights are not the first choice of weights for fishing lures. However, if you struggle with suspending or sinking a crankbait after you stop retrieving it, this type of weight is the perfect answer. The reason why suspend strips and drop weights make a great choice is their versatility. You can tweak your baits into any type to suit your fishing style.
Take this SuspenDots, for instance. They have sticky dots all over the surface so you can customize your lures without drilling holes in them. The weights with dots work perfectly with lures that are on the lighter side.
On the other hand, for lures with some weight and buoyancy, SuspenStrips are the perfect combination. They stick to the lures and add weight to it, which makes it easy to sink them or control them as you wish. The brand Storm makes excellent SuspenStrips as well.
Using Suspend strips and drop weights is very effortless, even if you don't have any experience. The adhesive in the dots and strips sticks to the bait, so they will not come off in the water. However, taking off the SuspenDots and SuspenStrips is very easy after you finish using them.
There are 80 SuspenDots in one pack, which is a fantastic deal. The price of these strips and drop weights is also very reasonable, which is just one of the many reasons to get them today.
---
And there you have it! Good luck on your next fishing trip and hopefully these tips will make you catch more fish.
Happy fishing!
Thomas
Niels Thomas is a wildlife expert and fishing fanatic that works with major fishing brands like Deeper Sonar, Abu Garcia, Berkley, PENN, BassPro and Pure Fishing. Through sharing the best fishing tips, tricks, gear reviews, locations and much more he hopes to inspire fishing fanatics to start their own journey towards becoming the King of the Catch!