In this article I am writing about the best fly reels under 100 USD. Why this topic? Well, the necessity of a quality fly reel becomes obvious as you get engaged with fly fishing for the first time. Unfortunately, you will learn quickly that high product prices are not uncommon when scouting for quality fly fishing equipment.
Best Fly Reel Under 100$
Sure, once you get started you can play around with a cheap beginner fly reel for a bit, but at some point, you want better. And better does not always have to mean more expensive.
After comparing eight fly reels under 100$ and testing two, we found that the Lamson Liquid Fly Reel was the winner based on design features, durability, user-friendliness and price.
This reel is extremely affordable and ideal for budget shoppers. Its impeccable design and unique features make it a premium quality product that will give most competitors a run for their money.
One of its unique features is that unlike other reels, which are 'carved' out of a block of steel, this one uses liquified steel poured into a mold. Not only does this help in keeping production costs low, but it also offers customers a high-quality product.
Winner
Matching Rod
Winner
Matching Rod
Even though the Lamson is a clear winner in my books, the Redington Zero Fly Reel comes in a close second. 
First off, it is one of the most lightweight and colorful reels in the market. The drag performs excellently and provides adequate tension that prevents overruns. I must admit, I love the clicking sound it makes when stripping line, though the sound it makes when reeling it in is slightly more mellow.
Runner-Up
Matching Rod
Redington Classic Trout Fly Rod
Runner-Up
Matching Rod
Redington Classic Trout Fly Rod
Who is this review for?
If you are interested to learn the basics on how to fly fish or if you are already experienced angler but don't have a large budget to buy your tackle.  This review takes a deeper look on price Vs. quality and user-friendliness for the beginner fly fisher. 
Check these blog posts if you are looking for a different price range:
Fly reels for certain species:
Are cheap fly reels of good quality?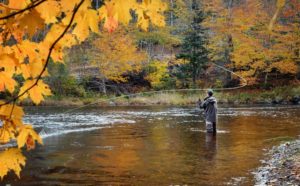 I know what you are thinking – Are cheap fly reels of good quality? We often ask ourselves the same thing regardless of what we buy – from food and electronics to actual cars. Price/quality ratio is also important for fly fishers.
These are my observations:
Many inexpensive fly reels will still come with a die cast aluminum design or a stainless steel drag system.

You can switch from left to right handed use in no time.

You can normally adjust the drag – not too many options here, but you can still get the job done.
Now, if you think about it, the less mechanisms and features a fly reel has, the less likely it is to break down. There are just a very few things that can go wrong and that is a plus. Especially for beginners!
Another important factor is the type of fish you want to catch. If your fish species is relatively small – less than three or four pounds, your fly reel will be extremely efficient. After all, you only need a line holder.
Why should you trust me?
For this guide, I spent eight hours researching and comparing different fly reels. Then the King of the Catch review team spent 3 fishing sessions of 8 hours each testing each reel.
Beyond testing fly reels, I've been reviewing tackle including fish finders, bait & lures, rods and baitcasting/spinning reels for the last three years at King of the Catch. Every month close to 10,000 unique visitors consult King of the Catch for the latest fishing tackle reviews.
How we picked and tested?
We scoped out the most popular fly reels under 100$ on Trident Fly Fishing and Amazon, and looked at models from well-known brands including Lamson, Redington, Orvis, and Seigler to find the best options on the market today. 
We asked the opinions from experienced fly fishers from the North American Fly Fishing Forum and Fly Fishing UK, and we combed through subreddits like /r/flyfishing/ and r/troutfishing/ to find community favorites that held up well over time.
---
Winner: Lamson Liquid Fly Reel
Winner: Lamson Liquid Fly Reel
Priced at just under $100 at Trident Fly Fishing, there is not much we felt was missing from the Lamson Liquid Fly Reel. It is suitable for all water – but we tested it mostly in freshwater. This impressive reel comes with a top notch cast construction to provide lots of advantages while out for fishing. It features radiused curves, as well as an extremely low radius inside corners (almost zero). It has a good looking finish and it feels precise and stable when you hold it. What is the final verdict? The King of the Catch gives the Lamson Liquid Fly Reel 4,5 out of 5 stars!
First Impression Of The Lamson Liquid Fly Reel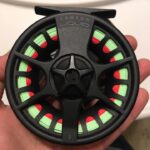 The first thing you will notice when you hold this reel is how incredibly lightweight it is. However, this says nothing about its quality, as it has a high-quality and durable cast reel construction with a strong, conical drag system.
Furthermore, this reel features an extremely precise finish, which I found very convenient to handle. Lastly, you will notice near-zero radius inside corners with full-radiused compound curves – features which you wouldn't expect from a reel that costs under $100.
Why It Is Great
Although the reel is lightweight, it features a large arbor, which increases line pickup and allows me to fight the largest fish in freshwater and saltwater conditions. It also reduces the work required, allowing better efficiency in the long run.
Moreover, it is made entirely of proprietary Delrin/Teflon alloy that enhances its strength while keeping it lightweight and easy to handle. Most anglers applaud Lamson on creating a reel that has the perfect balance of weight and strength, making it one of the most popular products you can go for.
This Liquid Reel comes with an excellent sealed Conical Drag System; perfected after years of extensive research and design. Not to mention, this series comes in a range of sizes that make it ideal for all types of fly fishing applications.
The system also offers an infinite adjustment range, which means there is virtually no clicking when it turns. Its smooth adjustment dial enables you to set it at your preferred level, offering optimal resistance.
Lastly, I want to mention its stealth black finish that is excellent for prying on fish without scaring them off with sudden, unwanted flashes. Although this reel is priced under $100, it features the same basic CNC-machined drag cassette design that you'll find on their higher-end models.
Flaws But No Dealbreakers
Like every product, the Lamson Liquid also has some minor flaws, which I want to talk about. The thin tippet leads to slight startup inertia, which can be of some inconvenience, especially when you're trying to fight some relatively snappy fish. However, this isn't a huge deal breaker for me, considering the price and overall top-notch features it offers.
Moreover, I think that the 3 weight rod would pair better with a slightly smaller reel. Then again, the reel they offer may look massive compared to the rod, but it isn't cumbersome.
What Rod Can You Mount It On?
Fenwick AETOS fly rod
I paired the Lamson Liquid Fly Reel with the Fenwick AETOS fly rod - a reasonably priced, caster-friendly rod that offers excellent handling capacity. Compared to several other higher-priced versions on the market, this rod is accurate at any distance (out to 60 feet) and efficiently caters to a range of angler abilities.
Furthermore, its large diameter gunsmoke stripping guide is excellent for minimizing unwanted weight. It is secured with black thread wraps, giving it added functionality and durability at a low price.
---
Runner-Up : Redington Zero Fly Reel
Runner-up: Redington Zero Fly Reel
Priced at just under $100, Redington is becoming one of the leading entry range fly reel brands out there. Most of its models are packed with features you normally find in high end products but for an affordable cost. It comes with a die cast style that keeps the reel lightweight, as well as a mix of Delrin and aluminum for the drag system. What is the final verdict? The King of the Catch gives the Redington Zero Fly Reel 4,3 out of 5 stars!
First Impression of the Redington Zero Fly Reel
If you consider yourself an avid trout angler like me, you'll be pleased with the Redington classic click-check. The company has kept its costs low by packing powerful features into this small, lightweight reel without compromising its durability.
However, at the price offered, I think this reel is ideal for small trout applications where you don't necessarily need a huge drag. That being said, it features the most powerful drag system that you would be hard-pressed to find anywhere else on the market.
Coming to its color options, you can choose between the Black, Sand, and Avocado color themes, which give you excellent versatility and appeal. I love the color options as it gives me the freedom to switch between options rather than sticking to the basic black offered by most competitors.
Now, if you're wondering how Redington keeps its reels so lightweight yet durable, you can attribute it to their die-cast aluminum construction. Furthermore, the handle is soft-touch and twin-molded, giving me excellent grip – whether it is wet or dry.
Why It Is Great
In my opinion, the use of a Delrin gear with an anodized aluminum clicker enhances its reliability while efficiently decreasing its weight. The large arbor size is excellent for increasing picking, allowing anglers to fight all trout sizes. Plus, its retrieve speed is relatively good, especially when you think about the price at which you're getting it.
Coming over to its click pawl design, the sound accompanied when stripping line is honestly pleasing to my ears, and I think most anglers would agree with me on this. Besides the enjoyable click, there is virtually no drag that will let you know the line is coming out of the reel.
Now, this reel is available in two sizes – ⅔ & ⅘, so anglers can pick the one they are most comfortable with. However, the best part about this reel is how simple and reliable it is. Don't expect any bells and whistles with this one – the company has focused primarily on designing a budget reel that is ideal for most beginner anglers.
That being said, I have to talk about its Dreamcicle color. Of course, if you want to go for this matte orange shade, you'll have to pay another $10. In my opinion, this shade complements the accents on the Butter Stick rods, if that's something you'd like.
Flaws But No Dealbreakers
Let's talk about flaws. I already mentioned how its die-cast aluminum construction makes it an excellent lightweight option. However, you may have already realized that this comes at a small price – durability.
I also noticed some of the inner spokes that weren't as 'perfect' as the rest, but that's only if you look closely. Over time, however, I noticed little bits of paint chipping out, but that's expected of a $100 reel, don't you think?
What rod can you mount it on?
Redington Classic Trout Fly Rod
Paired with the Redington Classic Trout Fly Rod, the Zero reel performed impeccably. This rod is ideal for small streams, creeks, and drift boat fishing, so don't be wary of taking it out on larger tailwater fisheries. Furthermore, its true mid-flex technology is fantastic, while the moderate blank action helps you land smaller, delicate fish with ease.
Final Words
Both the Lamson and Redington reels are fantastic finds under $100. While you shouldn't expect them to be the most durable ones on the market, they are incredibly reliable and lightweight, allowing you to use them on various fly fishing applications.
Niels Thomas is a wildlife expert and fishing fanatic that works with major fishing brands like Deeper Sonar, Abu Garcia, Berkley, PENN, BassPro and Pure Fishing. Through sharing the best fishing tips, tricks, gear reviews, locations and much more he hopes to inspire fishing fanatics to start their own journey towards becoming the King of the Catch!