Surface fishing for carp.. Just saying these four magic words puts a huge smile on my face. Over the years I have been actively involved in the amazing world of carp fishing. This summer a friend of mine introduced me to surface fishing. To be honest, I was a bit hesitant at the beginning. I mean, he was talking about catching fifteen and twenty pounders with a hook and some bread. Could surface fishing really be that effective?
Surface fishing for carp
But guess what? It actually is a fantastic fishing experience and last month I caught 26 stunning carps (average 14 pounds per fish) using this method! Just thinking about it gets me pumped up again.
To share this good experience with you I decided to write an in-depth blogpost on how to master float fishing. In this blog post I will talk about the things that I have learned that will make your float fishing sessions just as successful as mine.
Thing like what baits to use, best weather conditions, the right fishing tackle, using the correct strategy and why this method of carp fishing is the most fun you'll ever have.
Interested? Keep reading!
Why surface fishing for carp rocks!
If you would ask me how to describe in one word why floating fishing for carp is such a thrilling experience, I would say: Activity!
As a float fisher you are constantly observing and adjusting. Depending on the method you apply (see next chapter) you also need to be mobile.
As soon as you arrive at your favorite spot you scout the waters with your polarized sunglasses. Can you see them? How many? Are they active? Can I reach them? Should I feed and come back later or try my luck now? And of course, the classic one: How to avoid those dumb ducks eating my bait!
These are just a few of the many questions you will ask yourself when deciding what float fishing strategy you will implement today.
Surface fishing methods explained 
When you are getting introduced in the world of float fishing you will lean that there are two different methods: One location or Scouting.
Let me explain both methods in more detail:
One location
Staying on one location means you plan to draw the carp to your spot by using bait. It is a lot less active compared to Scouting. You create a feeding spot and try to catch the carp on one location. But in order to do so you will have to be patience for the carp to come, fight off a dozen water birds trying to steal your bait and be very patience.
Once the feeding frenzy has started it is just a matter of getting the bait at the right place at the right time and you are good to go. I caught four carps in 70 minutes using this method. All at the exact same spot!  I also use almost double the bait compared to Scouting due to water birds and small fish eating it.
Stalkint
By using the stalking method, you are actively scouting the water for carp. Normally I have 3-5 favorite spots per location and as soon as I arrive, I start scouting each spot. Normally I will spot a few carp on one of my favorite spots. If there are no carp present, I throw in a few pieces of bread and dog biscuits and move on to the next spot.
Once I am done checking each spot, I start my scouting process all over again and check if my previous feeding has drawn a few carp to the surface.
When do you need floats for surface fishing?
Beyond distances of around 10 meters (9 yards) you'll need to use a float. Why? The additional weight is required to be able to cast your lightweight floating bait. For any shorter distance you can do without.
Floats that are used for surface fishing are called controller floats and are divided in two main types: bubble floats and self-cocking floats.
Controller floats
There are many types of controller floats available. Which one do you pick? Well, that doesn't really matter as they all do the same thing which is providing extra weight for casting. Of course, the more weight you choose the further you can cast.
Keep in mind that the float needs to be attached to the mainline. I recommend 1 to 2 meters (3-6ft) from the hook. Make sure that the float can't travel down the mainline to the hook. It will give you trouble whilst casting and scare the carp.
Bubble floats
With bubble floats you can decide the casting weight. These funny looking golf ball shaped floats are very popular in Europe and are often used for float fishing. I buy my sets for cheap here. Add water to your float, determine what weight you want to use and get ready to do the perfect cast. It is as simple as that. Just make sure you do not fill up the floaters all the way. You need air to keep it floating.
Types of bait ranked on price and efficiency
Dog biscuits/food
There are two methods to attach a dog food to the hook. Some prefer superglue, but I like to use bait bands. You can either pull it through the drilled bait or use the elastic band around the biscuit. Always try to hide the hook by choosing a biscuit that a bit of a v-shape. That way the hook can be tucked away in the biscuit. A good combination is with floating carp pallets.
Extra tip: Soak the dog biscuits/food in cooking water for about 30 seconds. Drain the water and let it steam for another minute. That way the biscuits become a bit softer and will be easier to drill.
Surface fishing for carp with bread
The best part of a slice of bread is the crust. It has more texture and is more likely to stay on the hook. Hide the hook inside but make sure that once the bread hits to water it break down fast. I can only use it one or two times before the bait needs to be replaced. I prefer white bread over whole grain.
Extra tip: Casting with only bread is a nightmare. It is too light, and it can cause your fishing line to get tangled. Before you throw, make sure you dip the hooked bread quickly in the water. The absorbed water will give a little bit of extra weight without breaking it down.
Pop-up boilies
A pop-up boilie is a boilie that floats. I have tried this method a few times and I had great results and made the carp in my local fishing pond go crazy. The texture is much better compared to bread and won't need be replaced quickly.
Fake baits
There is a whole variety of fake baits for float fishing. You can try fake bread, a cubed shaped cork or fake floating corn! Try mixing it with sweet corn super gel scent and you are good to go!
If you are having trouble firing out baits at distance you should try a PVA bag. This bag allows you to catapult your bait in your favorite spot. I always use the cheapest ones and they are environmental friendly and do the job perfectly!
Surface fishing tackle list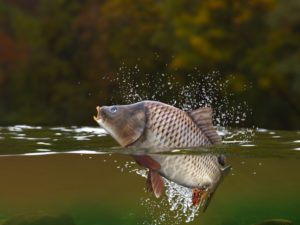 Best rod for carp surface fishing
The type of rod that you need for surface fishing depends upon the distance you are fishing. I like to use the Daiwa Black Widow rod. It is a nice powerful rod, well built, secure reel seating and light to hold when needed. It is perfect for catching carp between 6-15 pounds. It was easy to handle and made of great quality. For a reel I recommend a affordable 3000 reel of KastKing.
Best surface fishing for carp rigs
Depending on the size of the floating bait that you use you can decide what size hook you want to us. I prefer a size 6 and a wider model. The best line for surface carp fishing is a line that is light and does not sink. I prefer a Berkley Xtra Strong 0.22 fishing line. And that is all you need!
Some people prefer a fluorocarbon line at the end of your rig, but with the Berkley line you are already protected against rocks ands sharp edges at the bottom. And trust me.. that carp will take it to the bottom as soon as you hook him on the surface. Be prepared for this or you will lose the catch.
Backpack
If you are using the Scouting method, you want to make sure you are mobile. The Sea Knight Tackle Back is perfect for float fishing. To be honest, I use it for almost all my fishing sessions so I would rather see it as an overall investment. And it is a good investment to make! 
Sunglasses
This is a must-have! If you can't spot the carp you are wasting your time. And in order to do so you have to get a set of polarized sunglasses. I recommend KastKing Sunglasses. Why? The lightweight feel of these glasses are perfect for long fishing session. The cheap version are often too tight. This results in a massive headache at the end of the day.
Camouflage jacket
Staying hidden is key when you start float fishing. You either keep enough distance so the carp won't get spooked or you use a camouflage jacket to get closer. I recently purchased an affordable Frogg Toggs camouflage jacket. It is simple, cheap and it does the job! No need to spend a fortune.
Net
I recommend using a foldable net. You are fishing on smaller sized carp and you can use any brand as long as it is portable. I purchased this baby for less than 30 bucks.
Best weather conditions for surface fishing
Weather conditions are a very important factor when surface fishing. I recommend you download your local weather app that gives details such as humidity, UV index, temperature and most important pressure. Pressure is the one you are looking for. This is displayed in either mBar or hPa.
Why is pressure so important for surface fishing, you ask?
When the air pressure is high the carp is put under increased pressure. Because of this increase pressure, the fish is being drawn into the upper water layers. And guess what? That is where your bait will be waiting for them. The perfect conditions are around 1010 mBar/hPa, or higher.
Extra tip: The temperature actually does not matter much. I always assumed that hot weather forced the carp to go to the surface to feed as there was less oxygen in the water. This is actually not the case if you follow the pressure rules mentioned above. I had much more success catching carp follow this method. Even on not-sunny days. 
Good luck!
Niels Thomas is a wildlife expert and fishing fanatic that works with major fishing brands like Deeper Sonar, Abu Garcia, Berkley, PENN, BassPro and Pure Fishing. Through sharing the best fishing tips, tricks, gear reviews, locations and much more he hopes to inspire fishing fanatics to start their own journey towards becoming the King of the Catch!