Nothing makes a fishing day better than catching zander that you have always wanted. But what makes this experience even more special? It is the fact that zanders are not the easiest fish to get your hands on. 😉
Besides having the right weather and spot on your side, you need to pick the top option from an array of zander lures that the market has to offer. Getting one of the best lures for zander will increase your chances of having the best fishing day ever!
Best Lures For Zander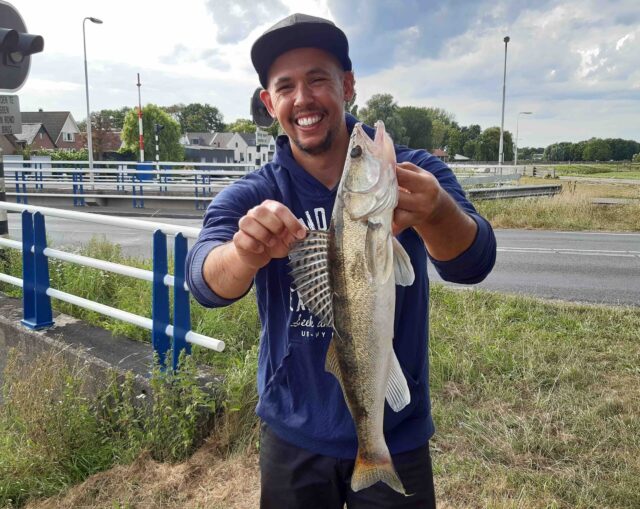 I love zanders because we can catch them on most water bodies, whether it is a lake or in rivers. Although this gives us more options regarding where we can fish, it also exposes us to a massive number of baits that we can use to catch the big prize. You can also cast, troll, or try the vertical way top catch this fish. The best lures for zander are usually plugs and soft baits.
Get a quick look at different lures and what kind of fish they catch in the article, "what lures catch what fish." The basic knowledge will help you understand why we cannot use the same Lure for all species of fish.
Now that you have more lure choices, you might be feeling a bit overwhelmed by being unable to decide on which one to choose. Not if I can help it! I have been in the fishing scene for years now and collected enough information, through experience, to help you pick the best lure for this fish.
There are some common mistakes that people do, which might make lures ineffective. "Why can't I catch fish on lures" gives us some reasons why these things might not work sometimes.
Today, we shall review the seven best lures for zander so that the next time you go fishing, you do not have to stress about the fish not biting the bait.
Before getting into a detailed discussion about the lures that we picked today, here is a quick overview:
Oddspro All in One soft fishing lures – Editor's Choice 
There is an apparent reason, or should I say five reasons why the Oddspro All in One soft fishing lures made it to the top 10 list today. These five reasons are that you will get five types of baits in one pack for a reasonable price.
Let us look at what Oddspro added in the package:
Five pieces of soft crawfish
These soft crawfish are perfect for zanders and other large and small mouth fish at any time of the year. You can let them sink to the bottom and aim for those low-lying fish that other light baits cannot catch.
Seven pieces of paddle tail swimbaits
The paddle tail swimbaits are 3.2 inches long and have a flat tail that you can easily control and shake to give it an authentic movement. This fish's look is lifelike and comes in a bright yellow that is sure to catch the eye of any wandering fish.
Jigheads are a must in any lure box. The jigheads that you receive in this bundle have a very pointed barbed hook. Since they have mechanically sharpened these hooks, penetrating the fish will not be a challenge. The material used to make the jigheads is a premium-quality durable lead.
Eight pieces of jerk minnow swimbait
What makes this Lure extra lifelike is its 3D eyes and split tail. The silver and gray colors also give it a more authentic aesthetic. We know that zanders like bright colored and sparkly fish. The sequin design inside the jerk minnow swimbait will reflect light underwater and make it sparkly.
Ten pieces of curved tail grub lures
The curved tail of this Lure has reflective and sparkly sequins inside it and can move along with the waves. You do not have to shake it or anything. Natural movements can attract all kinds of fish.
Pros:
High-quality materials
Lifelike looks of the minnow and crawfish
You get 40 pieces of lures in a pack
Bright colors to attract more fish
You can use the soft baits on the jighead lure
Cons:
The different kinds of lures do not come in equal numbers
What do other customers say about this product?
"This product is a nice little box that many buyers have praised for the soft plastics. Since a buyer gets more than just one type of lure, they can be sure of catching at least one fish!"
Best price and deals

---
Truscend fishing lures Paddle Tail swimbaits 3.5" – best customer rated
Lure fishing for zander can be as easy as casting your line with the Truscend Paddle Tail swimbaits. If there is one thing that we can trust, it is the Japanese and their work. Truscend had its Japanese product development team to work on this high-quality Lure.
Now you might be thinking about what the big deal is with the Japanese formula. Well, there are two points to note here. First is the sensitive paddle tail and its ability to control the rolling of the body effortlessly.
Secondly, the material that they used for this Lure is degradable and organic plastic. If you are worried about the environment and how plastics can hurt the earth beyond repair, it will satisfy your environmental concerns. You can also count on it for delivering when it comes to the action.
There is a small magnet on the belly of the swimbait that will attract the high carbon BKK hooks. This feature makes sure that the double hook does not get hung up and causes the fish to escape once you hook it.
Learning to "walk the dog" with an uncooperative lure can be very challenging. But with the Paddle Tail swimbait by Truscend, the 3D printed tail will make it much easier to mimic movements at any speed. Thanks to the flat-back design, this Lure can remain balance and motion no matter how you rig it.
All five baits in this package come with double-tone manually printed for a realistic look. Also, the holographic eyes make it look lifelike.
Pros:
It has sharp BKK double hooks on each piece
The specially designed 3D tail moves well even at low speed
It comes in a very appealing package
The two-tone texture on the body is realistic
The body has the ideal thickness to it
Cons:
It is not the best choice to fish for timid fish
The length as mentioned in the details is slightly off
What do other customers say about this product?
"I love these baits. They cast well and look good in the water. However, the open hooks might get snagged in the water. But this only means they do their job well!"
Best price and deals!

---
Rebel Minnow Value Series Lure – Best value for money 
The Minnow value series by Rebel is their first try at making hard-bodied lures that we call plugs. Because this product was their first attempt, this company sure did an excellent job of nailing it. Since they made sure it was as effective as it was affordable, many people crowded towards it. After all, everyone likes a pocket-friendly product.
There are four sizes for this Minnow lure: F49, F50, F10, and F20. The F49 measures 1 5/8 inches and weighs around 5/64 oz. It is ideal for shallow waters. The next size is F50, which is 2 ½ inches long and can reach a depth of 2 feet.
The next size is F10, that weighs 5/16 oz and can reach a depth of 3 feet. The size is 3 ½ inches. If you know a shallow spot to fish for zanders, you can go for this size. The largest size is the F20 that measurers 4 ½ inches.
You can get it in four attractive colors: silver/ black, Bass, Fire Tiger, and silver/ blue. There is no extra feature or design on this minnow lure that can affect the functionality of it. It has a straightforward and traditional design that you can depend on for catching zanders.
This product is one of the best lures for zander if you want to save some bucks and also fish on shallow waters. The smooth and lean design mimics the movements of a fleeing bait almost perfectly. There is another variant that comes with jointed bodies.
Pros:
It is very affordable
You get the same effectiveness as other similar lures at a budget-friendly price
It has simple and easy to use design
The color lasts for a long time even after frequent use
For this price, the quality is commendable
The hooks are sharp and durable
Cons:
The smaller sizes might be too small for catching zander
What do other customers say about this product?
"This lure has life like motion when retrieved. You might need to secure the bill on the lure with extra reinforcement. But all in all, it is an excellent lure."
Best price and deals! 

---
Fishpeak Quality Soft Fishing Lures
The Fishpeak Soft Plastic Fishing lures have a silicone soft plastic body that is durable and gives the grub a realistic feel. You do not need to be an expert to make it move like a real live bait. It has a design that naturally moves slowly through the water for a quick reaction from the fish.
The length of the body is slightly shorter than the other lures that you get in the market. Thanks to this ideal measurement, it makes a sliding action while making it fall. On twitching, it can make some sharp darting movements. They measure 5.5 inches in length and weighs .0246 oz.
The material is a high-quality, durable silicone covered with fish oil. Don't worry about the smell. The lures come in a pouch that keeps the smell contained. If you want your fishing experience to be fun and easy, this product is the way to go.
With this Lure, you can catch zanders, bass, mackerels, carps, catfish, and many more.
Pros:
It is the ideal length for catching zanders
It has an affordable price
You can get this brand in curly tail grub or paddle tail form
Easy to attach it on to hooks
These lures are reusable
Cons:
They do not look very realistic
What do other customers say about this product?
"These are great lures! They come in bright colors and are very easy to use. The readily available scent on the product is effective in attracting the fish. Since the lures come in a ziplock bag, the smell does not distract you or make other gears smell. They will also last for a longer time."
Best price and deals! 

---
Silver Ghost Spinner Spin bait
We all know how difficult it is for some lures to remain visible on murky waters. We also know how zanders have a fondness for these muddy waters at times. So what can you and I do about this issue? We can get a highly visible lure like Silver Ghost Spinner Spin bait.
There are two silver spoons with a metallic appearance that reflects light like no other. The reason why they are extra reflective is that the shape of the two spoons is slightly convex. And since they are not stuck on the setup but dangles on it, it can move inside the water and mirror any light that falls on it.
In addition to the reflective spoons, the tail of this Lure has a feathered look. It triggers an attack response from almost all types of fish. The material of the feathered tail looks iridescent and shimmery, all thanks to the foil thread that can flash the light, which falls on it.
What makes the Silver Ghost Spinner Spin bait even more visible even in murky waters and dull light conditions in its bright white color. After all, white is the color that reflects the most light in any circumstance. It is one of the best lures for zander, pike, bass, perch, and mackerel.
Pros:
The two convex metal spoons reflect light very well
It is easy to cast this Lure
The movement of the tail and metal spoons are lifelike
You can attach a grub at the tail for further casting ability
The price is affordable
It is ideal for muddy waters with low visibility
Cons:
You get it only in one color
What do other customers say about this product?
"It is a nice spinnerbait perfect for catching many types of fish. You will not face any problems while casting or retrieving it. The double blades reflect light very well and look very lovely underwater."
Best price and deals!

---
Frequently Asked Questions
What type of artificial Lure is best to catch zander?
Soft baits like grubs and other soft plastic lures are an excellent choice if you plan to go zander fishing. Plugs are another option that you can buy for the same purpose. I do recommend the sinking and not the floating types. Always go for brightly colored ones. With the Shakespeare Ugly Stik GX2 Fishing Rod and Spinning Reel Combo, you can retrieve and cast your lures effortlessly.
What size Lure is best for catching zander?
Zanders is a type of fish that does not discriminate when it comes to the Lure's size. In other words, you can use the bait of any size. However, I suggest you go for a medium-sized lure if you want to catch one. Zanders can grow up to 26 inches, and small baits might not suit it.
Are live baits better for zanders?
Many experts believe that live bait is a better choice. Nonetheless, it is difficult to get one's hands on a live bait. Therefore, any of the artificial lures that I mentioned above are excellent substitutes for live bait. You can keep all your baits neatly organized in a Goture fishing lure box.
Conclusion 
After you get your hands on one of the best lures for zander, you can say hello to many happy fishing days. The thing you have to remember is to choose a bait that has bright colors and will not disappear even in muddy waters.
Happy fishing!
Niels Thomas is a wildlife expert and fishing fanatic that works with major fishing brands like Deeper Sonar, Abu Garcia, Berkley, PENN, BassPro and Pure Fishing. Through sharing the best fishing tips, tricks, gear reviews, locations and much more he hopes to inspire fishing fanatics to start their own journey towards becoming the King of the Catch!