Gone are the days of sitting with the fishing rod in water for hours!
Technological advancements have made life easy, and fishing is no exception. If you're thinking about fish finders, then pat yourself on the back!
But buying the right one may not be a cakewalk, especially with so many options to choose from. So, when I got to try the Deeper CHIRP+, I didn't waste any time and got down to business.
Hi! I'm Niels Thomas, and today, I'll help you find the best fish finder GPS combo for the money with this detailed Deeper CHIRP+ Review.
Don't have time to wait? You can buy the Deeper CHIRP+ here with a big discount!
On a side note, for our US-based readers I recommend checking out the US Deeper CHIRP version. It is nearly identical to the CHIRP+, but for a cheaper price. The only difference is that the US version doesn't have an in-built GPS, meaning that you can create detailed depth maps (bathymetric maps) only when the sonar is attached to your kayak or a boat.
Deeper Sonar CHIRP - US Edition
Every other aspect of the US version (fish and bottom structure detection, scanning depth, connection range, battery) is identical to the CHIRP+.
Check the features table in this blog post to compare all types of Deepers.
Now, if you are interested let's dive into the Deeper fish finder review, shall we? 🙂
---
Deeper CHIRP+ Review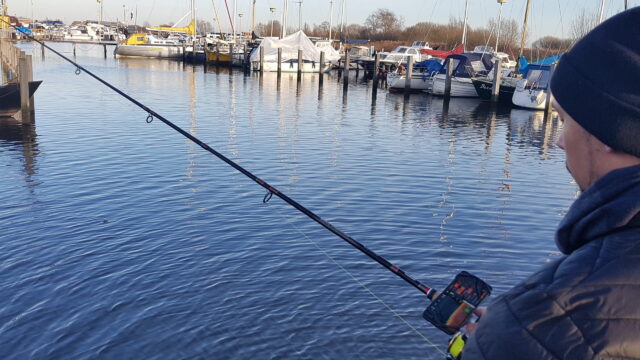 Backed by smart CHIRP technology, it prides itself on being the first castable, GPS enabled, Wi-Fi fish finder in the world. The powerful frequency detection and solid clarity come together to help you locate the target species quickly, even at greater depths.
But before walking you through further details, it's only fair to shower some praise on the durable construction of this device. The blend of ABS enclosure and titanium inserts makes it suitable for heavy duty use.
However, the sturdy design doesn't compromise on portability. Not only that, but you can potentially drop it anywhere in the water without any trouble. And the same holds true for the casting process.
Other than that, its fast charging ability is among the likable features. From 80% in 45 minutes to 100% in 75 minutes, the Deeper CHIRP+ Smart Sonar ensures that you don't have to wait all day to get it back on the water. Quite the time saver!
Finally, the stable Wi-Fi connectivity allows seamless access to the device at depths of up to 330 feet (about 100 meters).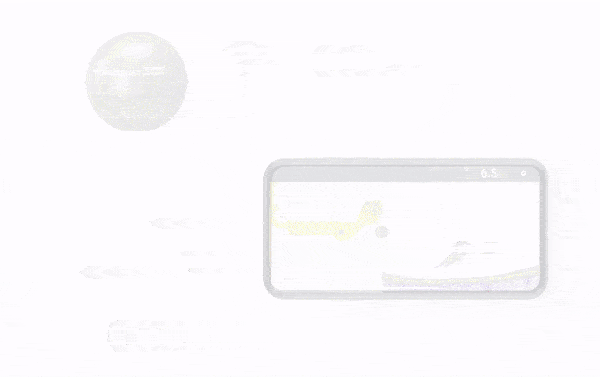 Product Highlights
Shallow water accuracy

1-centimeter target separation

100-meter scanning depth

3 beam frequency for versatility

App compatibility from iOS 12 and Android 5.0 to latest versions

Standard, ice fishing, boat, onshore GPS sonar modes

Strong Wi-Fi connectivity and long casting range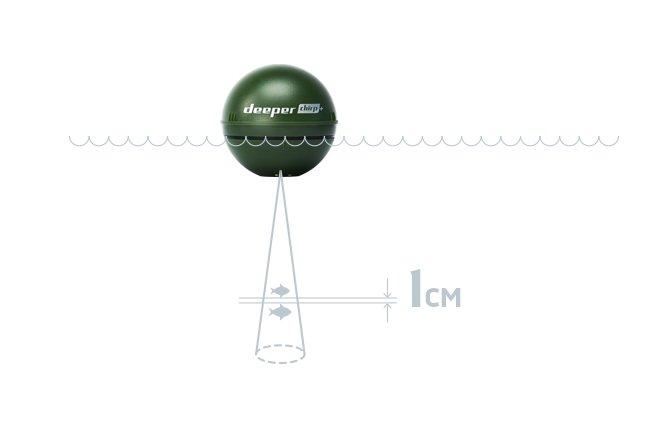 My Experience
The first product that I ever used from Deeper is the Deeper CHIRP+ Smart Sonar. And let me tell you, I am impressed!
Irrespective of the product you're buying, first impressions always matter, and the Deeper CHIRP+ Smart Sonar hits the bull's eye in this regard. I absolutely loved the elegant packaging that keeps the device fully protected.
Besides, the green color perfectly camouflages underwater, masking its visibility for good.
But what makes the product a true standout is its CHIRP (Compressed High-Intensity Radiated Pulses) sonar technology, which emits a continuous flow of pulses from the high to low-frequency range via a 3 beam frequency.
While the 47-degree wide-angle beam facilitates hotspot discovery with fast scanning, the 16-degree mid-angle beam helps focus on the location.
Likewise, the 7-degree narrow-angle beam captures every detail when homing in on the target species. I was also surprised  reading from other anglers how easily this setting cuts through a layer of 3-feet thick ice to fetch fast information without hindering clarity. But that's not the only thing that takes care of versatility.
Thanks to the extreme depth precision, I could locate species in shallow water, as close as 6-inch to the surface. And when I decided to test its accuracy further in shallow water, I observed that the Deeper CHIRP automatically switches to the wide beam angle mode in water less than 6 feet deep.
On the flip side, it works very well for detecting "bottom huggers," which usually hover around the 30-50 feet mark in the Dutch rivers and canals. 
Another feature that I really wanted to test was the highly precise 0.4-inch target separation that accurately identifies the target even without much room.
Luckily during my Deeper CHIRP+ review, I discovered a shoal of breams, which gave me the perfect opportunity to assess the precision. And owing to the low surface clutter and sonar noise, I didn't experience any difficulty whatsoever.
Complete with a 30-day return and 5-year limited warranty, the Deeper CHIRP Plus Smart Sonar should tick all the boxes for most users. So, click here to get one today!
Reminder – If you are based in the US, make sure to check out the Deeper CHIRP Smart Sonar. It is slightly different compared to the CHIRP+ version and is cheaper. The only difference is that the US version doesn't have an in-built GPS, meaning that you can create detailed depth maps (bathymetric maps) only when the sonar is attached to your kayak or a boat.
---
My Results
I started using the Deeper CHIRP+ on the 19th of december 2020. During the winter I focus mostly on locating predator fish, like zanders, pike and perch. I use a sensitivity of 55% due to the shallow depth and focus mostly on large and medium sized fished.
As a predator fish angler, it is important to focus on finding the small predator fish first. Once you find those, you just know that the big ones are nearby.
I attached the Deeper to my casting rod and used the mobile phone attachment to keep my mobile phone attached to my rod. Once it is connected to the WiFi and in the water, the game is on!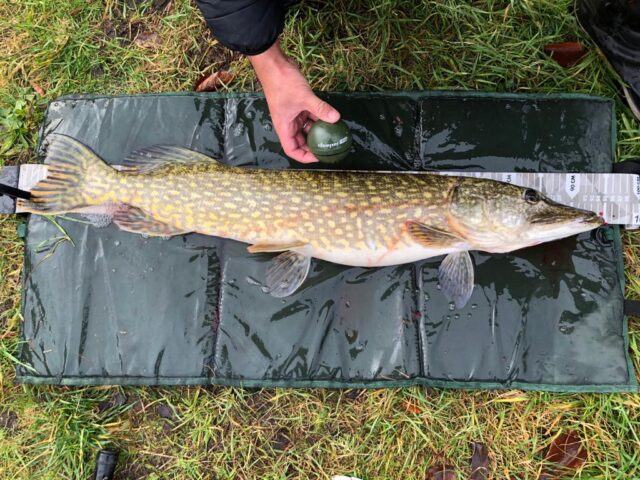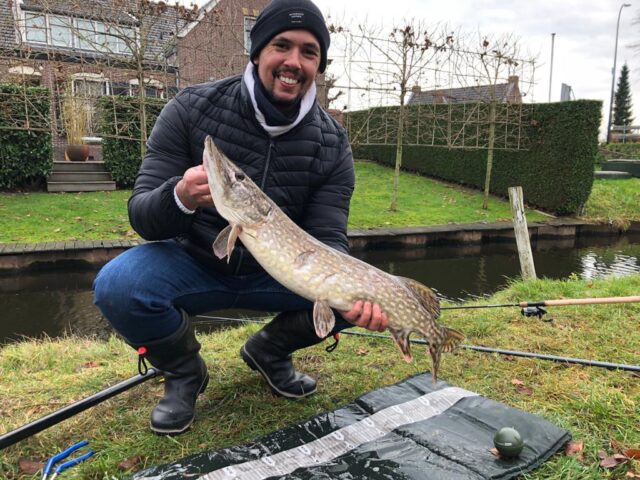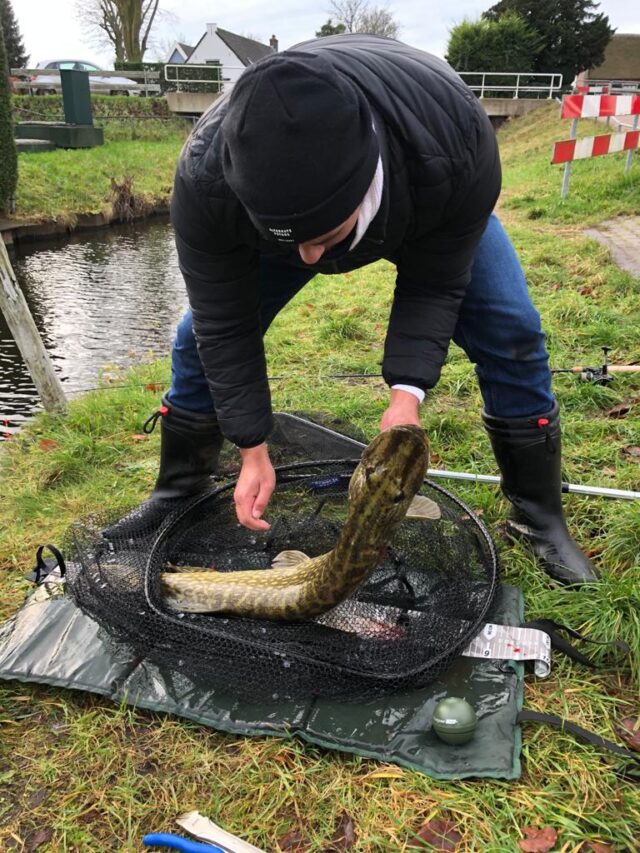 ---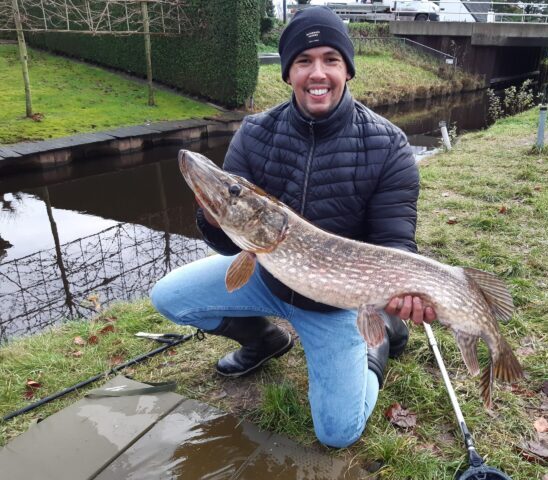 I will update this Deeper CHIRP Plus review blog post regularly with my latest catches. Make sure to check it out. 🙂
---
Other products of Deeper
Deeper PRO+
If you're new to professional fishing and looking for a device that'll make things easier, then the Deeper Smart Sonar PRO+ might just fit your needs. Similar to its predecessor, the built-in GPS and Wi-Fi features give you the luxury of in-depth scanning with the convenience of practically any mobile device.
On top of that, it's the only fish finder out there capable of creating bathymetric maps (for the unversed, these are the underwater equivalent of topographic maps). Therefore, it's safe to assume that it will appeal to expert anglers who like exploring different water bodies.
In fact, while browsing through the customer reviews, I found out that many pro-anglers have spoken highly about its utility for tracking the carp species. So, that's a bonus! Moreover, with 4 fishing modes, you don't have to switch devices for varied needs.
Depending on the OS of your tab or model number of the phone, the Deeper Smart Sonar PRO+ offers Wi-Fi connectivity of up to 300 feet. Plus, it's equipped with a decent casting range and scanning depth, which can easily handle larger areas.
Considering its budget-friendly price, I don't think there are any more features that an angler could ask for.
Click here to buy this type of Deeper with a discount!
---
Deeper Smart Sonar PRO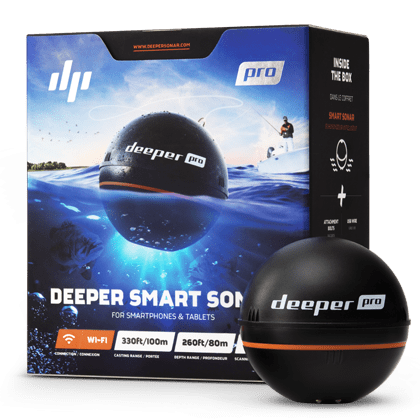 As the name suggests, it aids advanced and recreational fishing activities alike. Being the initiator of the said series, it has all the features that make it one of the most versatile units on the market. Be it trolling, mapping, or scanning – this one can do it all!
The foundation of its superior performance has been rightfully laid by strong Wi-Fi connectivity and deep scanning abilities. It can successfully perform scans up to 260 feet deep, giving you a clear representation of the features and structures close to the water bed.
Apart from that, the Smart Sonar Pro doesn't require the internet, meaning it transmits its Wi-Fi that is detected by most mobile devices. Unlike Bluetooth, its Wi-Fi connectivity accounts for uninterrupted access. And the Fish Deeper app controls its entire operation.
Among other noteworthy things is the range of operational temperature from -20 to 40 degrees Celsius. Hence, your fishing schedule becomes independent of the weather conditions.
Besides the Smart Sonar PRO, the package includes all related accessories like attachment bolts, a USB wire, and a neoprene pouch for hassle-free portability.
With so many advantages on the trot, why delay buying it anymore?
---
Deeper Smart Fishfinder START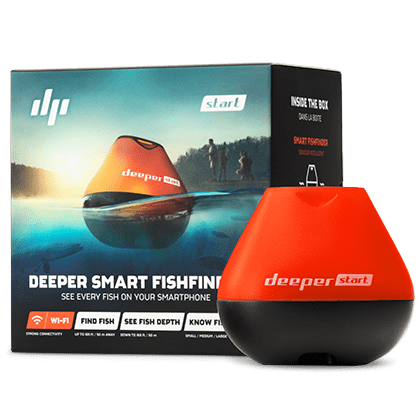 No list of Deeper products is complete without mentioning the Smart Fishfinder START. It's a beginner's sonar device, but that doesn't mean it cannot compete with its more professional counterparts. Deeper has put in a lot of effort to integrate the right features for making your initial fishing days as trouble-free as possible.
Surprisingly, this seemingly entry-level sonar device is the brand's latest product, and it borrows some technologies from the more advanced variants. Especially for shore fishing, I don't think you'll find a better option at this price. So, brownie points awarded!
Additionally, the simple app screen consists of minimal icons and settings, lest you get perplexed with too many icons. For instance, every fish icon is tagged with size and depth numbers for easy identification. Similarly, the 40-degree wide-angle beam covers a broad area to compute the dimensions. Plus, it also saves battery for optimum performance.
Not only does its new lightweight design aid portability, but you can also cast it with almost anything (including lightweight gears) for a superior throw. Last but not least, the battery fully charges in less than 3 hours to give you around 6 hours of use time for uninterrupted continuity.
So, now is the time to snap up this unit and kickstart your fishing journey!
---
Compare Deeper Fish Finders & Choose the One for You
| | | | | |
| --- | --- | --- | --- | --- |
| | CHIRP/CHIRP+ | PRO+ | PRO | START |
| Target Separation | 1cm | 2.5cm | 2.5cm | 5cm |
| Weight | 90g | 100g | 100g | 65g |
| Sonar Beams | Three angles (47°, 16°, 7°) | Two angles (55°, 15°) | Two angles (55°, 15°) | One angle (40°) |
| Water Temperature | Yes | Yes | Yes | No |
| Salt or Freshwater | Salt & Freshwater | Salt & Freshwater | Salt & Freshwater | Freshwater |
| Built-in GPS | Yes (only CHIRP+) | Yes | No | No |
| Create Bathymetric Maps | Yes | Yes | No | No |
| Create Bathymetric Maps from Shore | Yes | Yes | No | No |
| Fast Charge | Yes | No | No | No |
---
Accessories To Consider With Your Deeper
Sure, you can't control the lighting conditions. But what you can do is make your fish finder traceable in the dark with this night fishing cover. Its translucent orange cover replaces the original top half effortlessly to emit a bright orange LED light. Simply screw this on for the top half and activate the night fishing mode setting on the Deeper Fish app.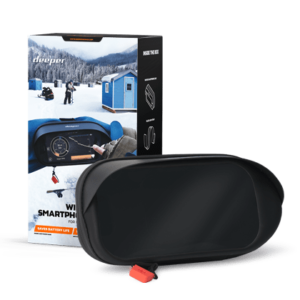 I found this smartphone case particularly helpful for preserving the battery life of my phone during long days of fishing. While its lightweight design is engineered to keep the phone buoyant if accidentally dropped in water, the extra insulation conserves battery even at sub-zero temperatures. What's more, it can hold a portable power bank for charging without the hassle of removing the cover.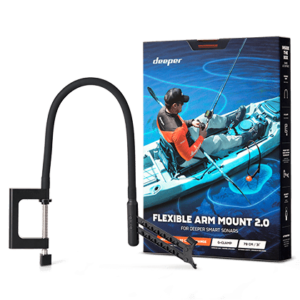 You can't possibly think of trolling without a flexible arm mount! The Arm Mount 2.0, when mounted, can be adjusted by up to 8 inches and is compatible with PRO, PRO+ and the CHIRP+.
Apart from that, the robust G-clamp offers secure fastening to any object that's less than 2.7 inches thick. And with an extended length of 31 inches, positioning it in the desired way isn't an issue.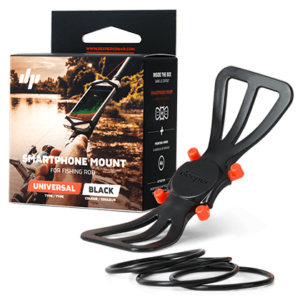 This durable silicone smartphone mount is a safe and easy way for hands-free monitoring of the sonar data. It's designed to provide maximum holding power without concealing any part of the mobile screen.
Also, the self-explanatory parts will walk you through the mounting process for a snug fit onto any fishing rod. But if you're still apprehensive, shake it several times to ensure proper installation.
---
FAQ
https://www.youtube.com/watch?v=WnHIWekqA4k&t=277s
How Does Sonar Work?
Devices with Sonar (Sound Navigation Ranging) technology basically send pulses of sound down to the water. Upon hitting an object like a fish or plant, these reflect and travel back to the water surface.
The device then measures how long it took for the pulse to travel back and forth, and the collected data also helps analyze the depth of the object. Additionally, the strength of the returning pulse is more if the object is harder.
How To Read Each Fish Finder?

Deeper Smart CHIRP+
The map will display either an arch or a straight line. While the former is a fish that has come and gone into the sonar cone, the latter represents a fish that's still right under the sonar. Or, a straight line can also mean that both the sonar and the fish are stationary.
Remember that longer arches don't correlate to larger fish. It means that the fish remained in the sonar cone for a longer time. Similarly, vegetation and brush piles will be vibrant and clearly defined from the bottom contour.
Deeper Smart PRO And PRO+
Both the Smart Pro and Pro+ utilize fish icons and arches. In this case, thick arches are a definite sign of bigger fish. On the other hand, weeds and vegetation mostly give a spottier return than logs on the app screen. And multiple orange sonar returns are indicating a tough surface.
Deeper Smart Fishfinder START
The Smart Fishfinder Start typically uses three sizes of fish icons to interpret and determine the received sonar data. Heads up: smaller fishes swimming closely can sometimes be marked as a big fish.
How To Set Up My Sonar?
Unless your sonar comes with pre-programmed settings, setup will largely depend on the fishing needs. Factors like screen color modes, brightness, vertical flasher, and so on, can be customized as per the external conditions.
How Do I Use My Deeper Sonar For Shore Fishing?
You practically don't have to do a lot aside from casting out your sonar and reeling it back in for targeting the species. Plus, you can also map out the area using integrated GPS.
How do I Use My Deeper Sonar For Boat Fishing?
Boat fishing utilizes powerful transducers and upgraded mapping options to create bathymetric maps with the help of your phone's GPS.
How do I Use My Deeper Sonar For Kayak Fishing?
The Deeper Sonar can be installed in your kayak in a matter of seconds for trolling and scanning down to a maximum of 260 feet, sending 15 scans per second.
How do I Use My Deeper Sonar For Ice Fishing?
For ice fishing mode, all you have to do is drill and drop the sonar to scan the depth. With a precise target separation of 1-inch and a dedicated ice-flasher display with zoom, no corner remains untouched.
What Type Of Fish Can I Catch With My Deeper Sonar?
The most commonly caught species include Mirror Crap, Pike, Black Crappie, Black Bass, Seabass, Sawara, Kampachi, Rainbow Trout, and Lake Trout.
---
My Conclusion
With that, it's time for me to wrap up this comprehensive review.
I hope my efforts have helped you decide to purchase the Deeper CHIRP Plus or one of the other models. But if you're still in two minds, let me quickly summarize the findings.
The CHIRP+ Smart Sonar is an all-round fishfinder and my number one choice, while the Smart Sonar PRO is perfect for creating detailed bathymetric maps. The Smart Fishfinder START can be the safest bet for beginners.
So, go ahead and get yourself an early Christmas gift! I'll be back with more similar reviews .
Till then, stay tuned and happy fishing!
Niels Thomas is a wildlife expert and fishing fanatic that works with major fishing brands like Deeper Sonar, Abu Garcia, Berkley, PENN, BassPro and Pure Fishing. Through sharing the best fishing tips, tricks, gear reviews, locations and much more he hopes to inspire fishing fanatics to start their own journey towards becoming the King of the Catch!