The first time I decided to make a carp fishing trip to Slovenia, I was taken aback. I mean in the best possible way. Allow me to explain.
As a fishing enthusiast, I was aware that Slovenia is a big name in the fishing realm. But most people I spoke to were only hinting at fly fishing. So imagine my sweet delight when I was greeted with the biggest of carps.
The average carp caught in this part of Europe is 15 kgs or 33 lbs. But the biggest carps can weigh more than 35 kgs or 77 lbs!
Carp Fishing In Slovenia – Giant Carps Amidst Stunning Nature! 
But this was only the beginning. I realized that this stunning Balkan city was full of breathtaking landscapes and some spots which make it a carpers heaven.
In this post, I will give you the lowdown on what to expect when you make a carp fishing expedition to Slovenia.
License and regulations for carp fishing in Slovenia. 
Before you throw the rod into the waters, a license is the first thing that you need to have. There is nothing worse than not having the required papers in a foreign country.
Fortunately, there are a number of ways you can get your carp fishing license. The authorities understand that fishing is a booming industry in Slovenia. So it is possible to buy a license for most rivers online.
To purchase your carp fishing license online, visit this link.
Getting your license is straightforward. You simply need to know the name of the river that you want to visit and you and can make the transaction. A great feature of the website is the prompt customer service. If you have any doubts or queries, you can chat with customer support.
I didn't wait for 30 seconds before my question was answered.
The price of the license differs from one river to the other. If you are looking for a deal, it is good to consider the package deals. The website also offers reduced prices from time to time, so be on the lookout.
Regulations for carp fishing in Slovenia. 
The fishing community in Slovenia follows the rules which are dictated by the state. And strict adherence to the rule book on fishing is mandatory.
Highlights of the fishing book are:
Anyone that falls under the category of a tourist fisherman must purchase a daily fishing license.
You can also choose to become a member of the fishing families. To qualify as a member, you need to pass a fishing exam. If you are interested, you can contact a fishing family of your choice listed in the fishing portal.
Carp fishing licenses are not transferable as they are official documents.
Day licenses are valid from dawn to dusk, and night licenses are valid from dusk to dawn.
There is no license that is valid for 24 hours.
You can only fish with one rod. On rare occasions where you can use two rods, it will be clearly mentioned on the license.
Using nets to catch the fish, using live fish as baits, and keeping the live fish are strictly forbidden.
You must furnish all the details of your catch to the fishing family.
When you reach your daily limit of fishing, you must stop fishing for the day. The daily fishing limit varies from one fishing family to the other.
To learn more about the details of the rules, visit this link.
Best seasons for carp fishing in Slovenia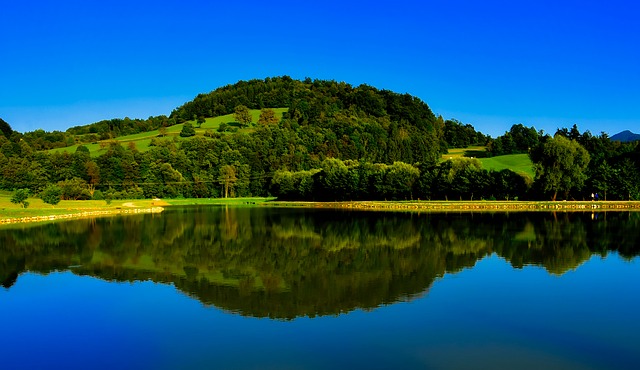 The continental climate of Slovenia makes it an ideal place to fish throughout the most part of the year. However, the best season to go carp fishing is from April till November.
Carp fishing in most commercial areas is allowed throughout the year. Even then, it is prohibited when the waters are frozen and during the spawning season.
But this is not the case with carp fishing in the river. To know the allowed fishing season and what else is allowed, consult the fishing family or the valid license.
In case you are curious, ice fishing is prohibited in Slovenia.
Best places for carp fishing in Slovenia
As I briefly mentioned above, Slovenia is a literal fishing paradise. There are some spots that are unspoiled and waiting to be explored.
Having said that, the best places for carp fishing in Slovenia are:
Šmartinsko Lake
This is the first fishing spot I visited to get my dose of the carps. This fantastic lake is the current holder for the biggest carp catch. And I was not disappointed.
Covering an area of 113 hectares, it is a massive lake. It is populated with carp varieties, including common carp, grey silver carps, and white grass carps. You will love fishing in the lake alone or with company.
Visit the fishing family to learn more about the lake and purchase your license.
Lake Vogršček
This lake is also a favorite of the fisherman in Slovenia, both local and tourist alike. It has a good population of fishes from carps, bass to pike, and catfish. You can fish to your heart's content as all types of fishing are allowed on the lake.
Apart from the fishes that I caught, I couldn't also help but admire the stunning nature around the reservoir. The locals on this lake were particularly welcoming, which added to the overall experience.
You can get your carp fishing license for Lake Vogršček here.
Gajsevsko Lake
This lake is another hotspot for the carp fishing community in Slovenia. According to reliable sources, catfish, and sanders rule this giant fishing lake. However, the numbers of carps are also high.
I was lucky to catch my biggest carp here. At 18 kgs or 39 lbs, I struggled to hold the beauty in my arms. But I managed to hold it long enough to click some photographs and admire it before I released it. Needless to say, it was an experience of a lifetime.
The family that manages this lake also introduces large quantities of fishes in the lake so you can be sure that the population of the fish is excellent.
Click here to get your fishing license and try your luck.
Slivnisko Lake
You cannot take a fishing trip to Slovenia and not visit Slivnisko Lake. It is a large lake that has one of the riches varieties of carps. You will find everything from crucian carp, common carp to grass carp.
Along with the carp varieties, fishes love this lake due to the abundance of food among the reeds. You might just get lucky and make a catch of a lifetime in this lake. This standing body of water also has the provision for multiple types of fishing, so you will have a lot of fun.
Get your carp fishing license here.
Trzec gravel pit
This fishing district is located between three villages, which make it an excellent location for carp fishing. When you consult the internet, you will get the information that this gravel pit is popular for ice-fishing.
But the managers of this open water body have been adding carps for a couple of years. So although larger fishes like catfish and tench rule the waters, you will be able to catch and release a decent sized carp without much effort.
If you become a member of this fishing family, you can fish without purchasing a daily license. Otherwise, you will need to have a valid license to fish in this gravel pit.
Get your fishing license here.
Mola Lake
Mola Lake or Lake Mola is one of the few fishing spots that take you away from the bustling city and into the heart of pristine nature. The carps in this lake were of considerable size, making them ideal for catch and release.
Apart from the fishing, I was particularly taken in by the fishing lodge by the side of the lake. It is equipped with all modern amenities, but from the outside, it looks like an idyllic scene from a movie that adds to the overall charm of the place.
There are also provisions for camping on this fishing spot – perfect for a getaway with a partner or a couple of fishing buddies.
Get your license for the fishing family in this link.
Final words
Carp fishing in Slovenia is a perfect combination of adventure and fun in the midst of stunning nature. It has a number of fishing districts, which makes it an ideal place to visit at least once in a lifetime.
The abundance of fishes, along with the options for fishing spots, is something that very few fishing enthusiasts can pass up. Compared to some places, the regulations are relatively relaxed. The option to purchase a license online is an added advantage as well.
So grab a buddy and head on over to this fantastic place the next time you want a shot of carp fishing. Of course, you can also make a solo trip as I did and strike up an interesting conversation with the locals as you fish by the different lakes.
Niels Thomas is a wildlife expert and fishing fanatic that works with major fishing brands like Deeper Sonar, Abu Garcia, Berkley, PENN, BassPro and Pure Fishing. Through sharing the best fishing tips, tricks, gear reviews, locations and much more he hopes to inspire fishing fanatics to start their own journey towards becoming the King of the Catch!