Surrounded by waters, filled with small beautiful islands and bordered by England to the south, Scotland is one of the ultimate destinations if you want to enjoy the fly fishing experience of a lifetime.
The northern side of the United Kingdom is known for being a hot spot in Europe – anglers from all over the world come over for a piece of it.​
Fly Fishing In Scotland
As beautiful and wild as it seems, Scotland is just like you imagine it. The Scottish highlands will take you back in time, while the waters hide some species that you may not be able to find elsewhere.
Why Scotland?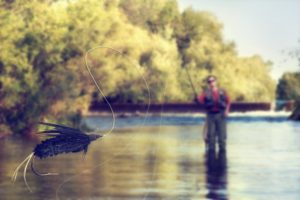 First of all, Scotland has a catch that no other country has. It is every angler's dream – the Loch Ness monster! It is not really a fish, but catching it will probably put you in the fly fishing hall of fame. If you catch it with a fly that is! 😉
Now, back to more serious things – Scotland has plenty of species to feed on. There are stream, loch, river or coastal species for you to try your luck on.
Fly fishing locations in Scotland are extremely diversified too. You can hang around the inland rivers and streams, but I also recommend visiting the shores, coastal areas and islands. There are dozens or even hundreds of small fishing villages.
It feels like these places have not evolved at all in the last century. You travel back in time while experiencing the authentic feeling of fly fishing.
And to top everything up… What can be more exciting than spending a day out and coming back with a massive catch, only to enjoy a local authentic whiskey? Lots of whiskey brands originate in Scotland. When you spend the whole day out in low temperatures, nothing will warm you up quicker than a glass of whiskey.
You can find isolated areas, as well as shores where seals come over to chill. Species like the basking shark, the bottlenose dolphin, the golden eagle or the puffin make this place look extremely exotic – not in the warm way, that is for sure. 😉
What to catch while fly fishing in Scotland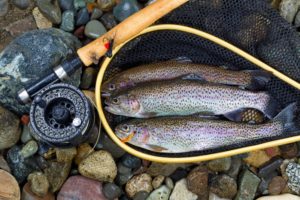 There are lots of species you can find in Scotland.
Pike
The pike is probably the most exciting option. Available in freshwater, this fish can get up to 20 pounds in weight. It is quite aggressive and will give you a good challenge – nothing better than seeing fish in your boat after a good fight.
Scottish anglers often refer to pike as the freshwater shark – more than 600 sharp teeth and incredible aggression.
Atlantic salmon
The Atlantic salmon is the most iconic fish in Scotland. Go to a small fishing village and locals will refer to it as the silver tourist. Catching this fish is challenging though. When about to return to freshwater, this salmon does not really feed, so catching it will be tough – most fish will simply ignore the bait, as they are not hungry.
You can go for salmon fishing from January to November. A local law claims you cannot fish salmon or sea trout on Sundays. I am not sure if it is just one of those funny laws passed like 300 years ago or it actually works.
I would not try to break it though – just play it safe.
Trout
The rainbow trout is extremely popular in Scotland, although it does not originate there. Rainbow trouts are often stocks in local lochs (the local word for lakes), so there are plenty of them. They make great sport fish and can get to about three pounds in weight
Unless you check out a private property with its own season times, rainbow trout can be fished year round.
Other species of trout you can find in Scotland include the sea trout and the brown trout.
Greylink
While often overlooked, the graylink is one of my favorite choices. This fish has a beautiful appearance and will make your day. The fish can be a problem for certain areas because it eats trout and salmon eggs.
For this reason, more and more anglers target the graylink, so the issue is no longer a nuisance. Scotland hosts some of the biggest and tastiest grayling species in Europe – some fish can easily reach three pounds in weight.
Perch
The perch is not to be ignored either. I would say this is the British alternative to bass. This fish has a beautiful marking and a stunning appearance – bright red nuances and a tiger style flank.
Many lakes or private estates provide free access to perch – no closed season. Double check upfront though. Anyway, lots of specimens can exceed three pounds in weight.
Pollock
Part of the cod family, the pollock is a good treat – if you manage to catch it. I do not recommend any whiskey upfront, as this aggressive fish will clearly give you a good fight. The fish will dive back and forth trying to snag you up.
It is excellent fun, but it can be a problem – make sure you do not give it too much line. This fish is suitable if you have some experience – if you are new, I would not bother.
Now that you know what Scotland has to offer (apart from men in skirts and dresses), what are the best rated fly fishing spots in this country?
Top fly fishing spots In Scotland
The wide variety of lakes (lochs) and rivers in Scotland means this country has plenty of opportunities for anglers of all levels. You could be a seasoned veteran or a total newbie – there will always be something for you out there.
Loch Lomond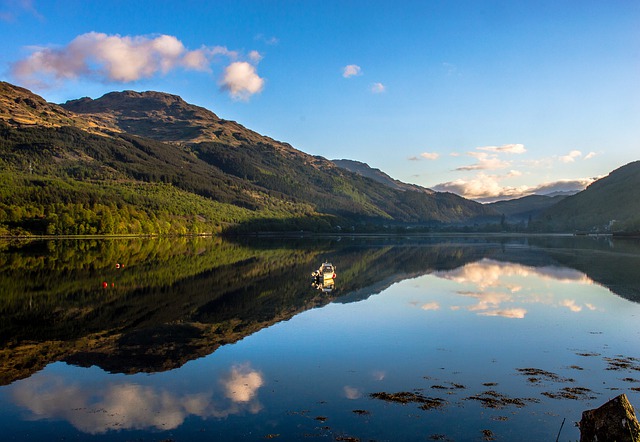 Located in West Dunbartonshire, Loch Lomond is one of the most popular fly fishing spots in the entire United Kingdom and not just Scotland. It attracts lots of tourists for its amazing landscapes too.
ou can get guided fishing trips, but you can also explore the Clyde Estuary. Bring a small bottle of whiskey to keep warm, your camera and fishing gear – you are ready to go then.
There is plenty of accommodation in the area. Queen of the Loch by Marston's Inns is one of the top rated options around Loch Lomond – quiet, peaceful and with the right amenities. Arbor Travel Lodge is not to be overlooked either.
Balmule Fishery
The Balmule Fishery is relatively similar – a picturesque area and a great location for both amateurs and professionals. Located in Fife, this fishery will also provide training courses if you are just getting into fly fishing.
Some of the most popular species around include the brown trout and the rainbow fish. There are other entertainment options there too, such as a pool or a pond for kids.
You can stay at The Vaults at Old Lathrisk for a more luxurious room decorated in a traditional style, but you can also get to the Lomond Hills Hotel. You will need transportation to the fishery from both these places.
Loch Tummel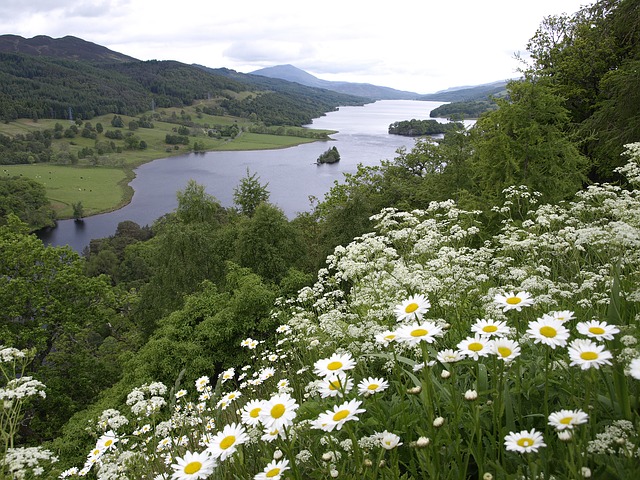 Loch Tummel is located in the green area of Pitlochry. There are more species to look for, but most anglers get there for brown trout, pike or perch. The lake administration ensures the lake is constantly stocked up with trout, so there will always be something for you out there.
The tranquility and wilderness associated with this place make it special. You will be able to hear your own thoughts and enjoy the beautiful scenery while waiting for the fish to bite.
Looking for a place to stay?
Fisher's Hotel features a great location – close to lots of amenities and a town center, but you will need some transportation to the actual loch. The Atholl Palace is not too far and may have better views and a more authentic feel of Scotland.
Craufurdland Fishery
This fishery is part of the estate with the same name. It is located close to Ayshire and provides access to lots of different species, including the classics – rainbow fish and brown trout.
There are more fishing options out there. You can go fishing from the river banks, but you might as well get a boat and go out there. The estate also has its own little restaurant and bar. Make sure you enjoy a walk around too.
The Arran Lodge & Arran Sleep Huts might be your best choice for accommodation – great scenery and lots of fresh air. You can also get to the Horizon Hotel, which feels luxurious, but in a more classic way. Make sure you have transportation to the fishery though.
River Ness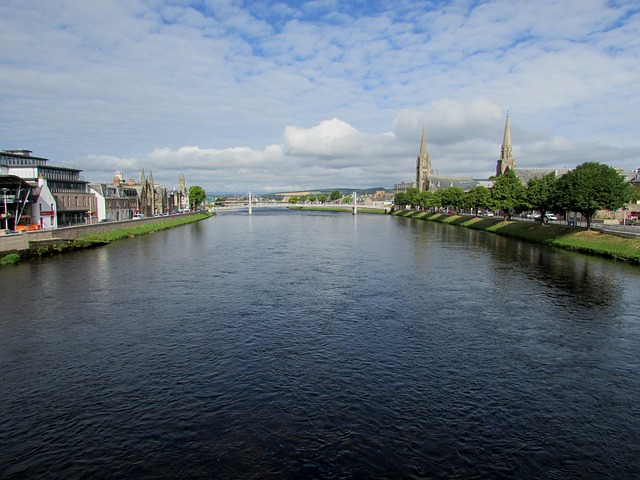 River Ness is quite long, so there are lots of options around it. It is set in Inverness and it is great for trout and salmon anglers.
The river is one of the most relaxing places in Scotland and a great holiday destination for locals. Apart from the wide variety of fish, you will also love the scenery.
There are many cottages set in traditional environments around the river, not to mention hotels. Jurys Inn Inverness is among the best rated options – clean and newly decorated.
You would also like Kingsmills Hotel, which is even better rated and is set in a more picturesque area.
Best tips for fly fishing in Scotland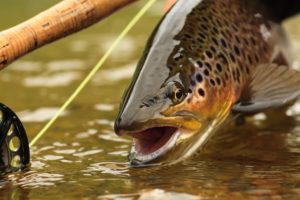 Scotland is small, but it is surrounded by waters and full of rivers and streams. Pretty much everything is easily accessible, so you do have lots of options.
Make sure you are ready for any type of weather there. You could experience four seasons in one day. The day may start nicely with a clear sky and sun, only to go raining and snowy hailstone before it feels super hot again.
What is the best season?
The fishing season varies from one river or lock to another, not to mention species. This could be a nightmare for anglers.
You can normally go for trout from the 15th of March until the 6th of October. Some fisheries open or close at different times.
Grayling usually goes in the wintertime – from December until March. Different species may have shorter seasons.
The salmon season varies from one place to another. On the other hand, the coarse season never stops – year round.
I highly recommend double checking the area you visit and the fisheries, rivers and lochs around it. This way, you can make sure you will not have any unexpected surprises – apart from the accent, of course.
How to get a Scottish fishing license
Interested in the Border Esk and the tributaries? In this case, you will require a rod fishing license. There are no licensing requirements anywhere else in the country. You will, however, require permission.
It sounds confusing, I know, but let me explain.
The license can be purchased for a day, eight days or a full year. You just need to pay for it – available over the Internet, boom, five minutes, job done.
Permission can be obtained from the fishery – get in touch with the place you get to for more details. Some species – like the European eel – cannot be fished.
It is against the law because it is critically endangered.
How to get around in Scotland
Scotland has a few major airports in its biggest cities. But overall, the country is just like you probably imagine it. If you have seen Braveheart, it is the same – a few communities here and there, then lots of bare lands.
Get to one of the big airports, then find transportation.
Scotland is alright when it comes to buses – decent in terms of railway transportation. You do have links, but you will have to watch out for arrival and departure times.
Some buses only come like once every couple of hours, so it can be a bit tricky, especially if you are in a remote area.
Renting a car is probably your best option. Whether you go to rentalcars.com or any other website, you will have lots of good options. After all, you also need some room for your fishing gear – imagine doing all these on a bus.
While Scottish people are quite friendly (friendlier than other British), hitchhiking does not really work. No one will want to get all that equipment in their cars.
You can talk to strangers and ask for directions or tips though – makes a good training to understand that accent.
What to pack on your Scottish fly fishing holiday
Like I said before, get ready for any weather. You might need to put out a winter jacket in the middle of July – it happens. Anyway, you can buy cheap raincoats from most stores.
They cost £5 or £10. Waterproof boots are also popular in stores – you will look like a redneck farmer, but at least this kind of outfit keeps you dry.
There is no need to bring your drinks – Scotland is known for its whiskey. You will find local brands that you have never heard of – I recommend trying those.
There is only one side effect – you might get a Scottish accent.
If you are completely new to fly fishing, many fisheries also provide equipment for rent. It would save you some hassle, but it is worth checking upfront to avoid disappointment.
If you know what you want and you have your own gear, you will probably feel more comfortable using it.
Final Words
Bottom line, Scotland is wild – from every point of view. It is a wild place with an old atmosphere. When you go into the wilderness, you feel like going back in time.
If you have seen Britannia (great show, by the way), this is what Scotland feels like.
In terms of fishing, your options are extremely diversified. Pretty much everyone living in a fishing village or close to a river knows how to do it right, so you will most likely end up making some new friends as well.​
Have fun!
Thomas
Niels Thomas is a wildlife expert and fishing fanatic that works with major fishing brands like Deeper Sonar, Abu Garcia, Berkley, PENN, BassPro and Pure Fishing. Through sharing the best fishing tips, tricks, gear reviews, locations and much more he hopes to inspire fishing fanatics to start their own journey towards becoming the King of the Catch!