Carp can really wear you out before you catch one. If you want a place where you're virtually guaranteed of a catch, you should visit the Netherlands. With its huge network of waterways, lakes, rivers, basins and even ditches, you can set up your rigs almost anywhere.
If you are interested in learning more about float fishing for carp I recommend you read my guide: Master float fishing for carp!
Carp Fishing in Holland
Holland has been massively successful in introducing carp into wild waters. Almost every freshwater body has them, and they tend to do very well too. You can land some memorable biggies in Holland, but first, you need to know a few things.
License and Regulations about Carp Fishing in Holland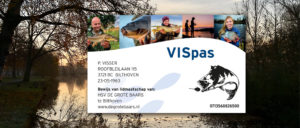 Fishing in Holland is pretty stress-free. While you can do it almost anywhere, you do need to have a license. But first, you must be a member of the Netherlands fishing club.
Being a member entitles you to a VISpas (Dutch fishing license). With it, you can fish anywhere so long as you use two rods and do not go night fishing.
Kids below 15 don't need a license so long as they are accompanied by an adult with the VISpas.
If you do want to use a third rod or more, you can apply for a special permit. It comes in the form of a hologram seal that is attached to the VISpas. The same also applies to a night fishing permit.
When you first apply for the VISpas, you will receive a temporary proof of membership called the Voorlopig Bewijs van Lidmaatschap / Tijdelijke VISpas. The application is done either online, in a tackle shop, or a fishing club.
You will also get a booklet with all the rivers, lakes, canals, and streams where you are allowed to fish. The temporary permit is valid for one month, and once the license is given you become a member of the club until resignation.
Other Restrictions
Holland also regulates the type of bait used as a way to keep the stock of carp in public waters healthy. The regular permit allows you to fish with the following bait:
Seeds, cheese, potato, corn, dough, and bread.

Worms and prawns.

Maggots.

Imitation baits up to 25mm in size.
You can obtain a license to use different bait if the need arises. Between 1st April and the last Saturday of May, you may not use real or imitation worms, baitfish, or chunks or fish due to additional restrictions.
When it comes to night fishing, rules vary depending on the water body. You can typically engage in night fishing between 1st June and 31st August. 
You should also know that fishing in Holland is strictly catch-and-release. This is especially true of endangered species that may end up on your hook such as minnow, sheatfish, bitterling, lampern, among others.
Fishing Seasons in Holland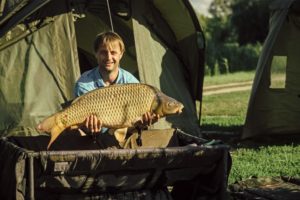 The Netherlands has the most water bodies of any one country in the world. 17% of its surface is covered by water. The Dutch government has undertaken massive efforts to populate all viable water bodies with carp and various other fishes.
With its European climate, the country enjoys massive popularity when it comes to carp fishing. You can catch all kinds of carp all year round, although some lakes or rivers may have different local rules.
However, while all year is open season for carp fishing in Holland, you should know that various other species are protected by law. If you catch one by accident, you are required to release it unharmed immediately into the same waters. These are:
Grass carp – closed season all year.

Sea trout, salmon – closed all year.

Char, brook trout, brown trout – Closed from 1st October to 31st March

Pike – Closed from 1st March to 30th June.

Nose carp, barbel, chub, dace, ide, grayling – Closed from 1st April to 31st May.

Perch, zander – Closed from 1st April to the last Saturday of May.
If you catch any species that you cannot immediately identify, release it back immediately. Some types of bait are also prohibited during some seasons, as explained above.
Best Fishing Locations in Holland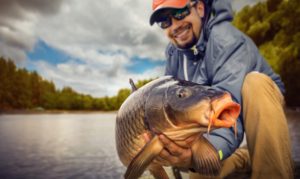 Almost every water body in the Netherlands is stocked with carp, and I found fishing there to be a blast. You don't have to travel very far to get a suitable spot.
However, to get some really big fish, I had to take some time and check out some prime spots. Most of these are privately owned and managed, and you can be assured of landing some monsters. 
A little fun fact: the current Dutch record for the heaviest carp caught stands at a magnificent 80 pounds. You can see that the country has some good stock. All you have to do is know where to find it. I found these seven places to be superb.
River IJssel
The IJssel river is one of the biggest in Holland and has many sections that are calm and deep enough for good carp fishing. However, it is very demanding and requires a good amount of expertise as far as location, choosing equipment, and baiting is concerned. 
With good technique, you can expect to land a good average. Many anglers have caught 40 pounders and more on various stretches.
The river has sturdy structures called groynes built into it to help check drifting and erosions. You can get on these to throw your bait further into deeper water as you enjoy the serene environment.
Lake Plashuis
Located 31 miles from Rotterdam, lake Plashuis is a privately owned carp fishing paradise. It is 28ha/69 acres in size, and can comfortably accommodate up to 12 anglers.
The lake has nine swims in total, with swim 1 and 2 being accessible on foot while the rest can only be reached by boat. Charges are inclusive of boating.
The lake has a maximum depth of 2 meters with a soft bed of varied clay and silt. It has a natural stock of carp between 10 and 45 pounds, and you can expect to find bigger ones every year. I found it relatively easy to fish here, and the hospitality of its owners is second to none. 
Maasplassen
The Maasplassen area in southern Holland is home to the River Meuse and lake Maasplassen. Both are famous for huge carp, as well as other fish like perch, pike, and catfish.
The area is only a short drive away from the German border in the Ruhrgebiet region. The lake has almost no navigation going on, so you can expect a calm quiet day in your belly boat. 
As a bonus, there is plenty of cheap lodging available in the area. All you have to do is turn up with your VISpas and you can fish in any part you like, so long as you follow the regulations.
Inspiration Lake
Inspiration lake is a beautiful gem hidden in the south of Holland, just north of the Belgian border. It is only 6 acres in size but has earned a reputation as a highly sought-after carping paradise. 
Only four anglers are allowed on its swims at any one time to ensure that everybody gets sufficient water.
Carp Valley
Carp Valley is a private estate measuring 4.8 acres with a 2.2-acre lake. The owner, Ad Brak, stocked the lake with some of the most magnificent carps you can hope to see. I loved the beautiful scale patterns, and you can find many mirrors, commons, and linears here.
The lake itself is featured with lilies and has four islands. Its shores are lined with trees and it is a very serene place to cast away your troubles. It is also great for vacationing with family, as it has homey cabins with electricity, cooking facilities, WiFI, and other amenities.
Other Great Places to Catch Carp in Holland
Apart from the private venues, you can get great fishing in the rivers, lakes, and canals of Holland. In Amsterdam, for example, the canals crisscrossing the city center are great for carp.
If you're looking for really easy fishing, the Green Heart region is full of polder ditches where you can find a lot of polder carp. In summer and spring, the water levels go low so that your chances of catching carp are almost 100%.
Another great spot is the Rhine-Meuse-Scheldt delta. The confluence of the Rhine, Waal, and Maas rivers makes for rich waters where the carp get very big. However, you will need some skill and patience to land a sizable catch here.
Finally, I must also recommend Randmerens. The network of shallow lakes there is the perfect habitat for carp, and the carp there can get really big and heavy. If you are looking to break your personal best, this is the place to go.
Final Words
Whether you are an amateur or a pro, Holland is an angler's nirvana. It is so full of rivers, lakes, and canals that you are never far away from a prime angling spot. Plus, the culture in that country will blow your mind. Make sure to add it to your travel list.
Niels Thomas is a wildlife expert and fishing fanatic that works with major fishing brands like Deeper Sonar, Abu Garcia, Berkley, PENN, BassPro and Pure Fishing. Through sharing the best fishing tips, tricks, gear reviews, locations and much more he hopes to inspire fishing fanatics to start their own journey towards becoming the King of the Catch!