It is no surprise that Scots love carp angling, given their incredible fighting spirit. You can find some of the biggest and most aggressive carps in Scottish fisheries.
While Scotland has an abundance of rivers and lochs you can go for, the chances of landing a really big one are slim. The proprietors of commercial fisheries have instead imported stocks of some huge carp.
Carp Fishing in Scotland
I have fished extensively in Scotland and will gladly share what I found to be the best spots. But first, you need to know when the best times are to visit, as well as the rules of fishing in the country.
By the way – If you are interested in fly fishing as well, you might find my guide on fly fishing spots & rules in Scotland very useful! 
License and Regulations of Fishing in Scotland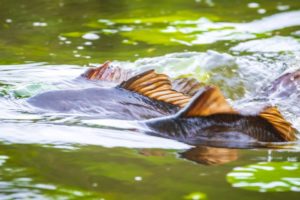 Scotland has regulations on the different types of fish you can catch, the types of bait and tackle you can use, as well as the number of rods.
When it comes to carp, the license regulations of interest are those related to coarse freshwater fishing. In that regard:
You can get a 12-month license that allows you to use up to 3 rods simultaneously for coarse fish only.

Different water bodies may have custom rules about the number of rods you may use.

There are rules about what size and number of fish you can keep. Contact the local club to find out more.

You're required to report a catch return every year, even if you did not fish at all.

Spod rods and marker rods are not affected by the regulations.

On private land, you need a permit from the owner to fish on their waters.

Children between 13 and 16 need a junior license, but these are free.

To fish in the locks and weirs of the Thames, you need a special license.

There are local by-laws that must also be followed.
Scotland doesn't have a state system, so there can be a lot of confusion regarding fishing rules. 
One trick I found to work exceptionally well is to hire a local guide. They are affordable, will take care of all the paperwork for you, and will share some expert tips to make your trip even more successful.
If you are interested in doing the research yourself, make sure you check out the official page for a Scottish fishing license.
Carp Fishing Seasons in Scotland
Carp fishing in Scotland is allowed all year round. Unlike other species like salmon and trout which are heavily regulated by law, you can pretty much angle for carp whenever you like. Carp and other coarse fish are abundant in almost all water bodies.
However, bear in mind that water bodies may have local laws that regulate carp fishing. Owners of private fisheries also set their own rules.
Scottish law also requires all rivers to close for a minimum of 168 continuous days every year to give the fish a break. While the exact dates differ, they can run from August to February. These are there especially because of salmon and other prized game fish.
Some additional rules apply:
Fishing in Scotland is strictly catch-and-release. All fish are to be returned in the same water unharmed.

No fish should be introduced in the waterways.

In the case of canals, no fishing within 25m of a lock, swing bridge, or designated mooring.

You should clean up after yourself. Do not leave any line, bait, or other litter for the sake of the environment.

You are only allowed a maximum of 3 rods when coarse fishing and they must not be more than 5 meters apart.

No fires.
Best Carp Fishing Rods for Scotland
Bestseller No. 1
Sale
Bestseller No. 2
Okuma Longitude Surf Graphite Rods (Large,...
SENSITIVE AND DURABLE GRAPHITE COMPOSITE BLANKS – The Longitude Surf Rods...
PREMIUM QUALITY COMPONENTS – Components built to withstand harsh...
COMFORT AND FUNCTIONALITY – The butt section of the Longitude Surf Rods...
Bestseller No. 3
Tiandirenhe Adjustable Retractable Carp...
Our fishing rod holder is designed with multiple adjustable parts, making...
The small forked rod easily passes through the support base, extending up...
Our carp fishing rod holder is constructed from durable and lightweight...
Best Carp Fishing Locations in Scotland
Scotland has to be on your bucket list if you consider yourself a serious carp angler. There are many exotic places you can fish with not a soul in sight, from remote locks to mountainside streams. 
Broom Fisheries
Located in South West Scotland just two miles from Annan, Broom Fisheries has cemented its name as the premier coarse fishing location in Scotland.  Not only does it have magnificent carp, but it features chub, gudgeon, bream, perch, among others.
Set in 200 acres of the serene Scottish landscape, Broom fisheries has a total of seven lakes with different numbers of pegs to accommodate various anglers. Each lake is well stocked with a variety of carp as well as other coarse freshwater fish.
Muirbeck with 12 pegs has some of the largest carp at 20+ pounds. Most of the stock is fairly new, so don't expect record breakers here. However, it is the most visitor-friendly spot with tackle and bait shops, camping and accommodation, and other necessary amenities.
Loch Morar
The Loch Morar is the second deepest lake in Great Britain, only beaten by the famous Loch Ness. It reaches up to 309m deep in some parts. However, its most attractive features in our interests are the huge wild carp you can catch there.
Loch Morar has remained blissfully unaffected by fish farming, with the result that angling on this lake is pure joy. You can catch up to 15-pound carp, and can also keep some for the table depending on your license and the season.
The Loch is also famous for other freshwater fish such as trout. You can easily fish from the lakeside with a variety of bait, or even take a boat out for the more dedicated anglers.
Castle Loch Fishery
The Castle Loch Fishery is another famous world-class carp fishing spot that gets its name from a nearby Lochmaben Castle. It also boasts the record for the biggest carp caught in Scotland, at 45lbs 12oz as caught by one Be Mir.
The 200-acre lock is natural waters, instead of commercial fishing grounds, so they are a bit of a challenge. You will not always land that dream carp, but it is the thrill of the catch.
It also offers magnificent grounds with tree-lined shores and different wildlife. There are professional anglers ready to offer full guiding services to interested tourists.
Magiscroft
Magiscroft is a well known coarse fishing paradise. With over 150 pegs in 7 lakes occupying 200 acres, it is one of the largest and most fruitful commercial fishery in Scotland.
Magiscroft is a wonderful haven for the whole family. Apart from carp fishing, it also has picnic areas, a play area, a pool table, and secure parking. Located in Cumbernauld, Magiscroft is the ideal place for a quick weekend getaway. 
It also features one of the best tackle shops in the country in case you run out of equipment.
Magiscroft's seven lakes are well stocked with carp and other coarse fish. You can catch decent varieties such as roach, bream, gudgeon, chub, etc. You can typically expect to catch carp well over 14+ lb if you have the patience for it.
Greenhill Fishery
For those who would rather go for specialist carp angling, the Greenhill Fishery is just the spot. Although it is only a small water measuring 2 acres and u to 7ft deep, it is dedicated to carp where amateurs and professionals can test their skills.
Greenhill is dedicated to specialist carp anglers only. It has a ton of rules about what you can and can't do on their waters to help promote the health and safety of their stock. For amateurs and beginners, it may be too much for you.
For those who brave it, Greenhill Fishery will reward you with huge carp well into the double digits. It is the place to go if you want to up your game a notch.
Forth and Clyde Canal
The Forth and Clyde canal is an excellent place to fish for giant carp, with reports of 20+lb carp being caught here. It is in top shape after massive restoration efforts.
I would recommend the stretch between Glasgow and Grangemouth. Here, fishing is easy and free. All you need is a membership to the Scottish Federation of Coarse Angling, which only costs five pounds.
Apart from some good carp, you can also angle for gudgeon, perch, eels, tench, and trout. In particular, check out the Firhill Basin in Glasgow. The place once held the Scottish Carp record.
Other Places to Catch Carp in Scotland
When in Scotland, you are never far from a good carp fishing location. There are thousands of lochs, rivers, and canals. As suggested here, it is best to hire a local guide to get you around. They know the best places to get carp, and will also take care of all the paperwork for you.
Most lochs have carp in them, although they are better known for Salmon fishing. Even the famous Loch Ness has some good carp in it. All you have to do is get the required license and permits.
Do you know any top carp spots that are not on my list yet? Let me know in the comments!
Final Words
Fishing in Scotland is a must for any carp angler. The country is simply magical, and once you're there you can never get enough of it. Even better, carp fishing there is very easy and can be done from almost anywhere.
If you're going to be visiting the country for the first time, I would highly recommend that you start with one of the commercial fisheries.
They know how to take care of visitors, whether you're an amateur or a pro. As you get used to it, venture further into the country. You will not regret it.
Niels Thomas is a wildlife expert and fishing fanatic that works with major fishing brands like Deeper Sonar, Abu Garcia, Berkley, PENN, BassPro and Pure Fishing. Through sharing the best fishing tips, tricks, gear reviews, locations and much more he hopes to inspire fishing fanatics to start their own journey towards becoming the King of the Catch!