Most people think about culture and food when France is mentioned, but did you also know that it is a prime location for carp fishing? If you enjoy angling as much as I do, you want to check out my best spots for carp fishing in France. 
Best Carp Fishing Spots in France
After several years to traveling between the Netherlands and France, let me tell you this: fishing in France is amazing! It has some of the biggest carp in the world. Why? Well, due to slightly higher average temperatures the local carp are encouraged to more feeding for longer periods.
If you are interested in exploring other species as well, you should check out another favorite of mine: The French Catfish!
License and Regulations of Carp Fishing in France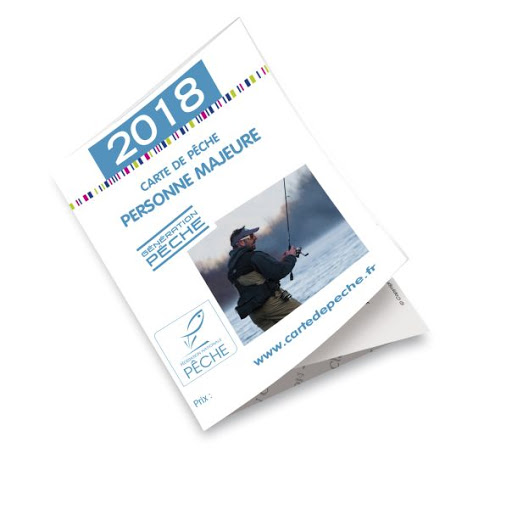 France does its best to promote the art of fishing, so it makes it as painless as possible. All you need to do is get a fishing rod license (called 'carte de pêche') for public fishing. 
If you're going to be fishing in private waters, you will also need a permit from the owner.
The French fishing association, called the Fédération Nationale de la Pêche en France or FNPF, is responsible for issuing the permits. 
License Costs
A one-day permit will cost you about £10/$10.8, while a year-long license will set you back £60/$64.8. If you decide to bring your kids along, it will cost you £30/$32.4 so long as they are under 16.
The FNPF also issues a vacation permit between June and September for about £30.
Where to Get The Carte de Pêche
The easiest way to get the license is to visit the licensing website here. You can translate the site to English for ease of navigation, and also get to see the different spots available in the various 'departments'.
However, be advised that photo ID is required. You can also buy a license from a tackle shop near your chosen spot.
While fishing is free on most public waters, night fishing is not allowed in 90% of the places. You will need to go to private fishing areas for that. Also, the license is only valid for one fishing 'department'.
All public waters are policed, so make sure to stay out of trouble. And don't be a daredevil and go fishing without a license because the fine can be as high as 22,000 Euro!
Fishing Seasons in France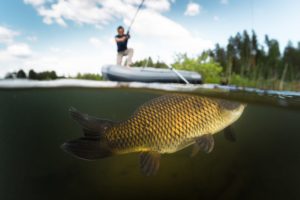 Fishing seasons in France depend on the type of waters you intend to fish in. If you want to go carping on private grounds, you can pretty much do that all year round.
For public fishing, there are two seasons a year depending on the category of the waters:
Category 1 – Lake and rivers
Category 2 – Streams and canals
Category 1 public spots are typically open from the second Saturday of March to the third Saturday of September.
For the streams and canals in Category 2, you can fish from 1st May to 31st of January. While these timelines mean that you miss the early Fall days, you can still get two months of prime carping. 
Carp is best caught in early to mid-fall, but you can also do that in Winter if you know what you're doing.
Best Carp Fishing Spots in France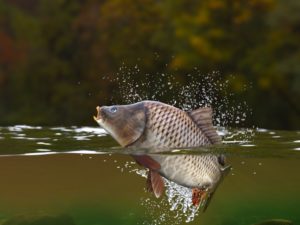 France is a prime destination for catching carp, with its wide variety of lacs, etangs (small lakes or ponds), rivières, and more. Since I discovered it, I have gone there again and again. 
I can tell you that there is no 'perfect' spot to suit everybody. There are commercial lakes with all the proper amenities, and there are wild waters in remote places where you can do 'drive and survive' carping.
Being the passionate angler that I am, I have tried many of these and also compared notes with buddies. I will freely share my amassed wisdom as far as the best spots are concerned.
Boux
Boux has maintained a spotless reputation for monster carp. It regularly yields 70+ lb carp, and 50 pounders are caught almost on a weekly basis.
The lake is 14 acres in size and can accommodate up to five anglers at once when booked exclusively. You get all the water you need to ensure a big catch, and you can usually do that from the bank. A boat is also provided for rig placement.
The place is only two miles away from the nearest village where you can get all the amenities you might need. It also has showers and toilets.
Lac de Saint-Cassien
Lovingly described by some as the Mecca of carp fishing, lac de Saint-Cassien is 430 sq meters and can have as many as 50 swims when the water is at its peak. 
It is divided into various sections called the North, South, and West arms, as well as the central basin. In the '80s, Kevin Ellis caught a 76-pound carp and put the place on the map. Today, it is the favorite of experts such as Steve Briggs.
Night fishing is not allowed on Lac de Saint-Cassien, although you can push your luck for 30 minutes after sunset.
Jonchery
Jonchery is run by a famous fish farming family, the Bacheliers. With their fishing experience, they have turned the place into a carping paradise with over 350 mirrors and commons. Their stock of 40lb+ carp is second to none.
Jonchery occupies 30 acres in the famed Champagne region of France. It has 6 double swims, each with enough water that you're almost guaranteed to catch something.
 It also has all the required amenities like toilets, showers, and you can book a holiday plan with your family to enjoy some quality time together.
Etang 5
Etang 5 is for true professionals, I'll tell you that from the start. Most of it is covered with weeds. You have to have the experience to reel in a fighter carp from a boat, or you will not land a thing.
The lake is stocked with huge carp, with most between 30lb and 40lb. One unique feature is that Etang 5 has no swims. You get to fish anywhere you like on a first-come-first-served basis. 
The lake is open from April to October and is also a birdwatcher's paradise. If you do decide that it's time you got your fishing skills up a rung, remember to go there when there aren't too many people. 
Etang 5 is a bit too sensitive for my liking. If there are a lot of boats on the late, odds are that you won't catch a thing. With the hassle of finding holes through the thick weed and keeping your lines clear of weeds, it is not for the faint of heart. I would recommend testing your mettle here at least once in your life.
Vaumigny
If you love fishing in wild lakes and rivers, you will be right at home in Vaumigny. It's a favorite of mine, with shores lined with trees and flowers. Apart from carp, Vaumigny is also teeming with sturgeon and catfish.
The lake is 37 acres in size and has been in existence for over 80 years now. It has cemented such a reputation that they only keep records of carp over 44lb. You will need to be quite good to make your name known in Vaumigny.
It has 15 swims well-spaced out, and you can relax in the shadows of the trees as you wait for the fish to bite.
Lac de Vaulaurent
Lac de Vaularent is a 29-acre private fishing ground. I loved it for its convenience. All you have to do is turn up, and you can even get your gear there. It was acquired by new owners back in 2012, and they have done a nice job of sprucing it up.
The lake is a prime spot for catching pike and zander, but carp has since become a specialty. It has both common and mirror stock and boasts a lake best of 72lbs/33kg.
The lake is not very deep and is only 3.5m at the deepest point. However, you can rent a lakeside cabin outfitted with everything you and your family would need.
Final Words
If you're yet to go fishing in France, you do not know what you're missing. It has some of the prime spots to catch monster carp. Whether you like commercial fishing lakes or prefer the wild, you can have your pick of thousands of lakes and rivers.
Plus, France is very friendly when it comes to fishing. With a license and a little bit of luck, you might just make it big in this amazing country. Just choose your spot and add another feather to your fishing hat.
Niels Thomas is a wildlife expert and fishing fanatic that works with major fishing brands like Deeper Sonar, Abu Garcia, Berkley, PENN, BassPro and Pure Fishing. Through sharing the best fishing tips, tricks, gear reviews, locations and much more he hopes to inspire fishing fanatics to start their own journey towards becoming the King of the Catch!