So you are out there shopping for a fly reel specifically designed for pike… It sounds easy, but as you get out there, you will find similar features and capabilities, as well as products that can cost up to five times more than others. Choosing the best pike fly reels can be quite daunting if you have no idea what you are looking for.
Besides, there is one general factor to always keep in mind – value for money.
Best Pike Fly Reels – Modern Pike Fishing Reviewed!
My top suggestion is to go with a reputable brand. You want a brand that has built its way up and has gained a reputation based on its quality products. At the same time, while you can use pretty much any reel for pike, nothing compares to a product specifically designed for such activities.
In other words, you know what you want, so going for the right thing becomes much easier.
Quick overview
Here are the best fly reels for pike that I have ever used or owned:
Now, what makes them so special? Why are they so well rated over the Internet
What to expect from fly reels for pike
When a top brand classifies its fly reel as a pike fly reel, you know you can leave yourself in good hands. You no longer need to research, yet it pays off knowing what to expect once you get your hands on such a thing. So, what makes a pike fly reel so special and what are the main differences from other fly reels?
The line pickup is one of the elements that can make the difference. A quality pike fly reel should provide smooth and effortless line pickup. Pike is difficult to fight, no doubts about it. It can eat the fly, it may go in the completely opposite direction or even run towards your boat.
At this point, you probably ask yourself – what now?
You clearly need tension on the line and this could be difficult. The secret is in high retrieval rates. You need to be able to retrieve line like there is no tomorrow, so most pike fly reels should come with such a feature.
I recommend quality, durability and a solid build for more reasons. Like I said, pike is difficult to fight. Your fly reel will get banged and dropped all the time during a harsh fight.
A specific fly reel is supposed to come with a top notch finish, which inevitably involves a tougher design too.
This is one of the reasons wherefore a pike fly reel will cost a bit more than a random fly reel. It is supposed to come with a bombproof design that will pay for itself in the long run.
Last, but not least, expect a decently sized handle. While not mandatory, a good handle can keep you in control when fighting a strong fish.
Best pike fly fishing reels
I have owned a plethora of pike fly reels, but only a few of them can actually stand out in the crowd. The products I reviewed here are also among the top rated options over the Internet, so their reputation is flawless.
Seigler MF Fly Reel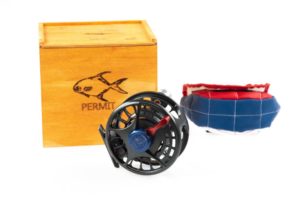 There was not much information available when I got Seigler's MF series. I was familiar with Seigler, so I was aware of its high quality standards, but reviews were quite limited back then, so I simply took a shot – nothing to regret about it.
The fly reel looks like part of an alien ship. You can tell how qualitative it is the moment you touch. I loved the way everything is machined, the curves on it and even the few colors you can choose. Everything screams quality.
All fly reels in this series are made in the USA. I am not trying to blame products made in other countries, but I know that local standards are quite strict, so there must be something good about it. This aspect is even more important when it comes to fly reels. Such equipment is quite basic, so every flaw will stand out.
The drag is probably the most significant innovation associated with this fly reel. The lever drag will not disappoint you. It is a great feature regardless of the fish you are after and not just pike. The lever adds a bit to the size and weight, but you will not sense any issues. In fact, it is even better if you want some balance on a heavy rod.
The system consists of two composite discs. There are a few metal discs too. Everything is fitted inside the case (made of aluminum) and greased with a waterproof substance. It is powerful, yet it requires maintenance. Taking this fly reel in saltwater may require cleaning after using it.
The finish? Nothing to complain about it. There are a few color combos that you will love. I chose the anodized gray, as it looks like titanium and it feels different. The finish will feel different as you touch it too. The texture left behind from CNC machining underlines luxury. However, I must add that some of my friends see this type of texture as suboptimal finishing. I guess it is all about one's perception.
In terms of engineering and design, the MF feels a bit unusual. Let me make it clear – the company is run by a former bicycle builder. Knowing this, I feel like some of the parts resemble a racing bicycle. Look at the spool… Check out the large knob, which is really stylish. With all these, you can see quality as you look at this fly reel.
At a first glance, I could see some spaces in its composition, such as the one between the spool and the outer reel body. Most fly reels have it, but the MF has a wider space. You would think line might get in there, but it has never happened to me in over two years.
Bottom line, Seigler's leading fly reel is suitable in all saltwater applications and will tackle fish like pike with no issues at all.
Review by other costumers:
"I bought Seigler's fly reel for the good value for money, not knowing it could easily compete against bigger players. Definitely a good buy!"
---
Hatch Gen 2 Finatic Fly Reel – Large Arbor
Hatch is one of the leading names in this industry, so you know you can never go wrong with it. Just make sure you get a fly reel for your specific necessities and it will take care of most of the work for you. Now, what should you know about the Gen 2 Finatic?
The name is self explanatory – this is not a brand new fly reel. In fact, it represents a reinvented generation of a well known unit. This upgrade has turned the Gen 2 Finatic into a front runner. I believe it is one of the most complete fly reels for pike and for some good reasons.
The first reason? The fly reel is straightforward, intuitive and likely to last forever. Second? The drag system is incredibly smooth. You will bring fish back with no effort at all. Plus, it is fully sealed. It sounds perfect, right?
The design is basically an upgrade from the classic Finatic. So, what did Hatch change? The drag system is more powerful and durable. You can get the fly reel with two different arbors – it is all about the size.
Finally, you have more colors and combos to choose from – ideal if you care about the aesthetics as well. On top of all these, Hatch has added a bit to the weight, so you can balance heavier rods without too much stress.
The fly reel is made of machined aluminum. I do not have to tell you why – no corrosion, no abrasion and no rust. Even better – aluminum will last for a lifetime. Accidental drops and dings will not damage your fly reel either – I am not saying you can hit it with a hammer though.
The finish is superior too. First, you got the engineering part – type II anodizing. It is strong and adds even more to the durability of the reel. It can hold up well to scratches and scrapes, not to mention the negative effects of saltwater. Second, there are a few interesting color combos to choose from.
The arbor is large in most sizes and varieties, yet you can find this fly reel with a smaller arbor too. I do not recommend it. Larger is better – a top notch line pickup capacity and easy fights with large species of fish.
The pickup capacity depends on the size. You will get around 10 inches of line per turn. Line management will not disappoint you either.
The drag system features more discs. This kind of design adds to the durability, but it also makes the drag feel smoother. It is 100% sealed – boom, no maintenance. I still give it a quick rinse after a saltwater angling session, but you do not have to.
All in all, this drag system consists of a cocktail of stainless steel and carbon fiber.
Review by other costumers:
"If you are serious about pike, this fly reel will never let you down. It is not the most expensive one, but its capabilities will surprise you."
---
Taylor Revolution Z Fly Reel
Taylor is one of my favorite manufacturers when it comes to fly reels. I have three of its super reels and I got the Revolution Z Fly Reel as an upgrade. This is the brand's flagship for saltwater angling. It is large, strong, sturdy and likely to perform.
If you are after top notch engineering, good looks and a great reel for saltwater and flats, this unit will pleasantly surprise you.
Revolution Z has not been designed to compete against other top fly reels. Instead, it was created to dominate the market and I must say Taylor has done a pretty good job.
It features a hybrid design that keeps the weight down, while the drag system is so powerful that I believe I could even get a shark on board.
When most fly reels in this range are made of machined 6061 T6 aluminum (the common choice for boats and aircrafts), Taylor has gone for a mix of this material and carbon fiber. The carbon fiber is used for the frame. It adds to its sturdiness and keeps the weight down. As for the aluminum, it is successful against corrosion, abrasion and rust.
The finish is not to be overlooked either. Hard anodizing adds to the surface durability and protection against saltwater elements Anodizing is also able to prevent light scratches and scrapes.
After all, no matter how careful we are, we still bang or drop our reels every now and then, not to mention the hassle of fighting big fish.
The arbor is designed to help you in such fights. It is ultra large. The line pickup is super capable and will give you around 10 inches of line per rotation. This fly reel can go on a single handed rod and still provide a top notch experience.
While excellent for pike, I have used this fly reel against other species with no issues at all – tarpon, bonefish and pretty much anything else in saltwater.
When it comes to the disc drag system, it is a mix of carbon fiber and stainless steel. The system is durable and powerful. You have more than 15 pounds of drag – excellent for all species in saltwater.
Let me mention that the system comes with a watertight chamber. It is 100% sealed. There will be no saltwater or its elements going in. In other words, it requires no maintenance at all. However, to be perfectly honest, I still give it a quick rinse after each angling session. I just like to keep things clean.
Last, but not least, Taylor provides a limited lifetime warranty for all of its products and this fly reel makes no exception. The warranty will not cover damage caused by you though. However, you can get the fly reel repaired and look brand new for a small fee.
Review by other costumers:
"I use this fly reel for pretty much any fish, really. I bought it for pike, but it works wonders on anything in saltwater too."
---
Lamson Speedster S Fly Reel
I have owned the classic Speedster before, so I thought an upgrade could only make it better. The Speedster S from Lamson has been reinvented.
Basically, everything is better. You get a higher retrieval rate, more finishing options, less weight, extra durability and so on. It also comes in more sizes – from 2wt to 10wt. It is designed for both saltwater and freshwater angling.
I have tried it for various species, but I feel like it works wonders with pike.
Having both the new and the old version, I can also notice some changes in the design. The new unit has a different spool (narrow frame, but wider diameter) and a top notch handle. It feels like it was designed to get as much line as possible.
In terms of materials, Lamson has not made any major changes from the industry standard. You can count on machined 6061 aluminum, which is known for its durability and resistance to corrosion and abrasion.
Small dings and bangs will not cause rust either. The material is very popular in boats and aircrafts too. However, some of the parts in the fly reel are made of stainless steel.
The finishing has the exact same purposes – protection and durability. It is based on type II anodizing, which will prevent scratches and scrapes. When it comes to the colors, you can choose between ember and midnight. I have the midnight fly reel – as you may have noticed, I like slightly darker designs.
Now, back to the engineering aspects… The arbor is super large. This is one of the reasons why the fly reel is suitable for all types of water. You have an impressive line retrieval rate and great line pickup capabilities.
You can fight large fish with no hassle at all. Pike will never stand a chance in front of this monster.
The drag system is just as important. Lamson has come up with a standard from this point of view. Many of its drag systems are conical for less weight and more strength. Besides, this kind of system allows easy line management. At the same time, it is fully sealed. You do not have to clean or maintain it.
The system is so strong because of the mix of Delrin alloy and Teflon. It is not a popular mix, but Lamson has managed to find the perfect proportions.
In terms of the warranty, the limited lifetime warranty will not cover damage caused by you. However, Lamson will fix your reel if you damage it and make it look brand new for a small fee. This is what I call great customer service.
Review by other costumers:
"I was surprised to find all those materials for this price, but knowing Lamson and its affordability, I knew I just could not go wrong with this fly reel."
---
Final words
As a short final conclusion, a pike fly reel can be a bit difficult to choose without research. The best part about it is that pike fly reels are usually super strong and can successfully support other similar species in various types of waters.
Basically, you do not just get a pike fly reel, but a universal reel that you can use for most fish – what else can you ask for?​
PS – Check out our reviews on Trout and Salmon fishing as well!
Niels Thomas is a wildlife expert and fishing fanatic that works with major fishing brands like Deeper Sonar, Abu Garcia, Berkley, PENN, BassPro and Pure Fishing. Through sharing the best fishing tips, tricks, gear reviews, locations and much more he hopes to inspire fishing fanatics to start their own journey towards becoming the King of the Catch!