​The more experience you get as an angler, the more specialized you will want your fishing tackle to be. You see, a complete newbie can do with any random fly reel – the cheaper, the better.
You on the other hand, you have become an experienced angler over the years that requires specific fly reels for specific waters. And thanks to your lovely Mrs. you are allowed to buy some new gear for the upcoming season and you are just dying to check out what are the best fly reels for saltwater! 😉
Best Fly Reels For Saltwater
A top rated product from a reputable brand cannot disappoint you. Instead of wasting hours or day researching no name brands and their products, how about a product with hundreds or even thousands of positive reviews? How about a solid name on the market then?
Thankfully, the review team of King of the Catch did the work for you! 
Let's see what they have to say. 🙂
Quick overview
Here are some of the best saltwater fly reels that I, Mike and Steve (say hello to the review team) have ever owned or used :
Why are these fly reels so appreciated all over the world then?
What to expect from fly reels for saltwater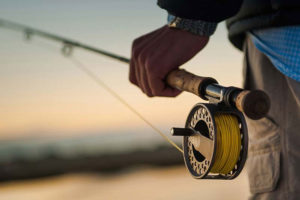 Getting familiar with the main requirements of a fly reel for saltwater will help you choose one, but also understand the necessity of a specialized item.
What do the experts have to say? Let's find out.
Question: Saltwater and fly reels? Isn't that the worst combination?
Mike: Quality fly reels for saltwater will come with corrosion resistant materials. They can also take abrasion and rust. But If you also count the destructive elements of saltwater, your fly reel will give up in no time if you don't give it the proper care. My number one tip? ALWAYS use freshwater to clear your reel every hour.
Question: What about the drag system? 
Thomas: The drag is usually sealed – not always, but usually. The drag system is the most exposed area of the fly reel when it comes to saltwater damage. It is also the most important one when it comes to fighting big fish. While the seal will keep it safe, I still recommend a quick rinse after your angling session and every month use WD-40 lubricant spray to keep everything smooth and protected.
The reel will always have a disc drag system, rather than click and pawl. Disc drags provide more power and efficiency – simple as that. They can be made of multiple materials, but they work better. I recommend checking the poundage though – it should be close to the type of fish you usually go after.
Question: Is there a difference in the arbor?
Steve: Well, the arbor should be large or larger than that. A large arbor will get the job done and provide good retrieval rates. An ultra large one will be even better. This aspect is helpful when dealing with large fish, so expect the spool to look a bit unusual.
Thanks for the quick feedback, guys!
Other things that make a fly reel ideal for saltwater include a strong frame and lots of backing. Think about each of these things individually and you will understand why having a specialized fly reel is so important.
Best fly reels for saltwater
We have used all kinds of fly reels for saltwater, but some of them can definitely stand out in the crowd. Not only are they reliable and professionally built, but they will also do half the job for you.
Echo Bravo Fly Reel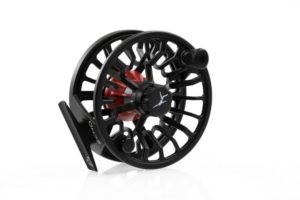 Thomas: I have used plenty of fly reels from Echo. The brand is known for one thing – affordability. However, its reputation is not built on inexpensive fly reels only.
Apart from affordability, Echo is also a top option if you want quality high end features.
The Bravo is by far Echo's leading fly reel when it comes to saltwater applications. It is way cheaper than other units in this segment and comes with lots of performance.
I was very surprised as there are certain features you can only dream about when purchasing such an inexpensive saltwater fly reel.
Beautiful aesthetics + long lasting materials = the perfect reel based on price and quality. 🙂
The design will stun you. Simply put, you get a waterproof fly reel for less than 150 bucks! – I dare you to find something similar. The fly reel is mostly aimed at novice and intermediate anglers. It is lightweight, quite advanced and features no bells or whistles – after all, who needs those fancy features anyway? 
Just top quality!
But, Thomas – What about the construction, finish and design?
In terms of construction, you have a mix of aluminum and other metals. The aluminum alloy is durable and light, but it also grabs some of the main characteristics of aluminum. It can resist corrosion and abrasion fairly well.
Plus, the alloy is much cheaper than pure aluminum, hence the low price.
The finish is another plus – another feature that you should expect to find in high end fly reels. Anodizing is ideal against scratches, scrapes and rust points. Given this finish, you can obviously use the fly reel in all kinds of water – both freshwater and saltwater. Accidental drops will not ruin it either.
Effort Vs. Arbor size
The large arbor represents yet another helpful feature – more common inexpensive fly reels. The line pickup is amazing, while the retrieval rate will not let you down. The point behind the large arbor is to be able to get as much line as possible without too much effort.
Boys with new toys – Introducing the Pit Stop System!
Finally, let me tell you a bit about the drag system too. It is quite new on the market – the so called pit stop system. It works with discs, but the general idea is to be able to maintain, replace or repair discs without requiring any tools.
The system is based on carbon fiber discs – lightweight, durable and strong. You will face no trouble battling large fish in saltwater. Moreover, like I said before, the system is sealed. In theory it does not require any maintenance, but I always recommend a quick rinse after each use.
Given the price of this fly reel, you should not expect a lifetime warranty. Instead, you are guaranteed for a year.
Trust me, a little care will have you use this fly reel for ages. 🙂
Review by other costumers:
"Echo has definitely nailed this one. Great reel for all levels!"
---
Redington Grande Fly Reel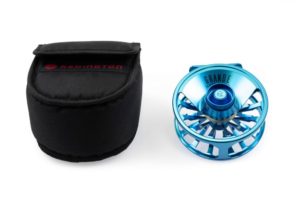 Mike: While Redington products are not as cheap as Echo's, they are still rated affordable and inexpensive. The Redington Grande makes a good choice for intermediate and advanced anglers – great value for money too.
Redington has aimed at two things when it designed the Grande. First, you need drag strength. You do have plenty of it. To be honest, it is one of my first consideration when getting a new reel, especially for large species and saltwater.
Second, I want durability. If properly looked after, this reel will last for a lifetime.
The fly reel is made of T6061 aluminum – right, the same material used for boats and aircrafts. Not only does it hold up well against tear and wear, but it can also take accidental dings, bangs and drops.
Plus, there will be no abrasion or corrosion – common issues in saltwater fishing.
The finishing is just as important. You have a fully CNC machined unit – the type of finish you normally find in fly reels that cost twice as much. This finishing is superior to die cast designs. Its rigidity is flawless. It can take scrapes, corrosion and scratches like no other.
Once you decide on the size, make sure you choose a nice color to match your rod too. My reel is champagne, but you can also get black or marine.
The spool is shaped like a V, which provides lots of extra backing. Other than that, the line goes where it belongs – no line management problems there.
When it comes to the drag system it is fully sealed. When sealed, you get durability. You know saltwater, dust and dirt will not go inside. Plus, you can ease down on the maintenance. But like I always say it, a quick rinse can every few hours never hurts.
The disc system is based on carbon fiber. It is way stronger than other materials, but carbon fiber is also known for its lightweight profile.
Should any issues arise, you have a limited lifetime warranty. Redington will not replace your reel if you damage it yourself, but you can get it repaired for a small fee, which is just as good.
Review by other costumers:
"I bought the Grande for the great value for money. Excellent product!"
---
Nautilus CCF X2 Fly Reel
Steve: The CCF X2 is like the Rolls Royce of fly reels. Literally! It looks great, it comes with the ultimate technologies in terms of durability and performance and it will last for a lifetime if properly looked after. It is designed for saltwater, but I have used it in freshwater too – no issues at all.
Now I can imagine you already know what it will cost when I see it looks and feels like a Rolls Royce. Yes – you are right. It is not a cheap model, but holy (..) is it a nice reel to have.
You will love the handle. If you have used the NV-G fly reel from Nautilus before, you might be familiar with it. Furthermore, the drag knob is so fine that the whole fight will feel effortless. The grip is flawless – large and a perfect texture.
Is it too obvious that I love this baby? Don't tell my lady back home.. Hi Sarah! 🙂
The finishing gives you a few different options. You are more likely to find it in black and silver, but a deeper search will provide access to plenty of other colors. The finish will protect the reel against abrasion and corrosion, not to mention light scrapes or scratches.
It can take a bit of a beating, but let's be honest here.. you will protect this baby with your life! 
The drag is probably its strongest point here. You can get fish up to 15/16 pounds in weight. As you back it off a little, it becomes quite linear. It only has six turns and more adjustability than any other fly reel in this range.
Some may want less turns before a hard stop. Some others are happy with six turns. This is only a matter of personal preferences. I could have done with four or five turns before a hard stop, but this aspect is less relevant for me.
Other Nautilus fly reels from this manufacturer seem to be all about performance. This one is also about style and sound. This unit sounds amazing regardless of the direction.
Now, the retrieval rate is likely to surprise you. There are about 200 yards of backing, which is more than enough, even when you deal with large fish. I get just under 10 inches per revolution. Different sizes come with different standards too, so if you fit this fly reel to the right rod, you may get over 10 inches per turn.
The aerated design and materials have managed to keep the fly reel relatively lightweight.
For example, the 8/10 size only weighs 9.3 ounces. The 6/8 size goes up to just under eight ounces.
Review by other costumers:
"The drag is incredibly smooth on this fly reel – probably the best I have ever used."
---
Ross Evolution R Fly Reel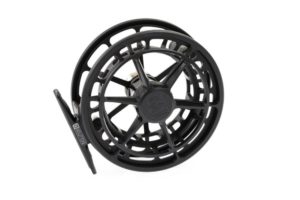 Thomas: Ross does not need too many presentations in the angling world. It is one of the most reputable names out there, while its fly reels can definitely make the difference. The Evolution R is a powerhouse that leaves no room for improvement as Ross has grabbed the best parts of this industry and put them together in a single unit.
The engineering? Outstanding!
The aesthetics? Impeccable!
While originally designed for freshwater, this fly reel is slowly making its way through the saltwater market. It is excellent for trout especially, but I have also used it for pike and other similar species – not a single issue at all.
It is not certain yet, but I believe the Evolution R will pave the way for a more impressive fly reel for saltwater in the near future.
The machining, the engineering, the attention to small details and the power are just top notch. The arbor is brand new and represents an upgrade from other fly reels designed by Ross. The unit is super lightweight and the canvas phenolic handle makes you feel like it is doing half the job.
The fly reel is made of 6061 T6 aluminum. Like I said before, it provides a great protection against corrosion and abrasion, hence its popularity among saltwater anglers.
As for the finishing, you can count on type II anodizing. What does it mean? The finish is not just rigid and durable, but it also provides a nice color. There are two options out there – platinum and matte black.
I have the matte black version and despite dropping it or fighting strong fish at times, it looks brand new. It truly holds up well to general wear an tear.
The arbor? Ultra large!
The line pickup is excellent. You can fit this fly reel on a single handed rod and it will still work wonders. The arbor is shaped like a bell, which provides extra spacing and ensures line management will never be an issue.
Line goes exactly where it should – the last thing you should be concerned about when fighting the catch of the day.
Finally, the reel comes in a few different sizes and features a limited lifetime warranty. Ross will not cover the damage you do yourself, but it will make your fly reel brand new for a small price, which is just as good.
Review by other costumers:
"To me, this fly reel from Ross was the ultimate upgrade. There is literally nothing to complain about."
---
Nautilus NV Monster Fly Reel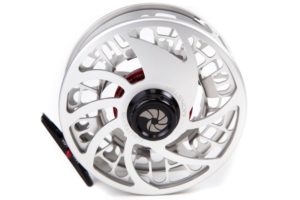 Mike: The NV Monster has a name that says it all – it is the largest fly reel in the NV-G segment. It is only available in one size and will help you regardless of the fish you want – from tarpon to giant trevally.
While initially designed for saltwater, the fly reel is also suitable for bluewater. I know, it does cost more than others in this segment, like a lot, but this is why I recommend it to serious and experienced anglers.
It is available in the 12wt size only, so it works for super large species. Despite being an actual monster of reel, it is lightweight and has an impressive retrieval rate.
This unit is made of aluminum – CNC machined for an outstanding precision and excellent engineering. No matter how hard I try, I simply cannot find a flaw with the design. The material will resist rust, corrosion and abrasion. It can also take dings and drops, which will be quite common when dealing with big fish.
The finish features two different options. First, you got black anodizing. Second, you have brushed titanium. My fly reel is finished in brushed titanium.
Both finishes are similar in capabilities though. They add to the durability of the design, whether it comes to scrapes, scratches or dings. Colors are just as simple – silver and black.
For this price, you obviously expect the best possible arbor too. Nothing wrong with that! The arbor is an ultra large and allows you to pick up more than 15 inches of line per rotation.
The drag system is based on cork carbon fiber – a similar build with the drag found on other models in this series. It is one of the strongest drags I have ever used and it seems to be specifically designed for saltwater game.
Apart from the cork and carbon fiber, the bearings are made of ceramic. Other than that, classic stainless steel parts are now made of titanium and ceramic. Adjustability is the piece of cake too.
In terms of the warranty, Nautilus has the same deal for all of its fly reels – limited lifetime, but no support for items you damage yourself.
However, you can get them fixed for a small price – just like new. 🙂
Review by other costumers:
"I received this fly reel as a gift from my wife. She has no clue about fishing, but she thought buying the best thing on the market will do. This fly reel is simply perfect."
---
Final words by our team
Bottom line, choosing the best fly reel for saltwater might seem difficult at first, but it is not impossible. Many features are similar, but small details tend to make the difference.
At the end of the day, your experience and needs should lead you in the right direction.
Have fun! 🙂
Thomas, Mike and Steve (And we are pretty sure Steve's girlfriend Sarah had to approve his review..)
Niels Thomas is a wildlife expert and fishing fanatic that works with major fishing brands like Deeper Sonar, Abu Garcia, Berkley, PENN, BassPro and Pure Fishing. Through sharing the best fishing tips, tricks, gear reviews, locations and much more he hopes to inspire fishing fanatics to start their own journey towards becoming the King of the Catch!