When it comes to fishing, most newbies naturally assume that everything is about the fly rod. They do lots of research regarding materials and designs in order to come up with the best choice, but then they pinch money on any other equipment.
While no one denies the importance of getting a quality fly rod, finding the best fly reels is just as important in the process.
Thankfully, at King of the Catch we wrote an in-depth guide on how to find, select and purchase the best models. And of course, it includes a FAQ section with all the answers to the most common questions about fly reels.
Best Fly Reels Of 2020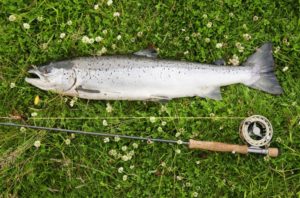 If you think about it, the fly reel is supposed to match the fly rod in every small detail. It will enhance its capabilities, but it will also help you take advantage of each of its features.
With this aspect in mind, purchasing a quality fly reel is just as important.
A Quick Overview
Most fishing enthusiasts, choose a model based on ratings, recommendations and compatibility to their fly rods.
Things may change a bit with time and you may realize that you need a different size or perhaps another model. Maybe the one you have is too lightweight. Or you just want to buy a nice gift for your kids or fishing buddy.
Whatever the reason is.. there is a fly reel for any occasion. 😉
And me and the review team have been testing all of them.
Here are some of the top reviews blog posts:
Best fly reels for the money
If your available budget is the top consideration when looking for the best fly fishing reels, you should know that you can still make a good choice without spending a fortune.
Best fly reels under 100
If you are an experienced fishing enthusiast, finding the best fly reels under 100 can be a bit challenging. You probably know already that you can find lots of junk in this category.
All those products made by companies that you have never heard of will go in this group, not to mention fly reels made in the middle of nowhere – no brands, logos, contacts or anything like that.
The good news is that a little attention to small details will not necessarily hurt you, but give you a hand in the process. In fact, you can find some quality fly reels going for less than 100 $. It is all about knowing what you need and gaining as much value as possible for your money.
Lamson Liquid Fly Reel is my main recommendation in this segment. The freshwater fly reel brings in a pressure cast design that will face the test of time, as well as beautiful design elements to impress your audience and friends.
It also borrows a few elements from more expensive fly reels made by Lamson, such as the conical drag system.
Redington's products can also score high in this category – Redington Zero Fly Reel and Crosswater Fly Reel. The brand is known for its high value for money, as well as the highly affordable products related to fishing.
Some of its products go in more expensive categories, yet a few parts are "borrowed" to cheaper products too.
Orvis and Echo are just as attractive. Orvis has two products going right under 100 – Battenkill Fly Reel and Clearwater Fly Reel. When it comes to Echo, ION Fly Reel and Base Fly Reel are less likely to disappoint.
Here are my top selections when it comes to fly reels under 100:
Want to learn more? Read my full review for the best fly reels under 100
---
Best fly reels under 200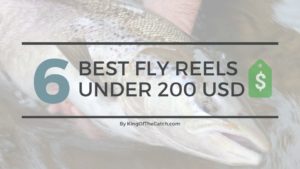 Chances are you will find the same top brands when hunting the best fly reels under 200. The range is a bit narrower – you can ditch all those products made by unknown companies.
I simply could not leave Redington out of this category – the Rise III Fly Reel model is a flagship among freshwater reels. It has a top notch dragging system, but it also looks good and is likely to last for ages. Like I mentioned before, the brand is known for being affordable, yet it never compromises on quality standards.
Redington's Behemoth Fly Reel is just as interesting – a bit cheaper than the brand's flagship though, but durable and with an impressive max drag. It is suitable for beginners, but it will also work wonders for more experienced anglers.
I could not leave Echo and Lamson behind either. Echo Bravo Fly Reel is the company's leading saltwater fly reel. It is excellent for a novice and to be perfectly honest, I do not think you can find such a powerful and smooth drag in other fly reels in this segment.
Lamson Remix Fly Reel, on the other hand, works wonders on light trout sessions, but it is also durable enough to take saltwater fishing.
Orvis has tackled this category as well. The Battenkill Disc Fly Reel has been around for ages – almost since the company became famous. The fly reel has become famous for being affordable, but without cutting corners. Quality leaves no room for mistakes.
Last, but not least, I believe Pflueger Medalist Fly Reel is worth some attention too. If you are an experienced angler, you might have heard of this collection, as it is a classic.
Pflueger has improved the design and functionality though, but without sacrificing the old school appearance.
Here are my main recommendations when it comes to fly reels under 200:
Want to learn more? Read my full review for the best fly reels under 200
---
Best fly reels under 300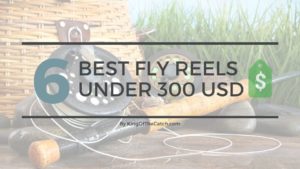 The best fly reels under 300 are suitable for those who have experience or simply know what they want.
You can expect a more professional design, extra features and quality standards that will last for a lifetime. While you can definitely find more expensive fly reels out there, I believe even a professional angler can easily do with one of the products in this segment.
Going over 300 is mostly about bells and whistles.
Galvan is one of my top choices for this category. The Brookie Fly Reel is a small water trout unit – ideal for backpacking trips or local waters. It is lightweight and looks basic – no fancy parts or luxury designs.
However, the quality is what makes the difference. It is backed by Galvan's lifetime warranty, which tells a lot about what to expect.
The Rush Light Fly Reel from Galvan is just as hot – excellent for small water freshwater. It takes top features from other Galvan fly reels and puts them together in a lightweight middle option that will help you tackle massive freshwater and small saltwater fish. It is smooth and engineered to perform.
Sage Spectrum Fly Reel is one of the front runners in this field. The brand has dominated the high end sector for quite a while and I believe it is still among the top names out there. It has a bunch of products, but the Spectrum Fly Reel is probably the top rated one.
Despite featuring high end capabilities, all the reels in this collection are affordable and provide great value for money.
Nautilus X-Series Fly Reel is just as attractive – it has a beautiful open spool design and provides plenty of balance. Plus, let me mention the machined aluminum design and the brushed titanium or black anodizing finish. Hardy Ultralite CADD Fly Reel has a similar design, as well as an impressive drag system.
This is by far the most versatile fly reel in Hardy's portfolio.
Last, but not least, Cheeky Boost Fly Reel will bring in a plethora of high end features without having you break the bank.
Here are my most important recommendations under 300:
Want to learn more? Read my full review for the best fly reels under 300
---
Best fly reels for different types of fish
Finding the best fly reels for the money is one thing, but how about something specifically designed for what you actually need? Cost efficiency is, indeed, important, yet you have to buy a fly reel specifically designed for the type of fish you normally go for. It is quite obvious – you cannot look for the best trout fly reels on the market when you mostly fish salmon. So, what options do you have?
Best fly fishing reels for salmon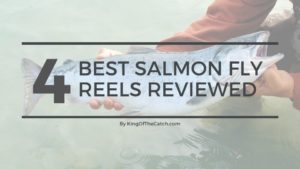 Tibor Billy Pate Fly Reel dates back to the 1970s, when the first models hit the market. There have been about four decades since then and no other manufacturer has managed to match these standards.
These days, the fly reel is still the most reliable and durable unit on the market. Furthermore, it can tackle pretty much any fishing environment.
Nautilus CCF-X2 (Cork Carbon Fiber) Fly Reel is probably the best salmon fly reel based on buyers' ratings. The drag is highly adjustable, while the max drag is impressive. Retrieving fish has never been easier. From many points of view, this fly reel gives me everything I could ask for whenever I take it out.
Hatch Gen 2 Finatic Fly Reel – Large Arbor is quite attractive too and I am not talking about its design, but its functionality. The drag system, for instance, is sealed. The fly reel is durable, efficient, powerful and really easy to use. It also comes in a plethora of colors if the look is so important for you.
Taylor Revolution Z Fly Reel and Ross Evolution R Salt Fly Reel are among my main recommendations as well. The former is big, strong and reliable, while Ross Evolution's product is lightweight, yet strong enough to prevent salmons from escaping.
Lamson has also tackled this segment. Lamson Cobalt Fly Reel is extremely technical. There is proper science and engineering gone into it. Not only do I find it attractive, but it is also strong and reliable. Orvis Mirage USA Fly Reel is quite similar. I would say it is bomb proof, as you can literally catch anything with it.
Deciding on any of these items can be challenging, I know. The good news is any of them can qualify among the best salmon fly fishing reels out there. They are all built to last, but also to provide power when you catch something.
Here are my top recommendations for the best salmon fly reel out there:
Want to learn more? Read my full review for the best salmon fly reels
---
Best fly fishing reels for trout
I found it quite difficult to pick the best trout fly reels on the market because there are plenty of solutions out there. I have tried everything – both random fly reels made by unknown companies and quality units designed by reputable brands.
Now, let me make it obvious here.
When it comes to trout, you do need a specialized fly reel. Sure, you can find quality reels that will work for most fish, but trout can be aggressive when caught, so you better make sure that you rely on quality or your fishing sessions will fail.
Lamson is among those brands that try to tackle every segment in fishing. In fact, the brand does pretty well. Lamson Guru Series II Fly Reel is specifically designed for trout and other similar fish. The design looks both stylish and rugged at the same time. It has a few new elements, but overall, it is an old school design that will not let you down.
It features structural stability, lots of power and excellent line drying.
Orvis Mirage LT Fly Reel is relatively similar. Quite new when compared to other units in this segment, it was exactly what I was waiting for from this brand. This reel represents an upgraded version of another release from Orvis. It is just as capable, but specialized in freshwater fishing. Apart from trout, it will also work wonders if you fish pike, carp or bass.
Sage Trout Spey Fly Reel can easily go among the best fly fishing reels for trout. It is one of the new releases from Sage. The company already had some good fly reels, but none of them was specifically built for trouts. This one makes the difference. It feels professional as soon as you grab it. The drag system is quite solid, not to mention the balance.
With all these, the fly reel is lightweight and easy to handle.
You cannot go wrong with Ross Evolution LTX Fly Reel either. I am not a big fan of crossover styles, but Ross did a pretty nice job a few years ago. Evolution LTX Fly Reel is a mix of two of the brand's top rated units.
The result?
Durable, lightweight and all the possible features for trout anglers. Simply put, the new release aims for perfection and is less likely to disappoint you.
Ross Animas Fly Reel goes in a slightly different direction. It is an entry level fly reel for beginners and intermediate anglers – suitable for freshwater fishing.
There are a few different varieties and I must say it – the value for money is amazing.
Here are some of the best trout fly reels that I, Mike and Dave (say hello to the review team) have ever owned or used:
Want to learn more? Read my full review for the best trout fly reels
---
Best fly fishing reels for pike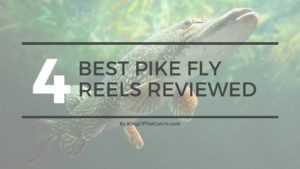 Just like trout, pike can be a picky fish that requires lots of work if you fail to get the right equipment.
Sure, it may still work and you can catch some pike with random gear, but it is less likely to happen too often. Choosing the best pike fly reel could be a bit tricky though.
There are a few good options out there, but they are not as diversified as in other segments. Moreover, the price discrepancies are huge – some fly reels can cost five times more than others.
Anyway, a little research on customers' reviews will take you in the right direction – no worries, I have already done all these for you.
Seigler MF Fly Reel is the winner. The medium fly has been designed by Seigler to satisfy every kind of angler out there. Whether you are new or you fish for 30 years already, this fly reel will not let you down.
It was built to tackle pretty much any saltwater species.
Now, let me explain – you will pay more than what you will pay for an average fly reel, but this kind of thing is an investment.
Hatch Gen 2 Finatic Fly Reel – Large Arbor is another great choice that will not let you down. The brand is renowned for its high quality standards, so it dominates the saltwater fly reel segment.
Its drag system is 100% sealed – great for durability. Despite the sophisticated profile, the fly reel is actually straightforward and intuitive.
You can also get it in a few different colors for variety.
Taylor Revolution Z Fly Reel is in the same price range. What should you expect? Size. Convenience. Style. T
his thing is big and you feel like fishings sharks and whales with it. There is a professional engineering behind it – you can tell as soon as you touch it. It features carbon fiber and aircraft grade aluminum, while the drag system can tackle any type of fish in saltwater.
Sage Spectrum Max Fly Reel is similar in price and characteristics. I have tried both and I cannot tell any major differences between them.
If you want something a bit cheaper, Lamson Speedster S Fly Reel could do the trick. Interested in getting even lower? Check out Redington Behemoth Fly Reel. There are no fancy bells and whistles, but just pure force and mechanics.
Here are the best fly reels for pike that I have ever used or owned:
Want to learn more? Read my full review for the best pike fly reels
---
Best fly reels for saltwater fishing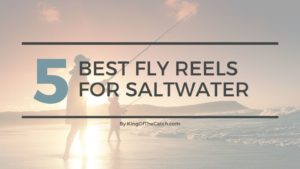 Saltwater fishing requires certain fly reels. For instance, you require strength and durability. You do not want a fly reel that will fail on you if the fish is larger than average. Instead, you want a fly reel that can easily keep a shark under control.
Anyway, given the requirements of saltwater fishing, it might put you off a little. No need to. I felt the same. Luckily, top brands know it too, so they put extra engineering, work and care in fly reels specialized in saltwater.
All in all, here are some of the best rated fly reels I have ever "played" within saltwater fishing.
I used Echo Bravo Fly Reel mostly because of its price. It is in the low price range, so I thought I would give it a try, especially as I was quite new. I was surprised to find out what kind of value for money you get out of it.
Despite the low price, it is one of the top rated, durable and sophisticated fly reels for saltwater fishing. It is the only waterproof fly reel I could find in this range.
Redington Grande Fly Reel is just as attractive. It costs a bit more, but it will not disappoint you in saltwater. It is Redington's top rated fly reel in saltwater. You have CNC technologies, aluminum and a strong drag system that even professional anglers will love.
To top all these up, the design is stunning – you will definitely get some compliments.
Nautilus CCF X2 Fly Reel came out to replace a previous generation of this unit. While released as a middle range option, the CCF X2 has actually managed to surpass its high end alternative from Nautilus, becoming one of the flagships.
When it comes to its price range, it beats most of the competition.
Last, but not least, Ross Evolution R Fly Reel is worth some attention too. It is a mix of clean styling and professional mechanics. Despite feeling lightweight, the fly reel is extremely strong and can provide a perfect experience in multiple environments. The spool is easy to release, yet the retrieval rate will not let you down.
Here are some of the best saltwater fly reels that I, Mike and Steve (say hello to the review team) have ever owned or used :
Want to learn more? Read my full review for the best fly reels for saltwater
---
Frequently asked questions – Fly reel features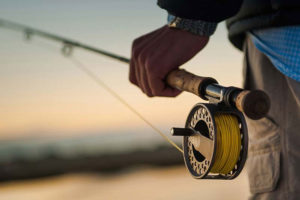 If you think about it for a moment, the fly reel is a platform. It is usually round and it has one major role – holding the line. Practically, it will not really affect your ability to cast, while its effects over the retrieving part are relatively small. At this point, you probably ask yourself ..
do all these features really matter? Is quality so important in fly reels?
Whether you need to know more about the small features in fly reels or you get ready for a competition, the truth is quality will make a massive difference in the long run.
A cheap fly reel designed by some unknown company will pretty much perform like an expensive one from a reputable brand. There are two aspects that will count – durability and the smooth drag. A cheap fly reel does not have them.
Retrieval system
There are normally three types of retrieval systems in fly reels – automatic, multiplying and single action.
The single action is self explanatory. The automatic one makes it pretty clear too. Basically, the fly reel will retrieve the line without having you make any effort. Forget about turning the spool – press a button or a trigger and it will do everything by itself.
This option is more suitable for saltwater fishing. When it comes to rivers or streams, it is not so handy.
The multiplying retrieval system is what most anglers go for. It has one major benefit over the single action type – it can bring the line back much faster than normally. Sure, you are probably not worried about the speed.
Once you get a big one, you do not mind taking your time to bring it back to the boat or the shore. But time is important when the fish is likely to escape, so you cannot waste it.
The multiplying retrieval system comes with a plethora of gears. The principle is simple – one turn of the handle will usually outweigh two spool turns.
It sounds easy and interesting, but again, there are some recommendations and contraindications. This model is not the best when you fish in rivers. Instead, it is suitable for deep lake and saltwater fishing.
Size of the arbor
The arbor is basically the axle in the middle of the fly reel. Its size is the actual diameter.
How does this affect your fishing experience? Easy.
The larger it is, the more line you can retrieve when you rotate the spool. On the same note, a smaller size will require more time to retrieve all the line.
The line memory is another consideration. A small arbor makes the line feel tight when retrieved. As a direct consequence, there will be lots of residual coil from the line. It is annoying and it can even frustrate experienced anglers.
Last, but not least, the size of the arbor will affect the drag pressure too. As line leaves the spool, the diameter will inevitably become smaller. As a result, the drag resistance will also change. There will be a bit of inconsistency, which may let the fish escape.
Generally speaking, you have three sizes:
Small – a classic approach with relatively slow line pickup rates
Middle – a good line capacity, so there is a bit of extra room for backing
Large – excellent pickup rates, less line memory and more consistency in dragging
Spool size versus line weight
There is no such thing as a jack of all trades when it comes to fly reels. Every company out there will design fly reels with particular line weights in mind. It is easy to tell why – as the weight goes higher, so does the diameter.
For instance, a 9 weight line is way thicker than its lighter alternative – say 4 weight line. Besides, a thicker line will clearly take more space on the reel.
Ideally, you should get a fly reel that can accommodate more line weights. This is the optimal scenario. You save money and you get a bit of variety.
The difference in diameter is not that impressive though, so many manufacturers would design fly reels that can take at least a couple of weights.
The spool size is directly proportional with the line weight. The two must go hand in hand or the system will not provide the smoothness you require.
Weight
The weight of a fly reel will affect your overall fishing experience. It works like pretty much any other part in your gear. The lighter it is, the easier it will be to use it.
Practically, you can find fly reels from various brands and manufacturers that will weigh up to two times more than others. Ideally, you want a lower weight, but this is not always the case.
The weight is affected by more aspects – such as the material. A plastic fly reel for kids will weigh less than an aluminum one for professionals. You get the point – quality is never super lightweight.
Sure, some metals or materials are lighter than others, but if you truly want quality, you will have to compromise a little.
On another hand, the weight will often relate to the actual line weight too:
| | | | |
| --- | --- | --- | --- |
| Line weight | Low | High | Grams |
| 1 | 3.5 | 4.3 | 3.9 |
| 2 | 4.8 | 5.6 | 5.2 |
| 3 | 6.1 | 6.9 | 6.5 |
| 4 | 7.4 | 8.2 | 7.8 |
| 5 | 8.7 | 9.5 | 9.1 |
| 6 | 9.9 | 10.9 | 10.4 |
| 7 | 11.5 | 12.5 | 12 |
| 8 | 13.1 | 14.1 | 13.6 |
| 9 | 14.9 | 16.2 | 15.55 |
| 10 | 17.5 | 18.8 | 18.15 |
| 11 | 20.6 | 22.2 | 21.4 |
| 12 | 23.8 | 25.4 | 24.6 |
| 13 | 28.2 | 30.2 | 29.2 |
| 14 | 31.1 | 33.7 | 32.4 |
| 15 | 34.3 | 36.9 | 35.6 |
Drag system
Drag systems in fly reels go in two different categories. The click and pawl drag is a classic option. Most veterans have dealt with such systems in the past. They practically have a pawl on the inside.
It is loaded with a spring and works on an internal wheel located inside the spool.
These traditional drag systems are a bit diversified though – you can find single or double pawl designs. Some of them can be adjusted (they come with a separate knob to bring in more tension), while others do not allow any customization.
If there is one thing that makes these drag systems unique, that is the sound. This is the classic sound everyone is familiar with – a clicking or purring sound that no one can ignore.
On the other hand, disc drag systems are more popular these days. They represent an actual upgrade from the classic option. They are also heavier and easy to adjust with a knob.
Most anglers can agree that they provide more consistency, so they can handle more species of fish.
The system relies on internal friction and works with cork washers (other materials can be used too).
Quality of material construction
There are three popular materials used in the construction of fly reels.
Plastic is one of the popular ones. You might find it when trying to spot the best fly reels under 100 (probably less than 20 too). Sometimes, it is advertised to be graphite, but it is still plastic.
The material is lightweight, inexpensive to make or replace. The bad news is that it will wear out in no time. The only way to keep such a fly reel in good condition is to never use it.
Other than that, some of the best fly fishing reels are based on plastic, but things are slowly upgrading. The effects of saltwater over plastic will damage it even faster, so the material is only considered by freshwater fishing enthusiasts.
If you can make the effort to get a different material, do it – you can thank me later.
Die cast aluminum is one of my most common choices. It is common, stronger than plastic and likely to last – not as good as other options though. It might have a few small imperfections here and there, but it will get the job done.
Compared to plastic, it is more durable and resistant.
I recommend this material to domestic anglers who do look after their kits – even beginner or occasional anglers. Since aluminum is fragile to anodizing, I suggest staying away from saltwater, as it will corrode it in no time.
Finally, machined aluminum is my favorite choice. Such fly reels are extremely precise and literally perfect – CNC machined. There are no compromises in terms of quality. Given the high costs of CNC machining, these fly reels are obviously more expensive.
Let me also point out that machined aluminum is often anodized. Compared to other materials, it can be used anywhere, including saltwater. It will successfully face corrosion and other damaging environments. However, with all these, you should still rinse it after using it in saltwater.
How to choose the right fly reel
The more anglers you talk to, the more recommendations and ideas you get. It makes sense – different people have different skills and capabilities, so they find fly reels that match their abilities. What works for some anglers will not work for everyone else though.
To a newbie, a fly reel is just the right place to store the line – ideal when in need, as it is close to the rod. To an experienced angler, this whole game is about an engineered piece of technology that will underline dedication and customization.
Now, what do you look for when hunting the best trout fly reels or maybe the best salmon fly reel?
Based on species
This should be your primary concern, before getting into small details. What kind of fish do you normally go for? What fish is more popular in your area? What species are your favorites?
You get the point – it is pointless to look for the best fly fishing reels for trout if you never go for trout or there is no trout in your area. Sure, you would be able to catch more species with a general fly reel, but a little customization will provide a more successful experience.
If you are new in fishing and you are not 100% sure about it, simply get in touch with local anglers. Hang around fishing spots and talk to them, make some new friends and find out what kind of species are in there.
Of course, you might as well choose your own favorite species, buy the right fly reel and just travel around to get them.
Based on location
What kind of water is around you? Are you willing to travel to find your favorite type of water? If yes, how far? These are some of the questions to ask yourself when looking for the best fly reels for the money.
You might be interested in pike, for instance. You try to find the best pike fly reel out there, but then, there is no freshwater around you. This could be a major inconvenience.
Find out what type of water is around you, then familiarize yourself with the species you can find there. Only then you will know precisely what type of fly reel you need for this experience.
Experience
Your personal experience may also help in choosing the best fly reels under 200. If you have just started fishing and you are not sure whether or not it will become a long lasting hobby, you might want to start with a cheap plastic fly reel.
You do not want to invest a fortune, only to realize that it is not for you.
On another note, a more experienced angler will require more from their fly reel. Sure, they can do with an inexpensive model as well, but a more qualitative item will certainly bring in a plethora of extras.
Whether it comes to its ease of use or capabilities, small details will make the difference.
Now, while an inexpensive fly reel is recommended to a total beginner, it may not necessarily be the best idea ever. Think about it for a minute – you get a cheap unit that will not provide too much support.
Obviously, it will not provide the best experience in the world. You will struggle a bit with it. From some points of view, it pays off using a professional fly reel, even if this is the first time you go fishing.
I started my fishing experience with a middle range unit. It did not cost a fortune, but it was not a piece of junk either. It provided just enough support for a beginner, which helped me enjoy the activity.
Available budget
Just like for pretty much everything in life, your available budget is not to be overlooked either. After all, there are some limitations regarding what you can spend. Ideally, you should go for value for money.
The most expensive fly reel on the market is not necessarily the best one. On the other hand, you might have a pleasant experience with a relatively cheap unit too.
When hunting the best fly reels under 300 or under 1000, you will notice major discrepancies in the actual price. Some products may cost up to five or ten times more than others.
They are, indeed, better, but not five or ten times better. This is why I recommend value for money – not just value and not just money.
Even if your available budget is unlimited and you can spend thousands on a fly reel, I do not recommend it. Stick to something in the middle range that will provide support and help you overcome your mistakes.
How to clean a fly reel
Generally speaking, a bit of maintenance can prevent a lot of struggle. For example, do not drag your fly reel through sand, avoid dropping it or banging it against rocks and never pressure wash it.
Do not soak it into cleaning solutions for long periods of time either. Here is everything you need to do after fishing. Most importantly, you have to do it every time after you fish in harsh conditions – such as saltwater.
So, what are the steps?
Take the spool out. Separate it from the frame. You will need to reach into the deepest corners of these parts, so you need them separated.
Fill a bowl with some warm water, then add a mild cleaning solution. Car washing soap will do. Mix the cleaning product in, then let the spool soak in for about 20 minutes.
Get a toothbrush and scrub the spool. After getting soaked, most of the dirt is loose, so an old toothbrush will get the job done. Do not go crazy on it – just gently scrub the entire surface and do not overlook any nook.
Once all done, rinse the spool with some freshwater. You can use tap water. Make sure you do not do it too fast, so keep the pressure low.
A hand towel is excellent to dry your spool. You should not use or store it right away though. Let it dry completely overnight, then you can put it away.
The same operation must be performed whether you fish in saltwater or freshwater. However, when fishing in freshwater, you do not necessarily have to clean the fly reel every single time.
Maintenance routines and best oil and lubricant products
Here are a few ideas that many anglers overlook – especially newbies. These are the kind of things no one can talk to you about. For an experienced angler, they make common sense, so you usually have to learn everything the hard way.
Avoid bumping your fly reel on rocks.
Cracking the frame or scuffing the finish can lead to corrosion, not to mention rust.
Dragging a fly reel through sand will scratch it.
Avoid using your rod as a trekking pole, as it will ruin the fly reel.
Protect it from water when riding in a boat.
Avoid pressure washing your reel – even when you rinse it, the pressure must be low. Otherwise, you risk pushing dirt into the reel.
When it comes to lubrication, you should do it once a year. There are more types of reel grease out there. You should also invest in fishing reel oil – multiple brands and products.
The oil comes in bottles. Once cleaned and dried, you need to use the grease on the central spindle, as well as the pawls, springs and threads of bolts and screws.
As for the oil, use it to lubricate pretty much every other moving part – never overlook the handle though. Keep it oily, but avoid touching other parts. Any excess should be wiped away or it may attract dirt.
My final opinion
I tried to put out different products from different categories – based on your available budget, type of fish you like or fishing conditions. You will gain experience by trying out multiple fly reels and experimenting with different models.
However, a bit of guidance can give you a good starting point. 🙂
Niels Thomas is a wildlife expert and fishing fanatic that works with major fishing brands like Deeper Sonar, Abu Garcia, Berkley, PENN, BassPro and Pure Fishing. Through sharing the best fishing tips, tricks, gear reviews, locations and much more he hopes to inspire fishing fanatics to start their own journey towards becoming the King of the Catch!