Over the last two decades sonar technology has made a rapid development in the anglers community. In the early 90's it was only for the people with deep pockets and large boats but those days are long gone. Modern day technology has contributed to the development of affordable fish finders. In this blog post I will describe the best fish funder under 200 dollars to make sure you receive the best bang for buck with your next purchase. 🙂
Best Fish Finder Under 200$
To determine which fish finder gives the best value for money, I did extensive research into each product. This research included the pros and cons of each product, special features, costumers reviews, prices, location of manufacturer (US and Europe based) and availability.
Of course I also included my own personal experience to make sure the review is honest and authentic.
A quick overview of the best fish finder under 200$:
Deeper Smart Sonar PRO+ with GPS (winner)
Keep reading for a detailed review!
---
Deeper Smart Sonar PRO+ With GPS
Product highlights:
Bathymetric mapping
100-meter casting range
Dual-beam frequency
Water surface temperature sensors
Scans down to 80 meters
7V lithium polymer rechargeable battery
Real-time data and smooth rolling
My Experience
If I had to explain my experience in one word, I'd say brilliant; that's how good this device is! First and foremost, it sports durable ABS construction that can easily take a bump or two. The two halves sit pretty tightly over each other to keep the internal parts fully protected from water and debris.
Since the USB port sits inside, I was concerned whether opening the Deeper Smart Sonar PRO+ for charging or information transfer will leave it vulnerable to water-related damages.
However, its intelligent design solves this problem with a simple pair of text – "water" and "proof." Yes, you read that correctly. Both the halves are inscribed with one word each, and you need to turn them till the words align vertically. That's when you know the job is done!
Apart from that, the top half comprises three different attachment rings to cater to the different fishing modes. That said, I mostly used the lower attachment that's meant for casting out from the shore. And that brings me to the most interesting aspect of this unit.
After attaching it to my fishing rod, I dropped the Deeper Smart Sonar PRO+ into the water, which automatically activated the navigation. As I steered it across, the bathymetric map started developing on one side of my app screen, while the other half showed a real-time feed of the underwater conditions.
I then switched between the 55-degree and 15-degree narrow scanning beam for mapping the broader and compact zones, respectively. While I was at it, a full charge lasted for about 4 hours.
Beyond that, I also liked the flash reading setting that lets you pick-up and mark anything surrounding your target. On that note, the target separation is about 1-inch, which picks up accurate readings you can trust.
Don't forget to check out the best prices and discounts for Deeper Smart Sonar PRO+!
Ps. You can read my related Deeper Chirp+ Review here!
---
Deeper Smart Sonar PRO For Advanced & Recreational Fishing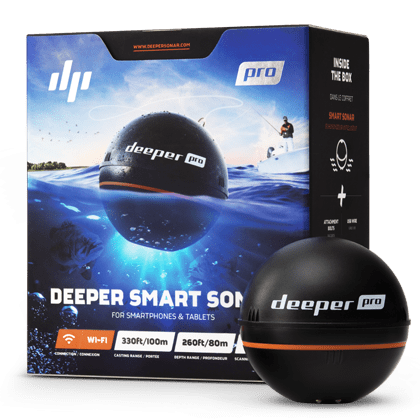 Product highlights:
3 feet wide beam, 2 feet narrow beam for precise mapping
Highly suitable for ice fishing
Dual-beam frequency
100-meter casting range
80-meter scanning depth
Different fishing modes
Multi-language user's manual
My Experience
Before anything else, I was really intrigued by the description, which states that it serves both "advanced" and "recreational" fishing needs. And it didn't take long to figure out how well the Smart Sonar Pro delivers on these claims.
For one, the fast scanning speed of 15 scans per second is complemented by stable Wi-Fi connectivity for transferring information in a jiffy. This feature will come in handy while mapping larger lakes.
Since this sonar device doesn't come with integrated GPS, the Fish Deeper phone utilizes the GPS of your device (iPhone, in my case) to create live bathymetric maps while trolling. Owing to its wireless installation, I didn't break a sweat to attach it to my kayak. And that encouraged me to try the remaining attachments – boat and shore, neither of which caused any difficulty.
Taking full advantage of the 100-meter casting range, I aimed at a significantly distant spot to initiate the mapping process. With a scanning depth of more than 260 feet, I got accurate representations of the underwater features, making marking fish locations a breeze!
Here, I should also mention the highly intuitive Deeper Fish Application that doesn't miss out on any detail. From the current depth to temperature and speed, you name it, and the screen has it. Not only does it provide a continuous live feed of your troll, but it also enables the user to access previous locations at the swipe of a finger.
Moreover, the dedicated ice flasher display with its zoom feature and target separation of 0.5-inch makes the sonar device ideal for ice fishing or hole hopping.
Lastly, the 3.7V lithium polymer rechargeable battery runs for nearly 6 hours with continuous operation and takes about 2 hours for complete charging.
With so many advantages on the trot, why delay buying it anymore?
---
Garmin Striker 4 – GPS Fishfinder with Chirp Traditional Transducer
Product highlights:
Clear Vu scanning Sonar

Available in 3.5, 5 and 7 inch display sizes

Chirp Sonar technology

Built in flasher

Display size: 1.9 x 2.9 inches (4.9 x 7.3 centimeter); 3.5 inches diagonal (8.7 centimeter)
My experience
When you think of Garmin, you think of quality. Garmin has been around since 1989 when it was founded in Lenexa, Texas. Most anglers are familiar with the brand as it has produced some hightech fish finders. Of course most of them are in the higher price range but over the years Garmin has invested in developing the mid-range fish finders. The result? The Garmin Striker 4!
The Garmin Striker 4 comes with a "Clear Vu Scanning Sonar" that shows you more of what is in the water and around your boat/kayak. What makes Clear Vu so special? Well, I am glad you ask. The Clear Vu high frequency sonar gives a near photographic image with detailed representations of objects, structure and fish. Exactly what you are looking for when scooting the waters to catch that big momma! 
The device is easy to install and ease and offers a keyed interface with simple and dedicated buttons. It comes in three different sizes, 3.5, 5 and 7 inch. The maximum depth in freshwater reaches up to 1,600 feet (about 500 meters) and 750 feet ( about 250 meters) in saltwater.
The finder uses chirp sonar to create clear crisper fish arches with better target separation. 
Is there any downside? The Battery is not included. You will need to purchase a 12V battery separately or in a combined package deal. Also the buttons are a bit small for my taste but that could also be because I have freakishly thick fingers. 😉
Interested to find the best price for the Garmin Striker 4? No worries – I already did the price research for you and you can find the best deal here!
---
And the winner is?
Can I have a drumroll please? And the winner is the Deeper Smart Sonar Pro + GPS! 
Why? All three products are similar priced. The Garmin Striker 4 is cheaper, but it can only be used on a boat or kayak and the purchase price does not include a battery (12V).
The Deeper series are chargeable by USB and can directly be connected to your smartphone by WiFi. You will have a live-stream on your smartphone on whatever is happening underwater. How cool is that?
By using their app LakeBook you can register and share your latest maps and catches with your angler buddies. It can also be used from a boat as well as from the shore. That was a HUGE plus for me as I do not always have acces to a fishing boat. For all three fish finder you will need to buy a mount to attach it to your boat or kayak.
The battery life of the Deeper is also much longer compared to the Garmin.
If you order the Deeper directly from the Deeper website you also get a 5-year warranty and a pretty big discount. You can use this special link to receive your discount.
Happy fishing!
Niels Thomas is a wildlife expert and fishing fanatic that works with major fishing brands like Deeper Sonar, Abu Garcia, Berkley, PENN, BassPro and Pure Fishing. Through sharing the best fishing tips, tricks, gear reviews, locations and much more he hopes to inspire fishing fanatics to start their own journey towards becoming the King of the Catch!