When it comes to fly fishing, a dedicated angler will always have some dream destinations in mind. We always try to find the best spots in our areas, but then, there are a few places out there that make it to our bucket lists.
Sooner or later, we will get there eventually.
Fly Fishing In Ireland and Northern Ireland
Ireland is one of those places. The Irish are known for being some of the best anglers in the world. You can always spot their names in charts, when it comes to international championships.
It is not just the fact that the country has many small villages all around the coast, but the waters are simply amazing.
So, what should you know about fly fishing in Ireland?
Why the Irelands?
Well, let me make it obvious. Unless you have never been to school, you should know Ireland is part of an island. The country itself has the southern side – the majority of the island, while the north side is part of the United Kingdom.
Ireland does not have too many large cities. I can name a few, but this is it. Other than that, you get loads of small fishing villages. Locals have been doing it for ages, which tells me one thing – waters around are quite rich and can provide an excellent experience.
Apart from the Atlantic Ocean, the Celtic Sea and the Irish Sea, Ireland has lots of lakes and streams to try out as well. You do not necessarily have to get on the coast for a good experience – quite windy there, to be honest. 😉
Fly fishing is usually free, meaning you do not really need a permit. But then, there are places under conservation, which require a license. Plus, you can only fish during certain times of the year. It is quite alright – there are not too many restrictions and getting a license is simple.
You will find a separate chapter in this article that explains all you need to know about getting a permit. Just keep reading. 🙂
Now, let me get to my favorite part. There is nothing more beautiful in this world than spending a day fly fishing, coming back with some nice catch and having a few Guinness in a small local pub where everybody knows everybody.
Get an Irish Shepard's pie as well and you will have the time of your life.
I have been into small villages where they have more pubs than doctor offices or churches. True story! These people know how to have fun and when you make it to a fishing village, you will be in your own environment.
Moreover, I have been to places that simply turn back the wheel of time. For instance, I spent a few days by the Ballynahinch Castle. Not only do you get a beautiful scenario with lots of history, but you feel like fly fishing in the 15th century or something – definitely an experience!
Throw in the friendliness of these people and Ireland becomes the ideal fly fishing destination.
But let me make it clear – you have to do your homework before getting there.
So, what should you know about this experience before having some fun?
What to catch while fly fishing in Ireland
There are lots of species you can fish for in Ireland, but some of them are more sought after than others.
Salmon & Trout
From all these species, the Atlantic salmon is the most sought after fish. Ask every Irish angler and the Atlantic salmon is their dream. It is also worth noting that Ireland is one of the most popular places in the world when it comes to truly wild trout.  Although not a native fish, a lot of the fly fishing locations described in this article have a different variety of trout species. Brown trout and rainbow trout are most popular!
Ling
Ling is just as popular, but it seems to be more attractive as a sport fish. It is not really my thing, but what can I say? I had a few invitations from reef and wreck anglers, but ling is not necessarily my thing.
If you are after it, you will love the wide variety of colors that comes in. You can find orange or pink ling – small scales that are easy to remove and long bodies.
The pink ling seems to be more valuable than others. But at the same time, it is at risk of overfishing. If you ask me, I would stay away from it. There is no benefit in overfishing, but just a bunch of harsh disadvantages.
Sharks
Sharks are not to be overlooked either. There are quite a few species in the Irish waters, from the blue and the thresher to the six gilled and the mako. At first, I thought the crazy Irish go for 15 foot sharks, but these species are actually smaller.
If you want to feel like a man, make sure you go fishing in Ireland during the summer months. The blue shark is more popular in northern waters, while other species are random.
Turbot
The turbot has more value though. Not only is it beautiful, but it can also be large and challenging. Some fish can easily exceed 30 pounds in weight. Its body is shaped like a diamond. As for cod, it is available regardless of the time of the year you visit Ireland. Some cods can reach 50 pounds in weight.
Others
Stick to the northern waters and you will also find plenty of flounders. They are popular in sport fishing and can be found in heavy amounts in freshwaters. The pollack is in the same category. It is a sport fish and can be found around reefs, rough grounds or wrecks.
Now that you are aware of the main species around Ireland, what are the most reputable places to try your luck?
Top fly fishing spots In Ireland and Northern Ireland
While you can fish pretty much everywhere in Ireland, a few areas make the difference. Not only do you have lots of activities around, but you will also love the surrounding landscapes.
River Nire, Comeragh Mountains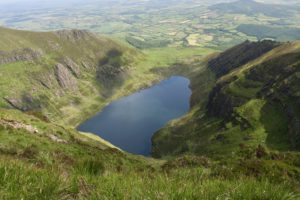 River Nire is your top option if you are after brown trout.
Besides, it is a spectacular location with amazing views. The area is located in Waterford – the old fashioned countryside that will make you feel like in the 1600s. You might as well bring your family over or perhaps a few friends for the adventure of a lifetime. Hiking the Comeragh Mountains is also a once in a lifetime experience.
River Nire is suitable for dry fly fishing, as well as nymph fly fishing. It is close to River Suir. Both rivers are crystal clear and provide good views – excellent if you are just getting into fishing.
If you want a traditional and country-like location, try out the Salterbridge Gatelodge.
Baronscourt, Tyrone County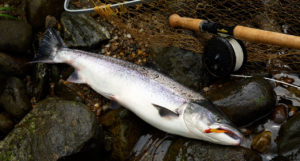 The Tyrone County is one of the most beautiful areas in Northern Ireland. Take a break from the coast and explore the local countryside. Baronscourt is located close to Newtonstewart. It is a beautiful private estate with lots of pools for your fishing experience.
The season starts on 1st April and closes on 20th October each year.  The beat holds two rods and a friendly ghillie / guide can be arranged to be on hand to provide expert local advice and give you the best chance to catch a salmon.
From all these places, it is highly recommended to check out the Snaa. It makes no difference what your experience level is – this place is one of the most challenging areas I have ever fished in.
There are quite a few decent options for accommodation – Mellon County Inn Hotel and Silverbirch Hotel are among the top rated options in the area.
Sheen Falls Lodge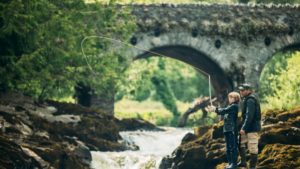 Sheen Falls Lodge provides plenty of opportunities – mostly for salmon and trout. You do not even have to bring your equipment, as you can rent it on the site. There are also lessons and tutorials for beginners. Get a permit and check out one of the lakes around the big estate. You can also book a room there.
Interested in less luxury and more of a house that looks like it was built by elves? The Lissyclearig Thatched Cottage will surprise you with its welcoming atmosphere.
Ballynahinch Castle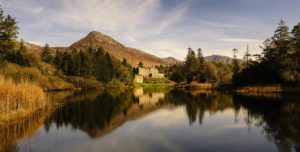 The Ballynahinch Castle will give you a good lesson of history regarding its glorious past, but you will also benefit from access to the a lot of amazing fishing spots on site.
Season
The season officially opens on 1st February and extends to the 30th September.
Locations
River fishing
The main run of grilse (grilse are salmon that have been at sea for one winter) starts in the first week of June all the way up to the end of the season. During this time the fresh fish keep on coming. The local grilse are considered very large (by Irish standards) ranging from 5 lbs all the way up to 8 lbs at the end of the season.
Interested in catching brown trout? There are a few areas on the river where anglers can catch trout by dry fly, wet fly or upstream nymphing. Want something more powerful?  Sea Trout are also present and the best time to catch these strong and energetic beauties is from early June until mid-July.
Killeen lake
Killeen Lake is located next to the hotel and is often used for catching rainbow trout. The fish can reach a size up to  4lbs! This is the perfect size for the beginner angler and an experienced guide will help you make your first morning catch.  The Killeen Lake season extends from mid April to August.
Lough Corn
Lough Corn is Europe's premier wild brown trout fishery and only a short 30 minute drive from the castle. Anglers flock from all over the world to fish on this great lake and especially during the famous mayfly fishing in early summer.
Large ferox (cannibal) trout of up to 20lbs are caught every year on deep lures and fish up to 5lbs can be caught on the wet fly, dry fly or dapping. Early booking is advised during the mayfly season.
New to fly fishing? 
You can get half or full day tutorials as well. Experienced fishing guides will teach you all the basics of fly fishing (from casting techniques to fly selection) and make your fishing trip at Ballynahinch a more exciting and fulfilling one.
Prices start from 190 Euro and reservations can be made at the reception or by e-mail.
Looking for a cheaper alternative?
The Connemara Coast Hotel is in the same county. It looks good and chic, but you will need transportation to the castle.
K Club
Located in the Kildare County, K Club is a luxury hotel with a long history. The estate is massive – great for walks and wildlife experiences during the summertime. What is more important is the fact that it has a private part of the local River Liffey.
There are lots of options here – carp, brown trout, tench or bream, among others. If you stay at the hotel (yes, you can book a room there), you can request your catch to be cooked for dinner by a professional chef.
The Barberstown Castle represents another good option for accommodation – not as luxurious, but definitely great for a comfy experience.
Cork Harbour
Cork is one of the largest cities in Ireland. As you get there, you will quickly understand that fishing is a way of life. It is one of the most impressive natural harbors in the entire world. As for the species around, you will find mullet and sea bass, but also cod, conger eel, blue shark, blond ray or pollack.
Unsure about accommodation? Check out the Kingsley Hotel (quite luxurious and relatively close to the city center) and the Blarney Stone Guesthouse (an old fashioned style with a traditional atmosphere).
Apart from these top fly fishing areas in Ireland, I have also tried out a few other options for great experiences:
The Great Western Lakes
Lough Currane
Moy River
Boyne River
Galway Bay
Upper Lough Erne
Ireland's Lakelands
West Cork
The Dingle Peninsula
Connemara
Best Tips For Fly Fishing In Ireland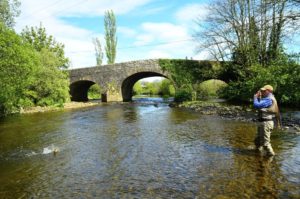 Alright, I will start with my favorite. Bring in a box of Guinness and make sure you have a good pal to have a chat with. Beer is a way of life in Ireland, so you have to do it, especially when you go fly fishing.
Now, when it comes to more serious things, get a set of waterproof clothes and shoes. The further west you get, the wetter it goes – Ireland is a rainy country, trust me.
What is the best season?
The season depends on what you are after. You can go for random fish throughout the year though. Plus, it is worth noting that private estates have certain season dates, so make sure you double check upfront.
Make a call, rather than check the website – they often forget to update it. Have a few pints of beer first or you will not be able to understand the accent.
Anyway, if you are after trout and salmon, I recommend the first three months of the year. Brown trout fisheries tend to open around the middle of February.
Most of them close at the end of September, while a few stay open until October. Again, double check upfront if you do not like unpleasant surprises – who does?
On the other hand, if you go there for sea fishing, pike or coarse, you can do it anytime of the year. Mark my words – it rains in Ireland. During the wintertime, you will barely see the sun. You will forget what it looks like.
I do not really recommend the winter months, as the weather can get a bit challenging and really windy.
Like I said, private fisheries will have season closing times, so check upfront.
How to get an Irish fishing license
If you want to fish for sea trout or salmon, you will need a state license. You can buy it for a day, a few days or up to a whole year. Get in touch with the IFI – Inland Fisheries Ireland. You can also buy the license online. You do not need any training or so, but just money. You pay, you get, you fish, you happy!
Even if you fish on a private estate, you may still need a license. On the other hand, other species do not require licensing, but I still check with the IFI before traveling to Ireland – just to make sure nothing has changed.
How to get around in Ireland
The leprechaun is one of the best ways to get around Ireland. Not only will they give you a ride, but you can also grab some gold off them – assuming you can find one, of course.
Other than that, Ireland has a few major airports. The country is small, but linked to most other countries. Once on land, the rail network is very well developed. Buses are even better – quite precise and linked to every random village.
Personally, I recommend renting a car. Check out the Irish page of rentalcars.com. Cars are cheap, you can stop anywhere, take photos, admire the landscape and carry your equipment.
Using your thumb to get a ride will not always help – not even if you hold a few bottles of Guinness to convince drivers to stop.
What to pack on your Irish fly fishing holiday
Get an umbrella… No, wait! Get three of them! When it rains, it pours. Winds tend to break umbrellas in Ireland – not sure if it is the wind or the quality. Anyway, get some waterproof clothes as well.
You can get one of those transparent bags – cheap and convenient. Boots are also recommended, especially when hanging around the countryside.
In terms of food and drinks, you will find anything you might need in local stores. There are lots of pubs around. Get some cash, yet most places – even those in the countryside – will usually take card payments.
If you take certain medication for particular conditions, get them with you. Local pharmacists and doctors will only give you paracetamol. Whether you break a leg, lose a finger or step on a rusty nail, paracetamol is the way to go in Ireland.
Final words
Bottom line, fly fishing in Ireland is definitely an experience. If you love fishing, you will love the Irish experience. It is not all about fly fishing, but also about exploring a new land – an old fashioned scenario with old buildings and a beautiful atmosphere.
Niels Thomas is a wildlife expert and fishing fanatic that works with major fishing brands like Deeper Sonar, Abu Garcia, Berkley, PENN, BassPro and Pure Fishing. Through sharing the best fishing tips, tricks, gear reviews, locations and much more he hopes to inspire fishing fanatics to start their own journey towards becoming the King of the Catch!