Though there are quite a lot of fishing reels on the market today, many youngsters, new anglers and kids seem to love the spincast reels for more reasons than one. The spincast reel is not only easy to operate, but it is also durable and comes with lesser problems of backlash that are usually found in other fishing reels.
Sure, the spincast reels do have their own shortcomings, but that doesn't take away the credit from being one of the most loved fishing reels in the industry today.
You see, as someone who is passionate about fishing (a bit too much according to the Mrs.) and has been fishing for years now, I feel that today's generation has a lot of choices when it comes to choosing the right fishing equipment.
Today, I am surprised to see so many sophisticated fishing reels that make the jobs of anglers very easy. In a way, I am quite happy too, with this development because this will encourage more and more people to take up fishing without worrying about problems like backlashing, reel breaking off midway, etc.
And have fun whilst becoming the "King of the Catch" is all that matters right?
6 best spincast reels for beginners
In the recent years, I have noticed a phenomenal increase in demand for spincast reels purely because of the simplicity these reels have to offer the new generation anglers.
The result? I went shopping three times in the last eight months trying to get the best spincast reels for my sisters' kids.
Of course, the first purchases were not the best choice at all. The reels broke within a matter of days, were made of a low-quality material and severally overpriced.
So, after my 8-month shopping adventure I decided to review some of the reels and recommend the top 6 spincast reels on the market today. This will help you avoid making the same mistakes I did when buying a spincast reel for you and your family.
However, before getting into the reviews, I would like to explain some important 101 concepts about spincast reels, so that you know what to expect of them when you buy them.
Though there are many advanced types of fishing reels today, the three most common types of reels that you should know about are the following:
Spinning Fishing Reel
Baitcasting Fishing Reel
Spincast Fishing Reel
Zebco Omega Spincast Reel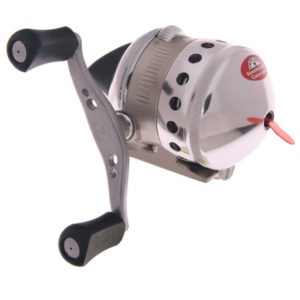 Zebco is the world's leading manufacturer of fishing reels. It entered the field in the year 1949, and has launched some of the best models in the world till now. The Zebco Omega Spincast Reel is considered as one of the best models for adults, kids, newbies and experienced anglers. It is equipped with some powerful features that make fishing an enjoyable experience.
The Zebco Omega Spincast Reel is the most advanced spincast fishing reel in the market today.  It comes with many "firsts," which I will explain in detail in the features section. In short, I would recommend the Zebco Omega Spincast Reel to anybody, who is looking for a high-quality reel at a decent price. I wouldn't even look at the other options, if I was in your position. That's how much I like this fishing reel.
Features
Comes with an excellent thumb button that gives you a nice grip, regardless of whether your fingers are wet or dry
Comes with an oscillating spool (a feature that you would usually find in other sophisticated fishing reels like spinning & baitcasting reels)
First and only spincast fishing reel that has 6 bearings made from heavy-duty stainless steel; smooth functioning guaranteed, thanks to these bearings
Comes with a quick-change spool system, thanks to which you can change the fishing line as and when you want without wasting any time on respooling
Comes in an excellent & durable design which includes three pickup pins hardened by ceramic line guides, corrosion-free handle, adjustable drag systems, ergonomic structure and so on
Pros
Simple yet the most sophisticated and advanced spincast fishing reel that you can find at a reasonable price
Comes in a dust-proof, rust-proof and corrosion-proof design, which means it is apt for rough use as well
Performance and durability on various grounds have been proved to be far better than other advanced reels such as the spinning and baitcasting reels
Comes with some innovative features such as quick-spool change, 6 stainless steel bearings, oscillating spool and the like; all of these give you good value for your money
Cons
The 6-feet rod used with this reel could have been of better quality; the rod's capacity is not something that would satisfy experienced and professional anglers
Customer Reviews
Every single person that I have ever known has been pleasantly surprised by the superior performance of the Zebco Omega Spincast Reel. I network with lots of anglers' groups in my locality, online forums and on social media.
These anglers, especially the beginners, are impressed with the smoothness, perfection and accuracy that this spincast fishing reel gave them.
Bottom Line
I have absolutely no doubts in telling you that this is the best spincast fishing reel in the market today. Believe me when I say that you are putting your money in the right place with this reel.
I compared the prices online and you can get the Zebco Omega Spincast Reel for the cheapest price here.
Why don't you try it out and let me know what you think about it?
---
Zebco 888 Spincast Reel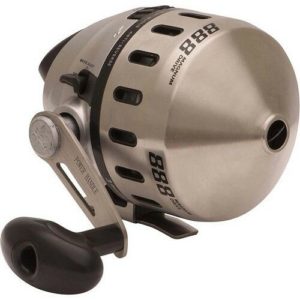 Are you looking for a heavy-duty spincast fishing reel from a reliable brand to catch large fishes such as catfish?
Do you want your durable spincast fishing reel to be affordable as well?
If yes, I have only one recommendation for you. There are no surprises for guessing that this one too is from Zebco. The Zebco 888 Spincast Reel is the best choice for you, if you are looking for a heavy & robust model.
Features
Made from heavy-duty stainless steel exteriors and comes with a powerful handle, which ensures that the reel stays in good condition for a long time
Comes with 3 bearings, two clutches and an anti-reverse clutch as well for you to control the movement of the line better than ever
Adjustable drag system that you can control easily on the dial; comes with a maximum drag power of 24lb
Weighing at about 19oz, this reel is far heavier than most of the spincast reels from Zebco and the most ideal for catching large-sized lures
Comes with a gear ratio of 2.6:1, which makes it great to be used by beginners as well
Already spooled to accommodate a 25lb fishing line; however, you can increase the weight of the fishing line to accommodate larger fishes, if you want
Pros
More robust and heavier than most of the other spincast fishing reels in the market today
Quite cost-effective
Great for catching large-sized fishes such as catfish and bass (mostly spincast reels aren't recognized for catching big lures, but this reel is an exception)
Comes pre-spooled with a 25lb fishing line, but easy to upgrade to the heavier line as well, without any hassles
Cons
No combos are available; you have to buy the reel separately and then match it with a proper rod
Customer Reviews
The Zebco 888 Spincast Reel has impressed all the anglers who have used it. Zebco launched this as an upgrade to its previous 808 model, and the anglers have been raving about the 888 ever since. The heavy-duty construction and robust nature of this reel is a rarity in the field of spincast fishing reels.
Bottom Line
If you are looking for a cost-effective and highly durable reel for catching large lures, I would definitely recommend the Zebco 888 Spincast Reel for you. Buy it right now and let me know what type of big fish fell in your line.
---
Zebco Platinum 33 Spincast Reel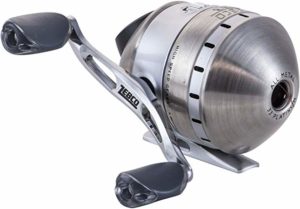 There I go again with yet another Zebco fishing reel recommendation! 😉
If you are looking for a cost-effective and high-performance fishing reel that can be used with ease in small ponds and large rivers with ease, the Zebco Platinum 33 Spincast Reel is a good choice for you.
Features
Has a reasonable gear ratio of 4.1:1; this makes it a great choice to catch lures that are not easy to fall in the line
5 stainless steel bearings, which makes it one of the smoothest reels in this price range and among most other spincast reels
Comes with an anti-reverse clutch position as well to ensure that the fishes don't drop off the line right when you pull the line back
Comes pre-spooled for 100 yards of a 10-pound Cajun line, which makes it easy to use the reel as soon as you buy it
Ergonomically-designed handle from anodized metal and rubber thumb buttons don't cause you any discomfort even when you use this reel for long hours
Pros
Comes with left & right-handed retrieving line, which makes this reel a great choice for right & left-handers
Micro-fine drag system enabled, which improves and smoothens the performance of the reel
Very cost-effective and great value for money, because the exteriors are made from commercial-grade stainless steel that will last for many years
Cons
Not apt for catching big fishes
Pre-spooled for a 10-pound line, but can be upgraded only up to 15 pounds
Customer Reviews
Most of the people were impressed with the durability of the Zebco Platinum 33, as it was designed with heavy-duty materials to give them good returns on their investments.
Bottom Line
I would definitely recommend the Zebco 33 Platinum Reel for anglers who love to catch small and aggressive fishes. Have you been searching for a spincast reel that offers you excellent durability? Your search might just end here!
---
Daiwa Goldcast Spincast Reel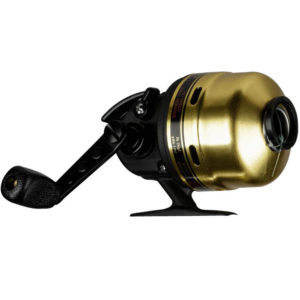 I must tell you that I love fishing reels that spell class and simplicity in every frame. The Daiwa Goldcast Spincast Reel is one of the rare combinations of simplicity & elegance. I will explain to you why, in the later sections:
Features
Considered to be one of the best in the market for its smooth retrieval performance, thanks to its excellent gear ratio (4.1:1)
With a weight of around 9oz and fishing line capacity of 8/75, this medium-range spincast reel can retrieve smoothly regardless of the weight of the fish
Oscillating spool functionality and multiple discs in the drag system ensure that the fishing line doesn't break off easily even when heavy fishes fall into it
Pickup line is made from tungsten carbide while the body is made up of heavy-duty metal, making this one of the most durable units
Pros
Widely regarded as one of the best spincast reels in the closed-face design
Pickup pin made from tungsten carbide can handle a large amount of pressure from large fishes as well
Quite attractively priced
Cons
Slightly heavier than most of its counterparts, which makes it a little tough for you to use this for a long time
Customer Reviews
The sturdy metal body and the smooth retrieval of this reel have made most of the users believe that it is one of the most dependable models in the market today.
Bottom Line
The Daiwa Goldcast Spincast Reel is definitely one of the better reels in the market today. I believe that they will not disappoint you. I feel this reel is worth a try. Don't you think so as well?
---
Zebco Bullet Spincast Reel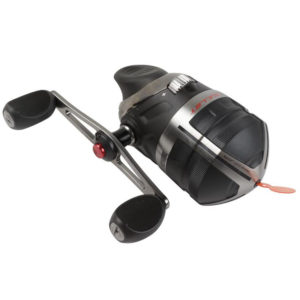 This spincast reel from Zebco is named Bullet for a reason. Would you believe if I said that here is a spincast reel that is more efficient and powerful than baitcasting reels?
Yes, that's the Zebco Bullet Spincast Reel for you! Designed for heavy & medium use, this reel is one of the most durable and reliable models in the market today.
Features
Comes with a whopping 9 bearing design and a remarkable gear ratio of 5.1:1; combined with its anti-reverse clutch design, it is known for its smooth functioning & ability to lure big fish such as catfish and bass easily
Comes with an easy to set drag system, alternative spool for quick change and compatibility to be set up with all types of rods makes it one of the first choices among professional anglers
Comes with left and right retrieval system, making it a delight to use for both right & left-handers
Durability and longevity guaranteed, thanks to its heavy-duty aluminum body and cover made from anodized metal
Ergonomically designed GripEm handle that is resistant to damages from weather extremities
Pros
Known for its accuracy, which makes it perfect for newbie anglers too
Lends a lot of stability and balance to users; therefore, you can use it with ease even from a not-so-steady kayak
Comes with a pickup line that is subjected to patented zero-friction pattern
Smooth casting and reeling at all times
Cons
Quite steeply-priced
Sometimes, the line broke when catching big lures
Customer Reviews
Though it was far steeply-priced than most of the other spincast reels in the market, many users felt that its simplicity & technology was undoubtedly the best. The users were thrilled that they didn't face issues such as backlashes.
Bottom Line
Yes, the Zebco Bullet Spincast Reel is definitely one of the high-valued products in the market, and it is priced at around $100. However, I feel every dime that you pay for this reel is worth its weight in gold, because it gives you the performance of a high-quality reel.
Aren't you interested in catching your lures in the speed of a bullet?
Try this reel right now and thank me later! 😉
---
Zebco Max 33 Spincast Reel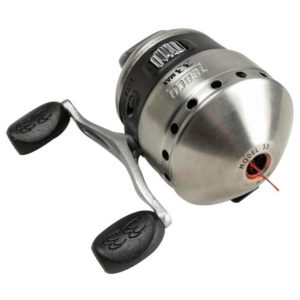 I used the Zebco Max 33 Spincast Reel many years ago, and I can confidently say that this was one of the best investments I made. It is one of the most cost-effective but most high-performing reels if you are interested in catching big fishes.
Features
A lightweight body made from graphite and covers made using stainless steel to provide extreme durability even while catching big fishes
Comes with a single-bearing design, but its gear ratio of 2.6:1, dual retrieving position and ceramic-line pickup pins help you to cast accurately every single time
Comes with an inbuilt bite alert system to let you know in case of issues
Pre-spooled for 20lbs Cajun line; therefore, you can use the reel as soon as you buy it
Knobs made from PVC & rubber; therefore, allows you to use the reel in many types of applications with ease
Pros
Very attractively priced
Lightweight yet one of the most durable spincast fishing reels you can get in this price range
Comes with the typical quality standards that all Zebco reels possess
Cons
The anti-reverse system not as consistent as you would have liked it to be
Micro-fine adjustable dial for drag system doesn't work to perfection at all times
Customer Reviews
Most of the users are quite happy with the Zebco 33 Max Spincast Reel, mainly because they get to enjoy a lot of features at a very meager investment.
Bottom Line
It is purely because of its excellent price, flexible features and highly durable design that I think that you have to buy this right now. Have you had success with this reel? Let me know your experience when you used this, and I will be happy to read your views.
---
How do spincast fishing reels work?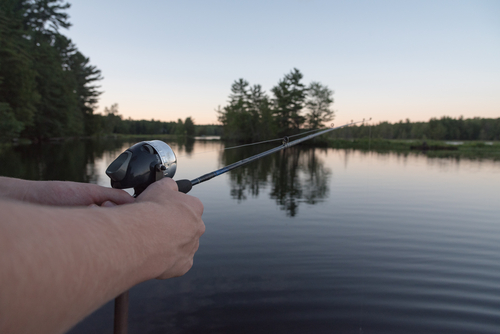 The spincast fishing reel is the easiest of all the reels. I am going to explain in the following sections of this article.
This reel is designed in such a way that the face and all other important parts are compactly placed inside a cone-shaped nose surface. This surface has a tiny hole, out of which the fishing line comes out and goes the exact distance that you want. You can control the length of the fishing line with just the press of a button.
In a spincast fishing reel, there is a button at the rear of the reel, which lets you have complete freedom while casting the fishing line. If you don't want the line to go any longer, all you have to do is to release the button.
There are two major benefits with a spincast fishing reel.
It is very easy to operate, which means it is the best suited for newbie anglers and kids as well (Great – Because my nephews seem to break everything they get their little hands on!)
Problems such as backlash and line-tangling can be kept at bay, because you have complete control of your fishing line's length. Yes, it doesn't offer you the accuracy & perfection of the other fishing reels, but it offers you excellent value for your money, as it is the most affordable type of reel in the market today.
With this mind, if you thought you could go ahead and buy the spincast fishing reel that is best suited for your fishing requirements, you will make the same mistake as I did!
There are several sub-categories of spincast reels that are designed to make fishing easier or more complex, based on your skills & experience.
But before you decide to purchase your favorite reel you must understand more about these sub-categories and what each of these is used forl
Different types of spincast reels
Some of the common types of spincast reels that you will find today are based on the following:
Design of the head
Trigger mechanism placement
Number and material of bearings
Quality of the gears
Drag and retrieval quality
Capacity of the reels
Smoothness of the process of reeling back the fishing line
Accuracy of the casting process
Quality of the spools
Dimensions of the spincast reel
Ease and durability of the reel
Here is a brief explanation about the parameters that I listed above, to make things simpler for you.
Design of the head
In almost all the spincast fishing reels, the head is close-faced. This ensures that there aren't any tangles when you operate the fishing line. Since the head is in a close-faced pattern, it gives you complete control for operating the line up to the exact length that you require.
Trigger mechanism placement
In a spincast fishing reel, the fishing line can be controlled with a button or an underspin. In terms of functionality, both of them do the same job. However, the only difference between a button and an underspin comes in the form of visual appeal. Buttons are fixed on top of the rod while underpins are fixed beneath the rod.
Number and material of bearings
The more, the merrier – this is the rule when it comes to choosing bearings of the spincast fishing reels. When a reel has more bearings, it helps in less friction, increased durability and smooth casting of the fishing line.
Mostly, spincast fishing reels have anywhere between 4 and 7 bearings. Never buy a reel that has less than 4 bearings if you want a smooth retrieval and casting experience.
Quality of the gears
While most people know that they have to buy metal gears for more stability & durability, they aren't aware of the importance of the gear ratio.
As a beginner who is looking for a good spincast fishing reel, you have to understand that a gear ratio indicates the number of times the spool turns at every rotation of the handle.
From my experience, I can say with confidence that a reel with a gear ratio of around 5.4:1 to 6.2:1 would be the right choice for your spincast reels. This means the spool would rotate 5.4 to 6.2 times every time the handle turns a full 360 degrees.
This is the right speed for beginners, as it is neither too slow nor fast to catch the baits. It was only after many years of experience that I started using the baitcasting reels with a gear ratio of 9.1:1!
Therefore, take it slow but steady when choosing the right gear quality.
Drag & retrieval Quality
When a fish or rock or any other obstacle pulls on your fishing line, what is the amount of pressure you have to apply to ensure that the line doesn't break or the fish doesn't fall off the line? This pressure is known as drag in the fishing world.
A friction system made from felt and metal discs make up for the drag system in spincast fishing reels. It is the pressure exerted by these discs on the line that controls the safety of the line. You can easily adjust the quantum of drag by adjusting the signs on the dial located on the top of the reel.
The quality of the fishing reel's retrieval depends on its gear ratio. Retrieval refers to the length that the line returns with every turn of the handle. So if you choose a reel with a low gear ratio, you will notice that the line return would be very slow.
It is important to get a grip on these terms and how important they are for the fishing reel's functionality before you set out to buy a spincast reel for yourself.
Capacity of the reels
The capacity of the fishing reels is denoted by two numbers –with the first one being the quantity of the line and the second one being the number of yards of the fishing line that can be stored inside the spool. For a small spincast fishing reel, you need to choose a reel with a capacity of around 1 to 2 kg.
Smoothness of the process of reeling back the fishing line
When you buy a spincast fishing reel, you need to ensure the quality of the fishing line. How quickly does the line release from the spool and how smoothly can you pull back the line when you need it? If the movement of the fishing line is smooth, you will not face any problems such as breaking the fishing line, backlashes and the like.
Accuracy of the casting process
If you are looking for a highly accurate casting line even with your spincast fishing reel, you should use reels that are made of high-quality materials such as metal. Reels made from plastic and other cheap materials will not give you the proper casting accuracy, even if you try too hard.
Quality of the spools
When choosing a spincast fishing reel, you should ensure that you choose a material that is durable and that is kink-free. It is the spool that decides the length, quality and performance of the fishing line.
Dimensions of the spincast reel
The size, length and weight of the reel and the dimensions of the rod that you combine it with, are very important points to consider when you are choosing the fishing reel. For small spin fishing reels, I would highly recommend you to choose a 1000 or 10-sized spinning wheel that can be used with a rod that is close to 7feet long.
Ease and durability of the reel
As a beginner, you should only focus on the main purpose for which you intend to buy the spincast fishing reel. I have seen many people buy reels with too many features that they don't need in the first place.
Once you get comfortable with fishing in freshwaters and saltwater, you can think of additional features that will help you master the process. Till then, you should use reels that are easy and durable to use when you are a newbie in the field, for the best results.
Now that you have got a fair idea of what to expect when you set out to buy spincast reels, here are six of the best reels that I would highly recommend for you, especially if you are a beginner.
Niels Thomas is a wildlife expert and fishing fanatic that works with major fishing brands like Deeper Sonar, Abu Garcia, Berkley, PENN, BassPro and Pure Fishing. Through sharing the best fishing tips, tricks, gear reviews, locations and much more he hopes to inspire fishing fanatics to start their own journey towards becoming the King of the Catch!