Did I read the title of this blog post correctly? Did the King of the Catch review team actually buy and test 9 different types of baitcaster reels? 
The answer to that is a resounding "Yes"! And let me explain to you why. You see, last year I received dozens of emails from our readers. And all the emails had one thing in common. 
They all had a question regarding what the best baitcasting reel on the market is today and why.  And to be honest I totally understand why this is such a popular question. I recently noticed the internet is full of boring, copy-paste fishing gear reviews that are nothing more than a summary of the features. Something our readers noticed as well.  
Is it really that difficult to find an honest review?
Best Baitcasting Reel of 2021 – 9 reels tested, compared & reviewed!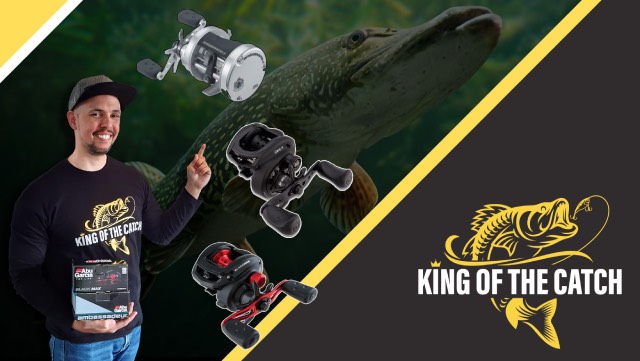 If this sounds like your situation, don't worry: The King of the Catch review team is here to help by providing a personal, in-depth, well-researched review of the 9 best baitcasting reels in 2021 to help you make the right decision when purchasing your next reel. 
Who is this review for?
For anybody who is interested in purchasing an affordable and high-quality baitcasting reel but can't see the forest for the trees. We at King of the Catch like to keep things simple. We buy, try, and review. It is as simple as that. 
So, in order to make your next purchase as easy as possible we divided our baitcasting reels over 7 categories, including the best baitcasting reels under $200, under $100, for saltwater, for beginners and based on certain fish species like; catfish, bass, pike & musky. 
Why you should trust me
In addition to myself, the review team consists of fishing experts Marc van der Beek (Catfish & carp), Arthur Roskott (Perch, pike & zander). We also contacted Mr.Tamminga, a staff member of the European branch of PureFishing Inc., a company that focuses on the distribution of the latest baitcaster reels on the market; Mr.Midthun a US-based fishing expert and brand affiliate ambassador of Berkley, Abu Garcia and PENN. 
How we picked
For this review the King of the Catch review team tested, compared and reviewed 9 baitcaster reels. Not 5, not 7 but 9 baitcasting beauties that each have their own specialty. 
How did we select these specific baitcaster reels? 
First, the team created a list of 25 baitcaster reels based on brand, reviews and sales. Once we completed the list, we wanted to make sure we got some feedback from seasoned anglers. 
So, we asked 5 different Facebook Groups (Baitcasting in the UK, Abu Garcia Reels & Tournaments, Pike Fishing Worldwide, Kentucky Bass Fishing, Catfish Fishing USA & UK) and 6 popular fishing forums (Catfish1, Texas Fishing Forum, Bass Resource, Pike Fishing Forum, Musky Hunter, Ultimate Bass) to see which of our 25 baitcasters they had the best experiences with and why. We also consulted EsoxOnly.com which has over 25 years of experience using round baitcaster reels. 
This resulted in a final list of 9 baitcasting reels that made the cut. 
Best baitcasting reel per category – A quick overview:
How did we test?
The King of the Catch Review Team used a seven-criteria 10 point scoring system for evaluating each baitcaster reel:
Durability: Which stayed most durable during the test period?
User experience: How did we interact with the reel? Can a beginner use it without getting in trouble?
Materials: How is the overall quality?
Looks: Because the eyes also want something!
Design: Old Vs. New features 
Price: Comparing price, features and performance
Reviews of others: What did other fishing experts have to say?
Scores were added up after each testing period. The maximum score is 10 out of 10 points.
In this article you will see the winner, and for some reels, the runner-up. 
---
What is the difference between Round Reels and Low-profile reels? 
To give our readers a better idea about the difference between round baitcasting and low-profile baitcasting reels, we have briefly discussed the key areas to be considered:
Design
As opposed to low-profile reels, round baitcasting reels have the main gears mounted on the side handle. This keeps the reel lower to the fishing rod, thereby facilitating a better overall grip.
Line Capacity
Even the basic round baitcasting reels have a minimum line capacity of more than 100 yards. In contrast, low-profile reels are mostly limited to the said range, and the exact measurement will vary according to the size and weight of the line.
Power
Simply put, low-profile reels are capable of strenuous fishing jobs like dragging bass fish out of weed or keeping crankbaits in water for long periods. On the other hand, round baitcasting reels have heavier drags to exert more pressure for handling larger fish without putting too much torque on the reel and rod.
What to look for in a good baitcasting reel? 
Irrespective of the type you opt for, here are some factors that should define a good baitcasting reel:
High Gear Ratio
One of the first things to take note of is the gear ratio, which directly impacts the retrieval speed. Most reels have the gear ratio mentioned on the body to make the selection process easier. 
Generally, diving crankbaits and larger spinnerbaits require a low ratio of 4:1 or 3:1. Likewise, jigs, Texas rigs, and soft plastic need the average 5:1 ratio. And for lures with fast action, it's advisable to go for a higher ratio like 6:1 or 7:1.
Spool Size 
Larger or heavier fish will invariably require a heavier line, taking up more space on the spool. So, go for a deep spool that can hold all that line.
Comfort
Features like an ergonomic grip, balanced rod-and-reel, tensioners, thumb latches, etc. ensure optimum user comfort.
---
Best Baitcasting Reel Under $200 
Winner: Abu Garcia C3 Ambassadeur Round Reel
Why is it the best reel under $200?
First and foremost, allow us to walk you through the design part. The silver and black color scheme make the device look like a million bucks, so bonus points for that! Moreover, the carbon body construction makes it weigh merely 10 oz. Likewise, the carbon handle has a nice grip, which helps reinforce the balance of the fishing rod.
Additionally, it offers up to 15 lbs of drag, and the exact measurement varies from one model to another. In this regard, the action depends on the trio of stainless steel ball bearings coupled with a roller ball bearing. The combination of the steel plating and covering makes for a safe and long-lasting smooth action. Beyond that, the maximum casting distance of 310 yards is nothing short of impressive. This is a good feature to cover both pro and amateur users.
An all-out highlight is the device's anti-reversing mechanism that consists of the roller bearing attached to a gutter system. The latter prevents slippage while dragging a big fish, and the ball bearing immediately stops the reversing function.
Here, we should also mention that the reels in this series are devoid of a line clicker. But you can control them through a button located near the center of the rotor. Plus, the synchronized level wind system ensures better casting by negating the resistance encountered by the line guide. 
Finally, the 6-pin centrifugal magnetic braking system has smooth functionality, thereby making the device versatile for use in different conditions. Hence, it comes as no surprise that the brand has rated this device for both freshwater and saltwater use.
Flaws but not dealbreakers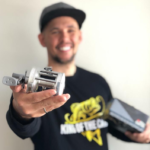 For all the good, there are a couple of things that we'd like to improve. For one, the 15 lbs dragging force is somewhat less compared to similar devices. In that sense, we'd say that the Abu Garcia C3 Ambassadeur Round Reel is more suitable for light to medium-duty fishing.
Aside from that, the lightweight carbon body hinders the casting ability to some extent, especially in rough waters. But given the anti-reverse and synchronized level wind system, users won't encounter a lot of problems. Long story short, there's a small learning curve that will ensure optimum convenience in the long run.
And don't forget, if you are interested to learn more on why this is the best baitcaster under $200, make sure to check out my more in-depth review.
Is this the best baitcaster reel for northern pike & musky?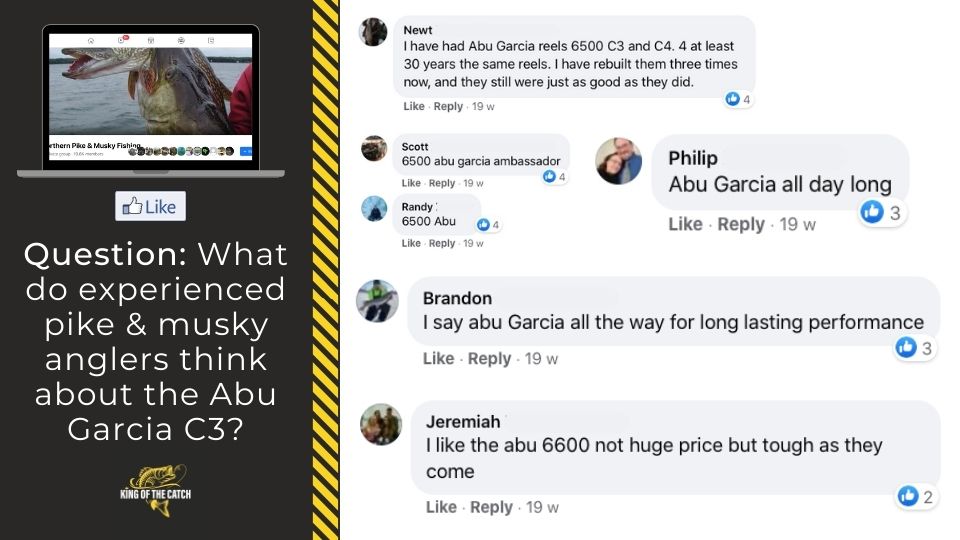 Our answer is.. Yes! According to our own experiences and a trending topic on the Facebook page of Northern Pike & Musky with 20.000 members, the Abu Garcia Ambassadeur C3 and C4 have been mentioned frequently as the most popular baitcasting reels for catching northern pike and musky. What model do these experienced anglers recommend? They recommend using the 5500 with a 80lb braided line or a 6500 series with a 100lb braided line.
And don't forget, if you are interested to learn more on why this is the best baitcaster for pike, make sure to check out my more in-depth review.
Runner-up: Revo SX Low Profile Reel
If you're looking for something else under $200, then we have the Revo SX Low Profile Reel as our second pick. Made from a high-quality X2-Cräftic™ alloy frame, it has been a popular choice among novice and pro users for quite some time now. The ergonomic design is primarily highlighted by a compact bent handle star. What's more, its superfast line retrieval is backed by the right gear ratio. And for all the hard work that the device does, it's only fair that the alloy frame provides it with adequate anti-corrosion properties for worry-free use in saltwater.
Not only that, but the spinning reel is also adorned with a carved snakeskin metal surface for corrosion-resistance, while the line spooler has a wear-resistant material on the top.
The Carbon Matrix drag system does a good job of providing consistent and seamless drag pressure, just like the Infini brake system that provides a smooth casting experience. And in tandem with a brass main gear, the D2 Gear Design offers optimum power with minimum effort from the angler. Lastly, the ergonomic handles ensure better grip for long hours of fishing.
What rod can you mount it on?
The first compatible rod that we are going to talk about is this robust product from the brand's Toro series of fishing rods. Each of them have been engineered for heavy duty use, like inshore or muskie application.
C3 Ambassadeur Round Reel:
Revo SX Low Profile Reel:
A key feature is the uniform distribution of nanoparticles between the carbon fiber to prevent the blank material from developing cracks. Hence, the rods have better impact and fracture resistance, even with heavy duty use.
Simultaneously, the titanium alloy guides have ultra-lightweight zirconium inserts to make the rod more balanced. Finally, the closed-cell EVA grips come with greater weather and wear resistance for round the year use.
Our score
Best Baitcaster Reels Under $200
Criteria
C3 Round Reel
Revo SX
Score
Score
Durability
10
9
User experience
8
8
Materials
8
9
Looks
8
8
Design
9
8
Price
10
9
Reviews of others
9
9
Final score
8,9 out of 10
8,6 out of 10
---
Best Baitcasting Reel Under $100 
Winner: Abu Garcia Revo X 
Why is it the best r
eel under $100?
Featuring a pretty similar design to that of the third generation Revo reels, the Revo X combines just the right features for optimum efficiency and user convenience. On top of that, the durable construction means constant exposure to heat and moisture will have minimum effect on its service life. 
Getting straight to the construction, the first thing that grabbed our attention was the lightweight X2-Cräftic™ alloy frame. Weighing under 8 oz, it's built for long hours of fishing without fatiguing out the limbs. 
At the same time, it's highly resistant to moisture and corrosion-related damages. And the stainless steel guide frames that run over the 30-ton rod blank provide some much-needed stability and robustness to the plastic body.
Now, coming to the features, the Revo X is integrated with an advanced magnetic braking system, viz. the MagTrax. Not only does it offer consistent brake pressure, but users can also adjust it according to their requirements. 
This feature will come in especially handy while dealing with hard-to-catch species like bonefish and blue merlin. Furthermore, beginner or intermediate anglers don't have to strain their nerves in operating the braking system.
Apart from that, the Carbon Matrix hybrid drag system is made from a blend of carbon and synthetic components for a seamless drag experience. We also loved the effortless dialing-in process and the free-spinning aluminum spool. The latter can be credited to the use of 8 high-quality bearings (7 stainless steel ball bearings + 1 roller bearing).
For the finishing touch, we should shower some praise on the larger grips and long reel handle, which account for more leverage while baiting. Overall, we'd say that the Abu Garcia Revo X leaves very little room for complaints.
For more details, make sure to check my detailed review on the Abu Garcia Revo X by clicking here.
Flaws but not dealbreakers
Despite scoring high on multiple aspects, there are a couple of things that can cause some minor inconveniences. As you may have already guessed, the first thing we want to talk about is the plastic frame. In fact, we observed some significant bend on the rod while catching heavier baits.
Sure, it isn't the toughest material to build a baitcasting reel. But considering its affordability, we aren't really bummed out about the choice of material. We feel this model is best suited for fishes weighing 40 to 50 lbs.
Secondly, the longer reel handle may not be suitable for all users, mainly because of the extra cranking that's required. Besides, beginners may take some time to perfect their hold on the larger grips. We also felt that the free-spinning might be slightly challenging to control, but it definitely gets better with time.
In hindsight, it may be safe to conclude that the brand has developed this series of baitcasting reels in line with casual fishing needs. Plus, it's a great buy for beginners who are looking to get the hang of things without spending a lot of money.
Runner-up: Pflueger President XT
A close second to the Abu Garcia Revo X is the Pflueger President XT. It's made of a rugged, one-piece aircraft-grade aluminum frame for prolonged service life. Additionally, the design comprises an aluminum side plate handle with soft-touch knobs that protect your thumbs while thumbing the line.
Much like the Revo X, this reel also has 9-double-shielded stainless steel ball bearings, meant to offer smooth operation while fishing. Another point of similarity is the 6-pin centrifugal braking system, which can be adjusted as per the convenience of the user. 
Owing to its low stress and easy functionality, the Pflueger President XT is a good choice for light-duty fishing, even in saltwater. That said, some users have faced slight issues with the casting, but nothing that can't be overcome.
And don't forget, if you are interested to learn more on why this is the best baitcaster under $100, make sure to check out my more in-depth review.
What rod can you mount it on?
In our opinion, the Abu Garcia Revo X Baitcast Rod & Reel Combo is the most compatible rod for this reel. Both of these use the same X2-Cräftic alloy frame. As a result, the combination puts minimal stress on your muscles, thereby ensuring long hours of comfortable fishing. We didn't experience any problem during our trial whatsoever.
Other than that, this 7-inch long rod has a stainless steel guide that adds to the durability factor without adding to the weight. We also appreciate that it doesn't come pre-spooled. This is something that will appeal to users who like to customize their gears.
Last but not least, the anti-reverse mechanism is a huge advantage for beginners. However, pro fishers can also fall back on this feature to break the monotony of manual reeling once in a while! We use the Pflueger President XT on the same rod without any problems.
Our score
Best Baitcasting Reel Under $100
Criteria
Revo X 
President XT
Score
Score
Durability
9
9
User experience
9
9
Materials
8
9
Looks
8
8
Design
9
8
Price
8
8
Reviews of others
9
8
Final score
8,6 out of 10
8,4 out of 10
---
Best Saltwater Baitcaster
Winner: PENN Squall Level Wind
Why is it the best reel for saltwater?
First things first, the Penn Squall reels have a robust graphite frame and side plates, with marine-grade bronze and stainless pinion gears. The high-strength bronze main gear system is a key point of difference from poor quality reels as most of them have gears made out of low-quality metal.
Apart from that, there's the highly reputed Penn HTR100 Versa drag system with anti-reverse bearing. The former is actually built from lightweight carbon fiber washers, which are equipped to maintain the smooth functioning of the reel under extreme conditions. Plus, these washers prevent heat build-up from excess friction, which may often happen while hooking on heavier fishes.
What really adds to the durability factor is the 2+1 shielded stainless steel ball bearings. Since the reel is exposed to hours of moisture, such a feature protects the internal parts from developing rust or corrosion. 
And with an anti-reverse setting on each bearing, you don't have to worry about the line constantly slipping in crucial situations. The instant gear engagement will seamlessly transition into a reeling motion or hold firm against a working drag. If you're a first-timer, we can't stress how beneficial this mechanism will be!
The patented live spindle design prevents the spool from the slightest friction while in free spool. This results in longer casting distances for providing a greater range in the water.
Last but not least, the fact that the brands offer three different models for a single line of affordable reel is pretty commendable. Depending on their requirements, beginners have a range of test lines to pick from.
Flaws but not dealbreakers
It may be helpful to know that the PENN Squall Level Wind reels aren't built for true blue pros in the sense that the features are limited. Hence, it may be safe to conclude that this line is meant for basic fishing. 
Moreover, some users have cast their doubts on the graphite construction, which isn't the most durable material. This is because graphite tends to become brittle after prolonged use in very hot or cold temperatures. However, it doesn't corrode like aluminum, so that's the balance you're looking for!
And don't forget, if you are interested to learn more on why this is the best baitcaster for saltwater, make sure to check out my more in-depth review.
Runner-up: PENN Squall Low Profile Reel
To facilitate instant line management for inshore anglers, the Penn Squall Low Profile reels are incorporated with line capacity rings on the spool. This way, you can have a precise watch on how much line is in the water, and while vertical jigging, you can gauge the current water depth.
One thing to note is that unlike the right-hand models that come in both standard and high-speed gear ratios, the left-hand ones are available only in the standard gear ratio.
What rod can you mount it on?
PENN Squall Level Wind:
Coming to the guide type, the stainless steel guides with aluminum oxide inserts provide maximum protection against corrosion and rust. The overall design is reinforced with a couple of detailings like metal gimbals and a slick butt. Finally, the brand specifies it for medium power and medium fast use.
PENN Squall Low Profile Reel:
The graphite composite blank construction has rubber-shrink tube-wrapped handles for an ergonomic grip. At the same time, the Fuji Alconite guides and Fuji reel seats lend the rods a premium feel. This line primarily comprises 19 different models with 15 spinning and 4 casting units, and each of them offers durable performance for intense angling needs.  
Our score
Best Saltwater Baitcasting Reel
Criteria
PENN Squall Level Wind
PENN Squall Low Profile Reel
Score
Score
Durability
10
9
User experience
10
10
Materials
9
9
Looks
9
9
Design
9
9
Price
8
7
Reviews of others
9
8
Final score
9,1 out of 10
8,8 out of 10
---
Best Baitcasting Reel for Beginners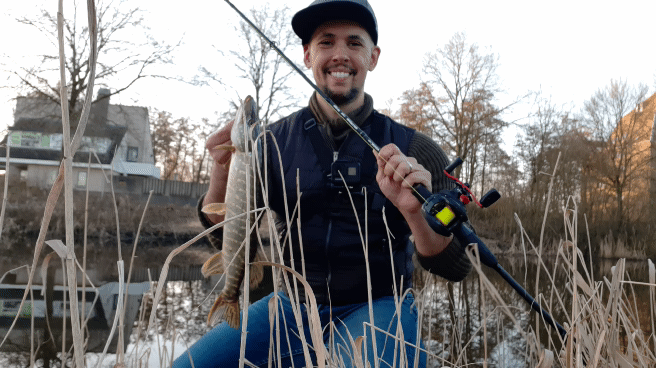 Winner: Abu Garcia Black Max
Before we wrap up the guide, here's the best baitcasting reel for beginners- the Black Max Low Profile Reel. This model has been especially engineered as a replacement for the high-cost bass fishing gear, which can often turn away novices. But that doesn't mean it doesn't cater to the other fishing requirements.
Why is it the best reel for beginners?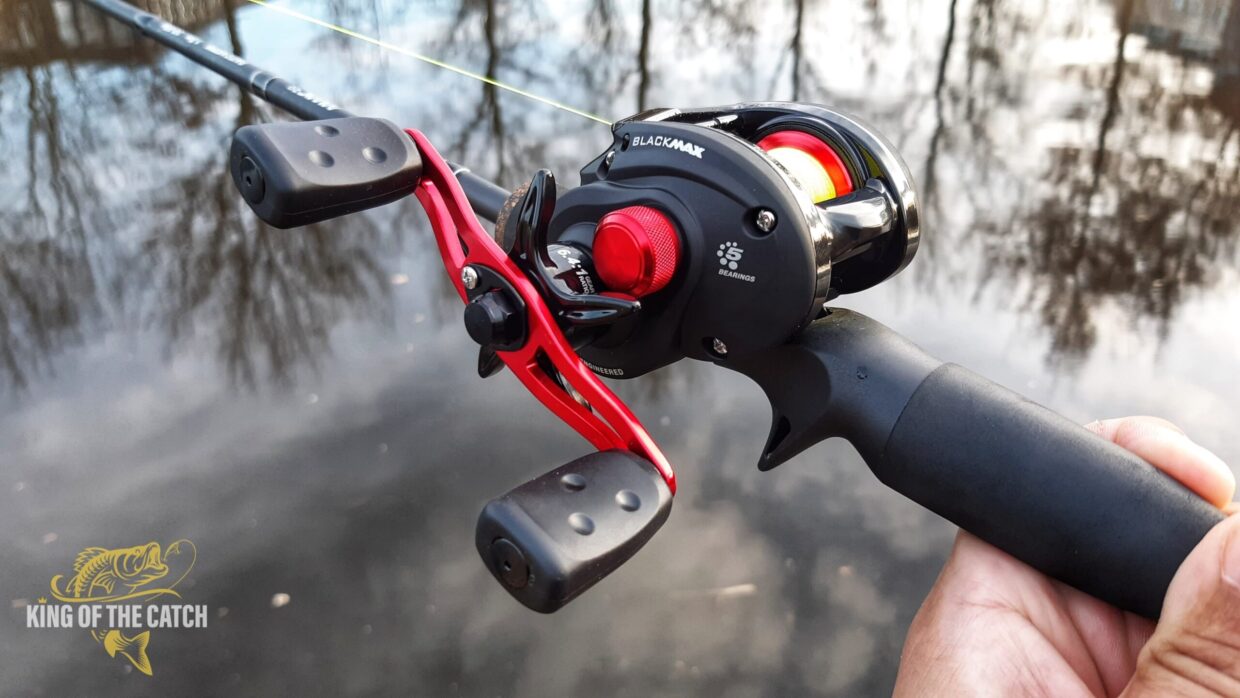 This baitcasting reel is provided with 4+1 stainless steel ball and roller bearings for smooth and strong retrieves even during hardcore fishing. With heavier species, we didn't notice a lot of stretching or curving on the rod. 
Not only that but the 12 pounds line capacity handles the most fast-paced fishes with ease. Furthermore, the brake clutch plate gels up with the required gear ratio adjustments to keep the rod in a firm position while casting the bait.
On a related note, the PowerDisk drag system has a maximum limit of up to 15 pounds during hook-up and casting. Plus, the entire spool is made from machined aluminum to improve the strength of the reel without making it heavy.
We loved how the brake system consists of two types of brakes, i.e., magnetic (MagTrax) brake and a Duragear made from brass. While the former is used for fine-tuning purposes, the latter controls the speed of the tension knob. And with so much going on, the easy-to-grip bent handles were necessary to reinforce balance and offer smooth retrieval.
In case you have any apprehensions about the performance, we bet that the 1-year warranty from the brand will provide greater peace of mind.
Flaws but not dealbreakers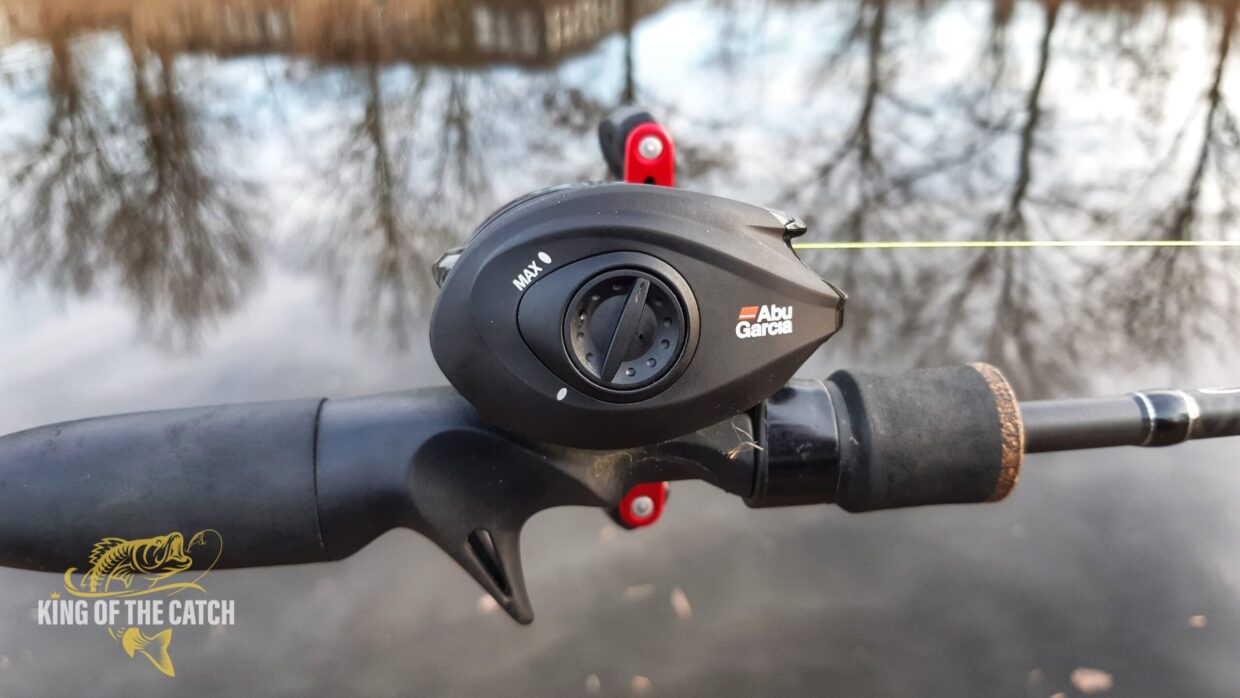 Now, we did observe a couple of things that aren't the best features to have, but they aren't deal breakers in any way. Firstly, the ball bearing system doesn't offer the smoothest performance compared to some of our other recommendations. That said, it's totally fitting for a day-long fishing trip. You won't practically feel or hear any grinding even while retrieving large or heavy fishes.
We also feel that the PowerDisk Drag system needs occasional manual pulling of the line to keep the drag operational once the line is in water. Again, this isn't something to be wary of and will naturally come to you after spending some time with the reel.
Runner-up reel: Pflueger President XT Low Profile
For this, the spool is engineered from machined and anodized aluminum. Similarly, the 6-pin adjustable centrifugal system and multi-disc main gear applied drag system allow users to customize it for different baiting needs. 
So that you can use it in saltwater for prolonged periods, the modernized C30 carbon plates provide additional durability while keeping it lightweight. Moreover, the adjustable magnetic braking system lets users dial in the cast controls almost immediately as the fishing condition changes. 
Finally, the finer details include a robust aluminum click-bait system that makes a significantly audible noise to tell you that it has closed properly. 
What rod can you mount it on?
Black Max: 
What's more, setting the reel for beginners is no tough job either. First, the manual brake needs to be set as free as possible and then should be tightened up a bit. Once done, back it off till the spool has a slight side-to-side movement. Lastly, turn the magnetic brake to the maximum setting and go back 1 click. This should work perfectly for ½ oz bait.
The 24-ton graphite construction has high-density EVA handles to relieve your hands of the stress without compromising balance and stability.  
Our score
Best Baitcasting Reel for Beginners
Criteria
Black Max
President XT
Score
Score
Durability
9
9
User experience
10
9
Materials
9
9
Looks
8
8
Design
9
8
Price
10
8
Reviews of others
9
8
Final score
9,1 out of 10
8,4 out of 10
---
Best Baitcasting Reels per Species
Catfish
Winner: Abu Garcia CS Catfish Special
Abu Garcia CS Catfish Special
The Abu Garcia CS Catfish Special has more than just a dedicated name to make it the best choice for this species. Made from the custom design of the C3 round reel platform, it's engineered to provide users with a smooth experience to help you get a lure almost anywhere you land.
Why is this the best reel for catfish?
First off, this reel features a 3 stainless steel + 1 roller ball bearing system for optimum smoothness. Coupled with the Carbon Matrix drag system, it offers an exceptional range for casting and retrieving heavy baits without putting excessive load on the rod. The 6-pin centrifugal braking system controls the casting, while the long, bent handle with power knob provides anglers sufficient torque and power.
Besides, the brake system doesn't require a frequent change in settings as it's already durable enough to cater to a range of baiting needs. The spool system is equipped with a couple of magnets to control the casting regardless of the fishing conditions.
Also, the reel is designed to allow hooking a jerk bait for casting into the water without any struggle. This is a good feature for anglers to precisely point the cast and deploy it at a considerable distance for targeting those big fishes.
Bass
Winner: SHIMANO SLX Baitcasting Reels
Why is this the best reel for bass?
The SHIMANO SLX Baitcasting line of reels has 3 levels: the SLX ST with enhanced SVS Infinity braking system, the SLX DC with digital casting system, and the standard SVS model. Starting with the SVS model, it's something that you'd want to try if you're just venturing into baitcasting. It has a thumb bar on the top of the spool, which doesn't require you to open and close the bail when casting. It's 20% more compact than some of its popular competitors. Moreover, the Hagane body offers optimum durability and minimizes flexing.
It uses a centrifugal force as opposed to magnets for improved casting. Plus, the flexible braking system reduces backlash for extending the casting distance and enhances smoothness.
The SLX XT model has upgraded to the Infinity Braking System, allowing anglers to make adjustments via an external dial to promote a wide range of lures. In short, it puts the angler in total control of the entire operation.
---
Final words
With that, it's time for us to draw the curtains on today's review.
Hopefully, our efforts will help you pick the best baitcasting reel according to your needs and budget. And so that you don't have to rack your brains, remember to keep in mind our best rod recommendations to complete the set. But before we leave, here's a quick recap of our findings:
The Abu Garcia C3 Ambassadeur Round Reel is the best reel on a budget for freshwater baiting. Not only that, but you can also pick it if you want to chase after specific species like Pike and Musky. Closely following it is the Abu Garcia Black Max Low-Profile Reel, which is suitable for novice anglers.
That's all we have for today. Do let us know your thoughts in the comments section down below.
Till the next time, happy fishing!