One of the world's most famous fishing brands, Abu Garcia, claims to deliver a new type of low-profile baitcasting reel that is affordable and gives a new meaning to reel reliability and performance. Over three weeks, we had a father and son duo and predator fishing experts Niels Thomas (me) & Arthur of the King of The Catch Review Team test the Abu Garcia Revo X in different fishing conditions, including large lakes, tricky channels, and fast-flowing rivers.
The goal? To really put this fourth-generation Revo X baitcaster to the test and see what all the online fuss is about.
The results? We were highly satisfied despite some shortcomings, which you can easily overlook.
What did we catch? In the three-weeks period (25 hours of fishing in total) that we used  the Revo X we caught 12 pikes with an average length of 76 cm (2,5 feet). Pictures are included in this review.
Abu Garcia Revo X Review
Why should you trust me?
I'm a Wildlife expert with a bachelor's degree in applied sciences. I have been fishing since I was five years old.
Growing up in The Netherlands, fishing was everywhere. Not too crazy, if you think about it, as 17% of our total mainland surface consists of water. Affordable and reliable fishing reels have always been an essential part of my tacklebox. Fishing as a budget angler in the large and complex canals near Amsterdam and the fast and slow-flowing rivers of the United Kingdom and large lakes in Germany, I can say one thing. A precise selection of the most durable, all-round, and reasonably priced baitcasting reels has been essential to me.
For this review and to improve my expertise, I have enlisted the help of 16 members of the Abu Garcia Reels & Tournaments group and researched what their thoughts were on the REVO X model. I also asked them what ratio they prefer and why.
Finally, we invested over 25 hours of freshwater fishing in testing this reel in winterlike conditions to see how it would function in freezing environments.
Abu Garcia Revo X Baitcasting Reel
Priced at just under $100, there is not much we felt was missing from the fourth-generation Revo X reel. Its design and features are great. The X2-Cräftic™ alloy frame is lightweight but exceptionally robust. Furthermore, the frames have been designed to be corrosion-resistant. You can choose between three different gear ratios and the handling is perfect for beginners and experienced fisherman. What is the final verdict? The King of the Catch Review Team Gives the Abu Garcia Revo X a 4,5 out 5 stars!
Who is this review for?
Most beginner and intermediate anglers are not interested in purchasing a different baitcasting reel or rod for every method of fishing or species of fish. They are interested in finding an affordable, high-quality baitcaster reel that can work in as many fishing conditions and settings as possible. A reel that allows a beginner to learn the basics yet provides enough additional features for the intermediate and advanced anglers to take their catching to the next level.
So which attributes and features did I prioritize during the research and testing period? When it comes to attributes, my first focus for any fishing product is on three things: design, quality, and price.
What about the features?
| | | |
| --- | --- | --- |
| Type | Features | What does this mean? |
| Reel spool material | Aluminum | Durable! |
| Weight | 7.9 oz | 223 grams | Light as a feather! |
| Bearing count | 8 | The more bearing counts the smoother the reel operates. 8 is a fantastic number! |
| Breaking system | Magnetic | Best breaking system for beginners and intermediate anglers. |
| Drag material | Carbon Fiber | High quality and durable |
| Max drag | 18lb | 8.1kg | |
| Drag type | Star Drag | Great for fish under 40-50 lbs. |
| Gear ratio | 7:3:1/6:6:1/5:4:1 | You can choose between a quick reel in (7:3:1), medium (6:6:1 or a bit slower (5:4:1) |
| Recovery rate | 30″ | 76cm / 27″ | 69cm / 22″ | 56cm | Recovery rate per gear ratio. |
| Mono capacity (m/mm) | 160/0.29 135/0.32 95/0.38 | Great for medium-range cast |
| Mono capacity (yd/lb) | 175/10 145/12 100/15 |   |
| Braid capacity (m/mm) | 170/0.29 130/0.36 90/0.41 |   |
| Braid capacity (yd/lb) | 190/20 140/30 100/50 |   |
At a price range of $100, Abu Garcia has developed the Revo X to represent an affordable bait caster reel that is reliable.
Can you buy a more expensive reel? Yes, but you might want to check out my other reviews that focus on reels for specific fishing techniques and species. But if you are interested in finding a good reel to catch a variety of predator fish with lures, the Abu Garcia Revo X gets the job done!
If you are interested to know where I purchased our Revo X reels, you can check out the official Abu Garcia website by clicking here.
First impression of the Revo X
If you have ever used the previous generation of Abu Garcia Revo reels, you might find this model to look and feel relatively similar. Other than a few changes in the size and shape of the reel, it has a very familiar exterior that looks and feels extremely capable and competent.
As someone who has used several dozen brands of fishing reels for several years, I can vouch for the different experience of using this new Revo X lineup of reels.
For starters, the lightweight frame is much easier to handle for prolonged periods. And if you have spent a considerable time fishing, you must know the amount of patience and perseverance it usually takes before you feel even the first nibble.
Fortunately, the X2-Cräftic™ alloy frame is lightweight but exceptionally robust. Furthermore, the frames have been designed to be corrosion-resistant, which is vital, considering how much moisture and sun damage these reels are exposed to.
However, from the outside, not much has changed when you compare it to the previous generation models. Although the exterior is rather safe and familiar, some minor changes have given this fourth generation of Revo X models an enhanced and more stable performance.
Why it is great
So, what is different in this model? To begin with, the Revo X features a new magnetic braking system, which can be a game-changer, especially when fishing with particularly snappy, tricky-to-catch fish. The MagTrax™ performs exceptionally for a variety of sizes and lures. Also, it can be adjusted easily, allowing every user to enhance performance and optimize their fishing experience.
Next, the drag stack now comes in a revised hybrid carbon and synthetic material. This Carbon Matrix™provides a much smoother and more reliable dragging experience compared to its previous models.
Moreover, the 30 ton rod blanks are topped off with stainless steel guide frames, adding durability and stability to its lightweight body. Its corrosion-resistance feature is probably one of my favorite aspects because it can get very annoying to change products frequently. Let's face it, most of the standard models get damaged and rust after a few fishing trips.
Also, I noticed that the dialing in process was relatively smooth and pain-free. The spool was extremely free-spinning, and I reasoned that this was made possible because of the high-quality bearings used.
That being said, every once in a while, I felt like the spinning was "too free," if I may say so. Since I have developed my own fishing style after doing it for years, I had to tweak it a little more than I did with previous reels while dialing it in.
If I had to comment on what I liked the most about it, I would talk about the larger grips and more extended reel handle. Personally, the longer handle works out better for my use case. That being said, I can imagine some users not enjoying the longer reel handles as much. Perfecting your grip on these might take some time, and there is definitely a learning curve to it.
Flaws but no dealbreakers
As I mentioned earlier, one of the new features of this series is its longer reel handles. Let me tell you something honestly; these lightweight reels were built to handle light bait in the right wind conditions. Now, I'm not saying it did not perform well – it did. But when I switched to slightly heavier bait, I could visually see the stretch and curve on the rod.
According to me, this is in no way a dealbreaker. I completely understand what this model was built for, and catching massive fish with heavy bait is not one of those things! If you are looking to enjoy some casual fishing with a new and improved reel, this one will be ideal for your needs.
Also, I want to mention the fact that the plastic frame may not last as long as the more expensive models. Of course, that goes without saying – plastic isn't the most compatible material you can use for heavy fishing activities.
However, for the price I paid for this reel (which was less than $100), it gave me superior performance. Long story short, those of you looking for a beginner or intermediate level reel will be extremely satisfied with this one.
Results
We caught 12 pikes with an average length of 76 cm (2,5 feet). Smallest was 55 cm (1 foot and 9 inches) and largest one was 92 cm (3 feet and 7 inches). Weapon of choice? The jerk bait!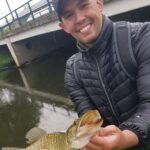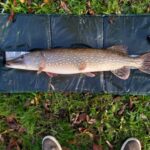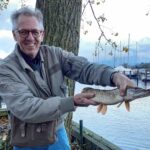 What rod can you mount it on?
Abu Garcia Revo X Rod & Reel Combo
Both Arthur and I purchased the Revo X as part of the Rod & Reel Combo. The rod comes in two different sizes (medium and medium heavy). Arthur used the medium and I used medium heavy for our jerk baits. We were impressed with the quality, durability and design of the rods.
I used the Abu Garcia Revo® X Baitcast Rod & Reel Combo, which is compatible with this series. Combining the Revo X with this rod was honestly a match made in heaven. The combination was perfect, and each of them was lightweight yet rigid enough to balance each other out. As such, I faced no issues while using this combination.
Measuring 7 inches in length, the rod features a stainless steel guide and seems very lightweight and compact, overall. Personally, I like that they did not come pre-spooled. That is something I prefer choosing and doing on my own, but you may feel otherwise.
Furthermore, the instant anti-reverse feature can be very helpful for beginners and pros alike. Of course, I like to have the freedom to reverse on my own. However, that is only because I have been doing this for years and have developed my own rhythm and sync. Still, it feels freeing to sit back and let the reel do the job for me once in a while.
Conclusion
Priced at just under $100, there is not much I felt was missing from the fourth-generation Revo X reel. Overall, I had an enjoyable experience using it on my fishing trip with Arthur, and I highly recommend this model for beginners and intermediate level fishing enthusiasts.
That being said, the minor drawbacks that I faced are not dealbreakers, at least for me. I can see myself picking up this combination of Revo X reel and rod for a couple of more casual fishing expeditions. The most important thing to look out for would be the kind of bait used – in my experience, this made a world of difference.
Well, I hope you enjoyed going through my review. Till next time, happy fishing!
Niels Thomas is a wildlife expert and fishing fanatic that works with major fishing brands like Deeper Sonar, Abu Garcia, Berkley, PENN, BassPro and Pure Fishing. Through sharing the best fishing tips, tricks, gear reviews, locations and much more he hopes to inspire fishing fanatics to start their own journey towards becoming the King of the Catch!