Fishing reels are quite diversified and different categories of anglers have different needs and preferences. For instance, a bass angler might perform much better with a baitcasting reel. On the other hand, combos for beginners and newbies are usually fitted with spincasting reels. With all these, nothing beats the classic spinning reel.
Use our overview of the best spinning reels to help you make the right choice for your next purchase.
​Best Spinning Reels For The Money 
Spinning reels are popular for a few different reasons. Most importantly, they are simple. I love the looks of a simple open face reel. Not only do I love seeing the mechanism move, but I also fancy the idea of fishing without experiencing too many technical difficulties.
The more sophisticated a reel is, the more exposed it is to various problems.
On another note, spinning reels work with a wide plethora of different fish. Of course, I have specialized reels for particular types of fish too, but most spinning reels are reliable and will not let you down. It makes no difference if you are after a 25 pound bass or a two pound trout.
Just like for any other fishing equipment, you have to be familiar with differences between various types of spinning reels, as well as the most reputable brands in commerce and their top rated products.
Best spinning reels for the money
You do not want the most expensive reel on the market because it does not necessarily mean it is the best one.
What do you do then? Personally, I see it like shopping with my wife. She looks at the price for a pound or an ounce, rather than the price of the package. This is what value for money means.
Ok ok.. she made me write that comment as I am working again in this blog on a Sunday afternoon! Love you honey..
Best spinning reel under 50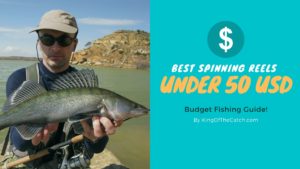 What can you get for less than 50?
You would be surprised. Shakespeare Contender Spinning Reel is probably the best ultralight spinning reel under $50 out there. Not only is it lightweight and less likely to affect the balance of your rod, but it also looks good and ensures a top notch performance.
On the other hand, Shimano Nexave Spinning Reel looks a bit more sophisticated. It carries the same simplistic standards, but it feels a bit heavier and sturdier, so it will probably take more wear and tear before showing it.
While not as popular as Shimano, Okuma is not to be overlooked either. It is known for its excellent value for money, no bells and whistles. The stunning Okuma Alaris Spinning Reel will work in any situation and can resist for ages.
The list can easily go on. Names like Daiwa Revros Spinning Reel and Pflueger Trion Spinning Reel will surprise you with their features, yet they manage to keep prices low. Any of them could be the best spinning reel for the money if you want a simple tool with a few high end features.
While lots of anglers overlook this segment because they naturally assume a poor quality, we all have to start somewhere. Plus, I am still browsing products based on value for money and I often end up in this category.
Find out more about these products here.
---
Best spinning reel under 100
I will be honest with you. I upgraded to this category without really telling my wife. Let me make it clear – make sure you never explain standards, features and stuff to your missus. If you do, you will never be able to buy a nice $100 spinning reel again and tell her it only cost you $20. Just keep her out of this business and you should be fine.
Anyway, whether you are after the best saltwater spinning reel under 100 or something for freshwater, you do have a bunch of good options out there. Pflueger President XT Spinning Reel is quite surprising – extremely fast and probably the best ultralight spinning reel in this price range.
Abu Garcia Revo X Spinning Reel is just as attractive. It features a forward thinking design – a bit different from what you might be used to. But then, innovation is there and you will notice an upgrade as you start using it. I love how reliable it is and I think it makes a great choice for both beginners and advanced anglers.
I recommend taking a look at Penn Fierce III Spinning Reel too. It comes in more different sizes and features a full metal body – the same goes for the side plate. With carbon fiber drag washers, it can help you overtake most types of fish – both inshore and near shore.
Obviously, the list can go way longer, but I will stop here for now.
Discover full in-depth product reviews here.
---
Best spinning reel under 200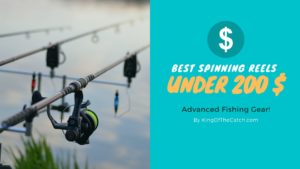 Whether you are hunting the best spinning reel for walleye or a pike spinning reel, this range is by far the most diversified one. You can still go wrong choosing the wrong reel, but generally, the value for money is quite good if you go with a top rated product.
Take a look at Pflueger Supreme XT Spinning Reel, for example. This reel was designed based on many years of research and performance. It is extremely lightweight and will never kill your rod balance. Some of the materials used in its composition include carbon fiber, aluminum and magnesium. Throw in a great reputation too and you have a wonderful reel.
Lews Custom Pro Speed Spinning Reel is another nice toy that will make your day better. It comes in a few different sizes and features a 12 bearing system based on stainless steel, as well as Zero Reverse one way clutch bearing. It is a trooper – you can use this reel for anything and it will not let you down.
How about Quantum Smoke S3 PT Spinning Reel? Looking slightly different than other reels in this range, your wife might suspect that it costs more than a basic $25 reel. It is totally worth it though. It features a unique design based on single body construction. Everything is perfectly aligned – smooth, durable and no need for adjustments. What else can you ask for?
Find out more information on each reel here.
---
Best spinning reel under 300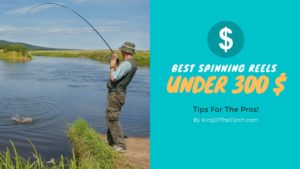 This is a completely different category. These reels are designed for more types of anglers. While a newbie can also benefit from a professional reel to up their game, professionals are more likely to gain something out of this range.
Anyway, Shimano Stradic CI4 FB Spinning Reel is one of the leading names out there. It is probably my favorite reel in my collection – lighter, stronger and smoother than most other reels from Shimano. It is suitable for more types of fish, but it will also last for a lifetime.
Penn Slammer III Spinning Reel was close to being disconnected, but it keeps going due to its popularity and high demand. It is mostly designed for heavy duty fishing – shore or boat. It is built to last, while its performance will surprise you – it comes with a new IPX6 sealed system.
Keep an eye on Pflueger Patriarch XT Spinning Reel – another great toy that makes my day better whenever I take it out. It is not just lightweight, but it also comes with a bunch of high end features that you normally find in more expensive reels.
Last, but not least, I feel it is worth throwing Shimano Stradic FL Spinning Reel in too. It comes with some great capabilities. It is durable and likely to take lots of wear and tear, but it also features rotation smoothness and excellent casting performance. Simply put, it is the kind of reel that will help in any situation.
Discover these product reviews with great ratings here.
---
Best spinning reels for different types of fish
Now, apart from value for money, you also want a spinning reel specifically designed for the type of fish you normally go for. It is all about doing your homework. What kind of waters can you find around you? Where do you normally go for fishing? What kind of fish can you find in there?
Do not get me wrong. As long as the reel can take the weight of your fish, you can eventually get anything. It will take your time and it will bring in lots of frustration, but it is doable. However, if you truly want to make the difference, research your options.
Best spinning reels for walleye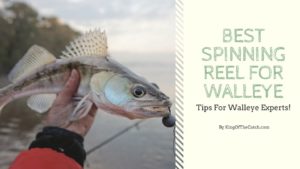 The walleye is often referred to as yellow pike. It hangs around freshwater, so you need particular reels to succeed against it. We did some research in local communities – as well as personal experience – over Lake Link and Walleye Fishing Forum for extra ideas and this is what we found out.
Shimano Sahara FI Spinning Reel is relatively new. It is extremely powerful, so I could tell straight away that it brings in some new standards. Given the price and its durability, it is one of the best toys you can get these days. Plus, it comes from Shimano, so there is not much to complain about in terms of quality standards.
Lews Mach Crush Custom Speed Spool Spinning Reel is relatively lightweight. It will not affect your balance once fitted on the rod. What else? The C40 carbon skeletal speed rotor will make the difference, while the carbon drag system ensures exquisite smoothness. Its performance is hard to match by other reels in this range.
Now, let me introduce you to Quantum Optix Spinning Reel. It comes in more sizes and features a three bearing system, as well as a double anodized spool. It is one of my most reliable reels – I know I can always count on it. Just like you have probably guessed already, it is lightweight and comes with a stainless steel bail wire.
Go through more detailed descriptions here.
---
Best spinning reels for bass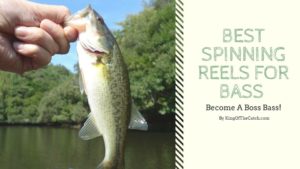 Choosing the best spinning reel for bass can be a bit tough because there are many good options in this range. I have tried or at least tested most of the top rated units in this segment, so I can make some good recommendations. Plus, I did a bit of research over Bass Resource and Ultimate Bass, just to get some details from other anglers too.
Shimano Sienna FE Spinning Reel literally impressed me – so much that I got one for myself too. It costs like nothing, but it does so much for you. It has a multi stop anti reverse system, a four bearing drive and a TRU balance rotor. The body is lightweight, but not because it is poorly designed. Instead, you have flexible materials and a composite body.
Abu Garcia Revo X Spinning Reel is just as attractive. You got performance and reliability at the highest standards. It feels super lightweight, but it is because of the carbon body design. I was stunned while casting too – the reel comes with a Rocket Line management system, so there is no way to go wrong with it.
Other than these two front runners, Shimano seems to dominate this category with a few other reliable units – Shimano Nasci FB Spinning Reel, Shimano Sahara FI Spinning Reel, Shimano Sedona FI Spinning Reel Clam Pack and Shimano Spirex RG Spinning Reel. Let me make it clear – you just cannot go wrong with Shimano.
Get more recommendations and details here.
---
Best spinning reels for trout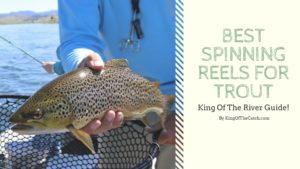 Trout? Quite common and challenging. So, what are the best spinning reels for trout fishing? I tried a few top rated products out there, mostly based on experienced anglers' recommendations. Anyway, I did my homework over Trout Nut, only to be able to come up with a nice chart of the most appreciated reels.
Daiwa BG Spinning Reel comes with a light machined aluminum body. The cover carries the same standards. Everything about this reel feels stable – hold it, mount it on the rod and cast, you will love how stable it feels. It is surprisingly strong, especially for its price.
Pflueger President XT Spinning Reel is probably the best trout spinning reel if you are after the performance. It comes with a lightweight profile and a high speed gear ratio. It is fast and it will bring fish back in no time. Pflueger's President Spinning Reel is also worth some attention.
Abu Garcia is part of this segment with two products. Abu Garcia Pro Max Spinning Reel comes in a few different sizes and boosts the casting distance with a top notch management system. Forget about wind knots. On the other hand, Revo X Spinning Reel is good looking and boosts a carbon body design for a comfortable experience.
Check out all the options here!
---
Best spinning reels for pike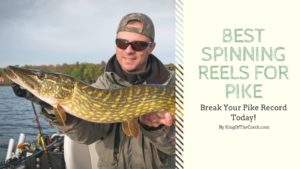 While I do have my favorites when it comes to the best spinning reel for pike, I have also listened to others' opinions over Pike Angler and Pike Forum. After all, the more options you have, the easier it becomes to find the perfect unit.
Stradic 4000XGFK Spin Reel carries the Shimano quality standards. It is relatively new and uses some of the newest technologies on the market. The cold forged drive gear is boosted by the X-Ship technology and guarantees for smoothness and performance. You will love the build and balance though – no fatigue at all.
Quantum Smoke S3 PT Spinning Reel could be the best ultra light spinning reel if you want durability. I was impressed with its build. Made of aluminum, it comes with a single part construction, which practically keeps every single part in a specific alignment. It is smooth and more likely to take stress – much better than classic two part reels.
While it did not really impress me at first, Daiwa BG Spinning Reel is extremely stable and consistent. I find it hard to identify its strengths, but it feels like it never fails. It has an amazing stability on the inside – all gears and parts perfectly aligned.
Pflueger is a top player in this range too. In fact, Pflueger Supreme XT Spinning Reel is the best spinning reel if you want a lightweight profile and a great balance. It brings in a mix of magnesium, aluminum and carbon fiber. It is suitable for both inshore and freshwater fishing.
Find out more about pike and other top rated reels here.
---
Best spinning reels for different environments
Now, let me point out something that many new and even intermediate anglers tend to overlook. Most people choose a spinning reel based on the fish they want, as well as the type of water. Other anglers choose the reel with the price and budget in mind, not to mention those who go for their favorite brands only.
But on another point, you need to buy a spinning reel according to the fishing conditions too. You do not have to be a genius. If you are into ice fishing, you cannot get a reel for surf fishing. If there is only freshwater around you, it is pointless to buy a reel for saltwater. It will work, but it will kill you slowly.
Best spinning reel for ice fishing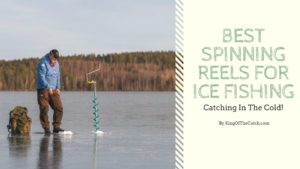 Piscifun ICX 5 Ice Fishing Reel is good looking and comes with a high strength graphite body that is tough and durable regardless of the environment. The CNC aluminum spool is water resistant, while the line management system guarantees for a smooth operation. This is by far the most attractive reel in this range – get ready to get some compliments.
KastKing Summer and Centron Spinning Reel is not necessarily the most famous unit in the world. KastKing is known for its high value for money. Its products are inexpensive, but you can still get a great performance and lots of durability. This unit is lightweight, high powered and good looking. Plus, its smooth performance reduces the fatigue.
Pflueger Trion Spinning Fishing Reel is available in more sizes. I own one of these toys, but I have tried out multiple sizes. Nothing to complain about! The range is famous for its innovative upgrades and cost efficiency. But then, you also have some high quality components, a soft touch knob and no play in the handle.
The President Spinning Fishing Reel from Pflueger is another top player on the market – corrosion resistant, lightweight graphite body and a sealed drag system.
Bottom line, while ice fishing may not be the most popular type of fishing in the world, you do have a specific segment with specialized spinning reels.
---
Best spinning reel for saltwater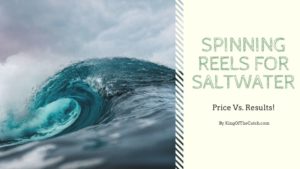 This category is more diversified. You want a solid and sturdy reel to battle heavy and aggressive fish. Have no fear, I am here – here are some of my best recommendations for this range.
Penn Battle II Spinning Fishing Reel will draw some positive attention with its beautiful appearance, but its performance is not to be overlooked either. It has lots of metallic and carbon fiber components, as well as a super line spool that does not require any backing.
KastKing Megatron Spinning Reel is large and sturdy, yet it will not affect the balance of your rod. It is one of the most powerful units in fishing – pretty much everything is about precision and balance. It has a rigid frame based on aluminum and high quality gears.
I have always loved Daiwa for its smooth, clear and simple designs. Daiwa Bg Spinning Reel makes no exception either. It brings in a black anodized machined aluminum housing, a solid handle and a manual return ball. The anti reverse system is flawless and probably the best in this range.
Penn 1481260 Spinfisher VI Spinning Saltwater Reel comes in more sizes. Make sure you get what you need and it will not let you down. Penn may not be the most famous manufacturer out there, but it does have a good reputation due to its durability and high end features. The CNC gear technology and the HT 100 carbon fiber drag washers will tell you everything you need to know about this reel.
---
Best Ultra Light Spinning Reels
Whether you are looking for the best spinning reels for surf fishing or you want the best saltwater spinning reels, weight is not necessarily your best friend. You want the reel to balance the rod, so make sure you pay attention to your stick as well.
Built with cold forged HAGANE gears and durable materials, Shimano Sedona FI Spinning Reel Clam Pack is one of the lightest spinning reels on the market. It is mostly built with lightweight materials and systems for a perfect balance on your rod – basically, you are less likely to even feel it.
Okuma Alaris Spinning Reel is part of the same category. It is one of the least expensive spinning reels in this segment, but do not let the price put you off. The value for money is great and you will get fashion technology and excellent functionality.
Let me mention Lews Laser Speed Spin Spinning Reel in this segment too. You get quality performance based on a rugged graphite body, as well as a smooth bearing system. Not only do you get a lightweight experience, but you will also gain consistency. At the same time, you are likely to find this reel under $50, so value for money is just as good.
While I can go on forever with this category, I will end this intro with Shimano Stradic FL Spinning Fishing Reel. You know you cannot go wrong with Shimano. The body feels rigid and rough, but it is quite lightweight. It is strong and durable, while the G-FreeBody technology aims to move the center of gravity towards the rod.
---
Frequently asked questions about spinning reels
How do spinning reels work?
Spinning reels are among the most common choices among anglers. They work with some simple principles. Practically, they come with a fixed line spool, as well as a safeguard and a wheel – sometimes, a roller framework. This part covers the spool and its main role is to release or retrieve the fishing line.
Why does line twist?
Line often twists and newbie anglers experience this problem all the time. More and more manufacturers try to improve their spinning reels in the attempt to reduce this problem. It may happen to everyone though. The reason? Quite obvious. The line was not wound appropriately on the spool.
If the oscillation is slow, you have to use the reel in order to get the line back. Make sure the bearing is not faulty and keep lubricating based on the manufacturer's instructions.
Why does the bail fail not close correctly?
There are more reasons wherefore the bail may not close properly and each of them has its own quick solution. If the bail strip spring feels weak or inefficient, simply replace it. Replacement parts are inexpensive. If your reel has a warranty, use it.
If the bail wire loses its shape or is bent – usually the cause of too much wear and tear, dings and accidents, you will have to get a new bail wire and replace the defective one. Sometimes, after many years of use and a constant lack of maintenance, the bail pivot may end up with corrosion. Just get rid of all the corrosion and apply some oil on the pivot. It should be back on track in no time.
Why is there no drag pressure?
Whether you use a random cheap reel or the best inshore spinning reel, there might be situations when the drag pressure feels off. What kind of line do you use? Is it braided? Double check the line and make sure there is no slippage involved.
Testing for slippage is relatively simple. You have to tighten the drag knob. Go for the maximum tightening setting. Get some line between your fingers, then turn the handle. Is the spool rotating? If the line stays there between your fingers and the spool keeps going, there is obviously some slippage.
How do you sort this problem out? Get a couple of layers and wrap them on the monofilament. You can also wrap some masking tape on the arbor. You will gain some extra grip for your line and can prevent the slippage.
Why do gears feel rough when there is too much pressure?
The gears might feel a bit rough, especially as you fight a big fish. The more pressure you get, the rougher your gears will feel. This issue has two causes. One of them involves damaged gears. At this point, your reel will require repairing. You can send it back to the manufacturer or reach a professional.
Another cause involves the lack of lubrication. At this point, applying some oil will sort the problem out.
Why does my handle feel backwards on hookset?
This issue is quite common and also has a few different causes. Most commonly, you have a problematic anti reverse bearing. There is not much to do about it. You cannot really fix it. What you can do is replace it – send it back to the manufacturer or go to a specialist shop.
The less harmful cause refers to too much lubrication. If you exaggerate with the oil on your reel, you will have to clean all the excess.
Conclusion
As a short final conclusion, spinning reels are extremely diversified. Generally speaking, you can use any type of spinning reel to fish. You can use a spinning reel for freshwater in saltwater and you will still be able to get some fish. Obviously, your frustration will reach some unknown limits, hah! My best advice?
Stick to something for the type of water around you, the type of fish available in the area and the type of rod you already have.
Niels Thomas is a wildlife expert and fishing fanatic that works with major fishing brands like Deeper Sonar, Abu Garcia, Berkley, PENN, BassPro and Pure Fishing. Through sharing the best fishing tips, tricks, gear reviews, locations and much more he hopes to inspire fishing fanatics to start their own journey towards becoming the King of the Catch!